If you're a racing enthusiast and are eager to catch all the action from the world's fastest motorsports league, then you'll want to check out these 7 sites in 2023! From official Formula 1 channels to streaming services that specialize in live racing -there's sure to be something for you.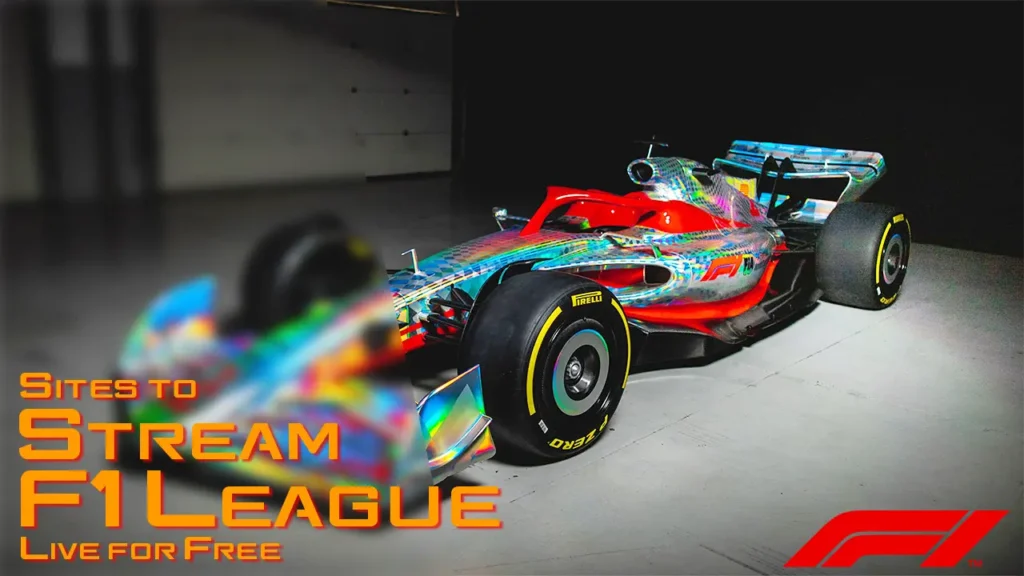 However, make sure to take precautions to avoid any copyright infringement issues. With so many great free streaming options available in 2023, choosing just one is tough! So go ahead and enjoy the races.
Tips to Access F1 League Websites For Free:
Some of the F1 league websites may be blocked in your country due to geo-restrictions
Use a good VPN to bypass geo-restrictions and get an ad-free experience
Try ExpressVPN risk-free using 30-day money-back guarantee
Top Sites For FREE F1 Live Streams
Whether you're a Formula 1 fan or not, there's no denying that the races are thrilling sports. But watching them live can be expensive, So, luckily, there are some free ways you can watch the races.
Some tracks will stream them online directly from the track, so you can follow the action live no matter where you are. If you can't watch the race live, don't worry; You can always catch it later on a streaming service like Slipstream. Make sure to set your calendar now and plan some time out for an unforgettable F1 experience!
Also, we have covered how to watch free UFC live streams already.
1. Formula One Youtube Channel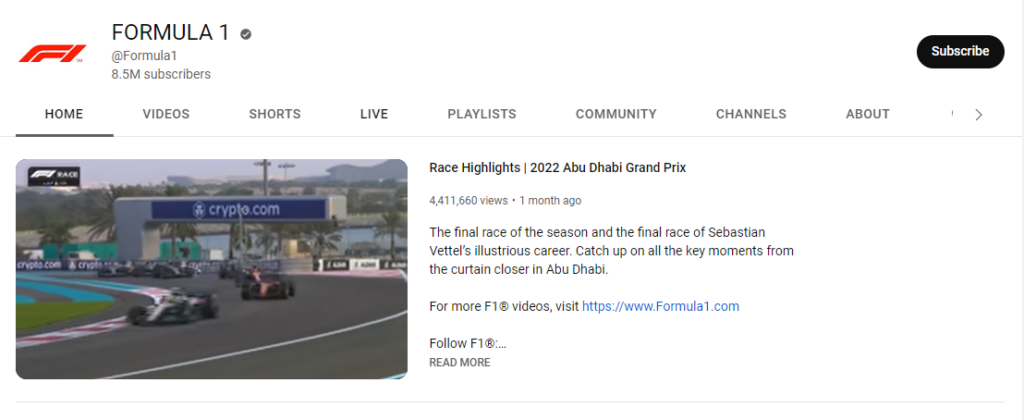 Without any doubt, the first and the best site to stream free F1 races is the Formula One Youtube channel. Their youtube channel features all the latest races in the F1 league, along with their highlights; Viewers also get to see live launch parties and race highlights of various Grand Prix tournaments.
Formula 1 covers Japanese, Singapore, Abu Dhabi, Italian, Dutch, and Belgium Grand Prix post-race shows. Apart from that, for hardcore F1 league fans, the official youtube channel also provides live Esport Formula One races along with its match analysis. All the streams are available in HD resolution and even in 4k.
The formula One youtube channel is the best place to watch F1 races -You can find all the latest race highlights, reports, and interviews here. If you're looking for a place to stay up to date with all the latest motorsports news, this is the channel for you!
2. Slipstream
Looking to watch live F1 races? Slipstream has you covered! This free live-streaming website solely focuses on providing live races of F1 games. Slipstream is a channel aggregator platform used worldwide by users to watch live-streaming sports events from four major Sports Channels, including F1 TV, Sky Sports, Viaplay, and Red Bull TV.
All the live races going around multiple tournaments are streamed here. You don't have to search for your favorite race anywhere else. Apart from live races, the platform also provides replays of past matches so you can binge-watch your favorite race anytime. Live streams are directly broadcasted from major sports channels, so you can enjoy races without lag or buffer.
Slipstream also provides a section for documentaries where you can watch official Formula one documentary like Drive to Survive, Inside Story & Beyond All Limits. Also, the timings and details for upcoming races and tournaments are displayed in the schedule section, making sure you don't miss your favorite races.
The quality of streams is amazing as well. However, you do have to face some ads during live streams for monetization. Now you can watch all of your favorite races without having to pay for them!
3. Streameast
This year is set to be one of the most exciting years for F1 racing. With so many top teams and drivers in contention, streaming live races online has become the perfect way to get caught up in the excitement. Streameast is our other pick to do just that.
Streameast is a live-streaming website covering all major sports –including F1 races. The website provides live updates of results and scores. Also, on the homepage, viewers can navigate to yesterday, today, and tomorrow match schedules. Live streams are hosted on their website itself and are played via an inbuilt media player.
The quality of streams is HD as well, so you can experience the races without missing out on quality. However, advertisements are common between the games, So that should be taken into account when watching games on Streameast. Apart from that, all major F1 tournaments are covered. However, live-stream starting times may vary.
So overall, the site is great and has a very minimalistic user interface for streaming live games, be it Formula One, Rugby, or any other combat sport.
4. RTBF Auvio
There are some countries where free streaming of F1 leagues is allowed, and one such country is Belgium. RTBF Auvio, a major entertainment streaming platform in Belgium, is using this opportunity to provide its viewers with free live streams of Formula One races.
RTBF Auvio provides all ongoing F1 tournaments live for free. Moreover, the platform also allows viewers to watch past races on-demand -binge-watch your favorite race. The quality of streams is HD and 4K. However, to stream in 4K, you need to create a free account on their website. Apart from that, you can also watch races from the previous seasons as well.
Ads are nominal here, so they are bearable and won't ruin your streaming experience. However, you can also purchase a premium plan to remove ads entirely.
The only downside with RTBF Auvio is the geo-restriction. Viewers from Belgium only can stream content on their platform. However, if you have a strong VPN -like ExpressVPN or NordVPN, then you can easily change your location to Belgium.
All in all, if you are in Belgium or can have a Belgium location via VPN, RTBF Auvio is an amazing site to stream any Entertainment content or Formula One league.
5. F1 Streams Races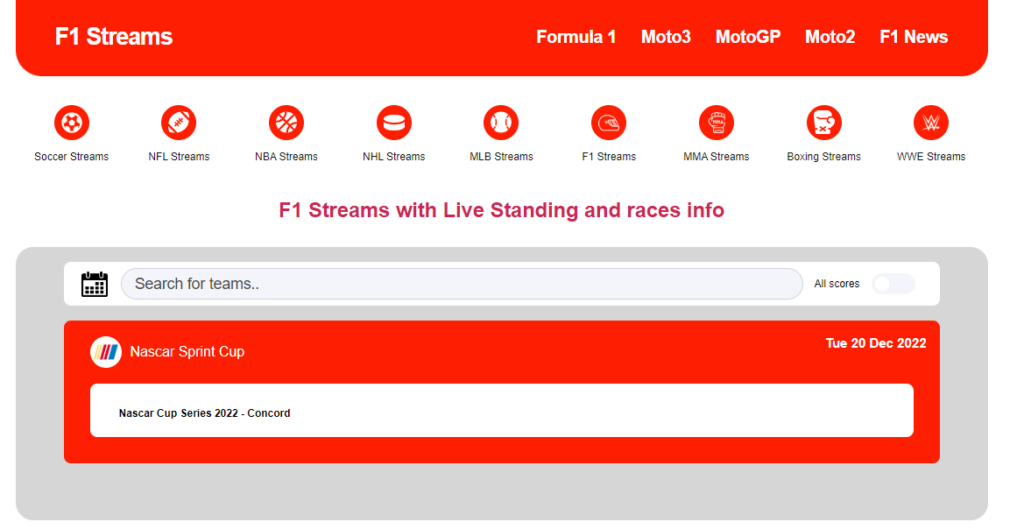 F1 Streams Races is a Reddit link-providing website that covers all upcoming formula one races. F1 Streams Races is very simple and has a very clean interface. Apart from streaming live races, the website also provides live games for other sports -including soccer, NFL, MMA, and more.
Their website also features the latest ongoing news about players and the matches, like winnings, losses, controversies, and many more. Moreover, the homepage section of F1 Streams Races features a calendar that has schedules of upcoming matches for the entire year.
In addition, the site also shows stats and team standings of drivers from individual teams, So that you can compare them against other competitors. The links for live streams are updated nearly 15-20 minutes before the match.
Live streams are hosted on third-party servers, so quality and bandwidth may vary depending on the link you get. Advertisements are not that pushy, but the frequency may affect the viewing experience.
On average, users get HD links, but sometimes there are poor-quality links as well; So, overall, F1 Streams Races is a good option for those who want to stay updated with all upcoming events in Formula One racing season.
6. TotalSportEk
Watching live F1 races can be a real thrill, and there's no better way to experience the action than streaming them online. Reddit is a great resource for finding free streams of F1 races. However, finding active links is a challenging task, so here comes TotalSportEk, a free live-stream link aggregating website.
TotalSportEk has an identical user interface to the previously mentioned website but with differences in quality. All live-streaming links are in HD resolution, so you can enjoy races to their maximum. Also, viewers can stream MotoGP races as well, a great site for bike racing lovers.
Links are fetched from Reddit subreddits and are updated continuously to provide only active links to users. Also, active links are provided 20 minutes before the match. Though the streams are hosted on third-party servers, however, all live-streams show ads only a few times throughout the live races, you can enjoy Formula One with minimal advertisements.
TotalSportEk also covers news around F1 leagues as well, So viewers can stay up-to-date on all the latest happenings.
7. F1 Streams
If you're a Formula One nerd, then this website can be a good option for you. F1 streams is a sports live-streaming platform that provides links for multiple games -including Formula One. The site is very easy to use and provides a clean interface to viewers.
Also, F1 Streams provides all links with their details like stream quality, language, and Ad count. This helps users to select the best link according to their needs. Links for live races are updated frequently, So you only get active links.
Apart from these details, this website also provides information about the racing circuit -covering minute details like sea level, speed traps, circuit parts, elevation, and speed.
Active links are provided 10-25 minutes before the match, and ad frequency is predetermined, So you can select which link to watch live-stream from. F1 Streams is a good website for F1 lovers; therefore, viewers who like to get into detail should check it out.
How to Stream Live F1 League From Restricted Location?
If you are located in a country where live streaming F1 races is not allowed, you can use a VPN. A VPN can help you bypass geographical restrictions by routing your internet connection through a server in a different location; This can make it appear as if you are accessing the content from a different country where it is available.
Best VPNs for Live Streaming F1 Races
ExpressVPN and NordVPN are both popular VPN providers that offer fast speeds and a wide selection of servers -making them suitable for live streaming. Here is a comparison of the two providers:
Server coverage:
ExpressVPN has a larger server network, with over 3,000 servers in 94 countries.

NordVPN has over 5,000 servers in 60 countries.


Speed:
Both ExpressVPN and ExpressVPN offer fast speeds, -ExpressVPN may have a slight edge in this regard, with some users reporting faster speeds when streaming with ExpressVPN.


Pricing:
ExpressVPN and NordVPN have similar pricing plans -both offer monthly, annual, and biennial subscription options.

NordVPN may be slightly cheaper, with its annual plan starting at $4.92 per month.

ExpressVPN's annual plan starts at $6.67 per month.

Security:
ExpressVPN and NordVPN offer strong security features, including military-grade encryption and a no-logs policy.

ExpressVPN has its LightWay protocol, which ensures fast and secures connections with low battery consumption; NordVPN offers an additional security feature called CyberSec, which blocks malware and other threats.
| Features | Express VPN | Nord VPN |
| --- | --- | --- |
| Servers | 3000+ in 94 countries | 5500+ in 60 countries |
| Unblocking BlackOut | Yes | Yes |
| Speeds | Excellent | Decent |
| Kill Switch | Available | Available |
| Encryption | Military-grade | Tough |
| Works in China | Yes | Yes |
| Torrenting | Allows P2P file sharing on all servers | Allows P2P file sharing on select servers |
| Special Feature | Lightway Protocol | CyberSec |
| Price | $6.67 – $12.95 per month | $3.71 – $11.95 per month |
Overall, both ExpressVPN and NordVPN are solid choices for live streaming, and which provider is the best fit for you may depend on your specific needs and preferences. It's always a good idea to do your research and compare the features and pricing of different providers before choosing a VPN.
Conclusion
In conclusion, the seven sites listed above offer great options for live-streaming F1 races from anywhere in the world; Whether you're a diehard fan or just looking to catch a few races, these sites have you covered.
However, it's important to remember that many of these sites may be restricted in certain countries, and using a VPN can help you bypass these restrictions and access the content you want. So if you're having trouble accessing your preferred streaming site, consider investing in a reliable VPN -like ExpressVPN or NordVPN to ensure you don't miss a single lap. Happy streaming!
Frequently Asked Questions
1. Is it possible to free download a live stream F1 Race?
No, it is not possible to download live F1 races. However, you can still view the race action by streaming past matches on some mentioned sites.
2. Can I watch live races from Censored Countries?
Luckily, streaming F1 races live online is unrestricted in most regions. However, if you live in a region where the race is being geo-blocked or restricted by your internet service provider (ISP), then you may need to use a VPN service to unblock these restrictions.
3. Are all the live-streaming sites listed in the article free to use?
Yes, all the live-streaming sites listed in the article are free. It's worth noting that some sites may offer races for free -with the option to upgrade to a paid subscription for more content.