Rugby is one of the most widespread sports in the western part of the world, and People love to watch rugby games live. But not everyone can afford to attend live games. This leaves some with no choice but to watch rugby on TV.
However, for people who want to watch rugby live for free, a few options are available on the internet. In this article, we have listed seven websites that offer free live streaming of rugby games, -Without further ado, here are the seven websites for free rugby live streaming:
Top 7 Sites to Watch Free Live Rugby
1. The Rugby Network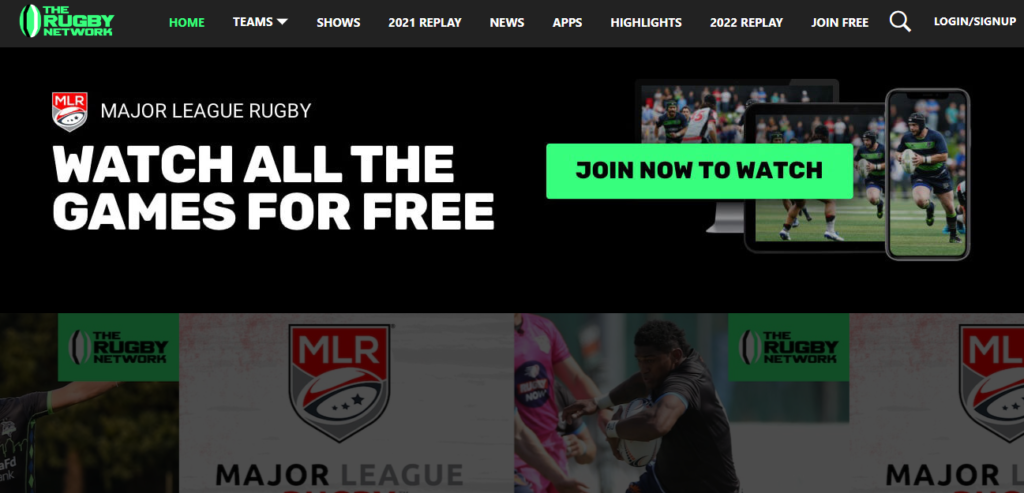 First on our list is The Rugby Network, one of the most popular rugby live-streaming websites available today. The website offers live streaming to fans worldwide with no subscription or fees –that too in 1080p. They also provide a great selection of rugby games from different leagues all over the world.
The Rugby Network offers a free model and a subscription model, -The free model allows rugby fans to freely watch rugby matches live but with ads, While the subscription gives rugby fans access to ad-free content, exclusive articles, and a rugby bulletin that covers the latest rugby news around the globe.
Users can stream every major rugby league game along with coverage of Japan Rugby League One, USA College Rugby Championships, and USA Youth & High School Rugby.
Though the rugby network offers free live streaming of ongoing rugby games. Due to blackout restrictions, -Rugby fans in certain countries may be unable to stream rugby matches live on their platform.
2. Live Stream Rugby
Live Stream Rugby solely focuses on providing free rugby matches to its users. The website offers free live streams of the Rugby World Cup, Six Nations, Super Rugby, NRL, Aviva, AFL, and The Rugby Championship.
Just like the rugby network, in Live Stream Rugby, there is a subscription model as well as a free model. In the free model, you watch rugby matches with ads, -while the subscription gives users ad-free content.
Live Stream Rugby is a well-known website that offers free live streams of rugby games. In addition, to live streams, the website also provides detailed information about ongoing rugby tournaments. This information, –includes the teams participating, the match schedules, and the list of tournaments currently in progress. Live Stream Rugby is a great resource for rugby fans who want to stay up-to-date with the latest rugby news and matches.
The links for free live streams are provided 15-20 minutes before the start of rugby matches. The best part is that you don't need to create an account. You can start streaming by accessing the provided links.
3. 9Now

9Now is a popular streaming service in Australia that allows viewers to watch rugby matches live. Rugby fans can use 9Now to get free access to live broadcasts of Rugby League matches -this is a great option for anyone who wants to watch live rugby matches without having to pay for a subscription.
Rugby lovers in Australia can live stream rugby games on 9Now for free. In the free version of 9Now, you get ads while live streaming. But, you can upgrade to the paid subscription plan to stream on-demand matches and rugby without ads, if you wish to.
However, the downside is you must have your location in Australia to stream rugby on 9Now. However, we have discussed how you can overcome this restriction in the later part of this article.
4. StreamHunter.Tv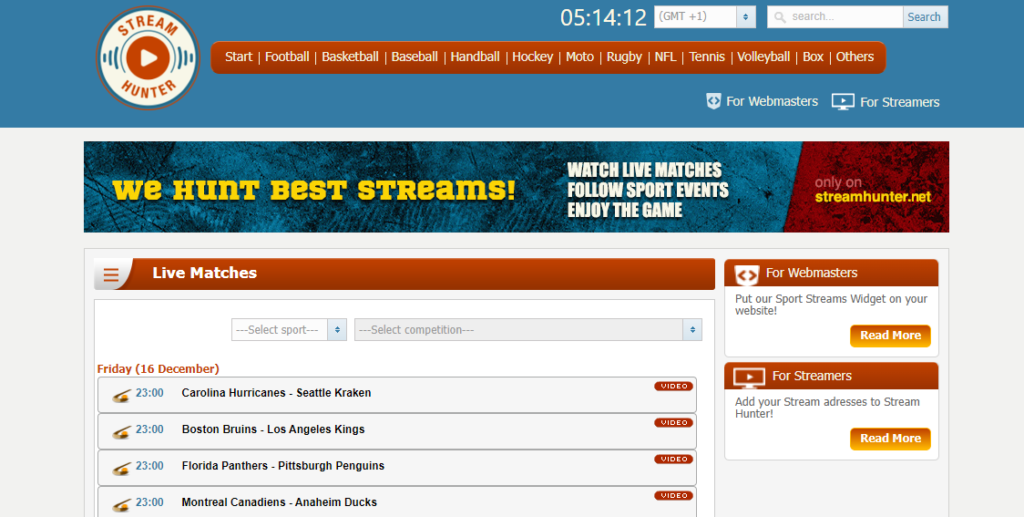 The website has a list of rugby tournaments that are currently ongoing. You can watch the rugby matches live on the website -Streamhunter provides links to live rugby games that are updated regularly.
Also, despite being a free site, you can stream HD-quality live games, so that's also a great point. However, you might get frustrated as the website displays many ads and popups while watching live streams. So, a fast and strong VPN connection with ad blocking is strongly recommended when accessing this website.
Moreover, due to copyright infringement, the domain of Stream Hunter keeps changing regularly. So, rugby fans may need to search for the website's new URL on social media websites, search engines, or forums.
5. Batmanstream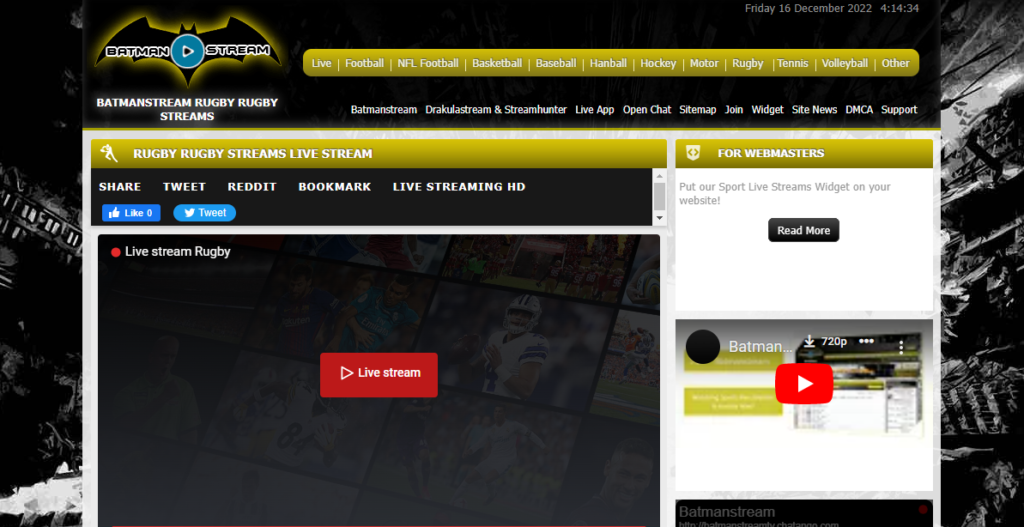 Batmanstream is another website that you can use to watch rugby matches live for free. Active links for live rugby matches are updated 15-20 minutes before the actual live stream timing. The design and user interface of the website are quite straightforward and user-friendly, making it easier for users to access live stream links of rugby matches.
The most annoying thing about Batmanstream is that there are irritating popups and ads when live-streaming rugby tournaments. However, there is a paid subscription model which allows ad-free streaming.
The links are most of the time active. However, some live-streaming links may contain viruses or trojans. Therefore you should ensure to use Batmanstream with a secure system protected by a VPN connection.
6. MyP2P
MyP2P is a link-providing platform for various sports events. The live-streaming links are regularly updated to ensure users always get active links -streaming quality is not 1080p. However, you can be assured that links will work, and you'll get to watch live rugby matches.
As you are redirected to different live-streaming sites, malicious websites are likely to be visited. Therefore, use a secure and fast VPN before clicking on any live rugby streaming links to ensure your safety.
7. First Row Sports
Last on our list is First Row Sports, which is one of the oldest rugby streaming sites available. All live rugby events are covered on their website, but the downfall is users have to face lots of ads and popups.
Some ads or popup links may even contain viruses or malware, so it's advised to access First Row Sports only with a secure VPN connection. The rugby streaming quality of first-row sports is not the best, but it offers rugby fans an option to enjoy rugby games live without spending any money.
Due to frequent copyright strikes on FirstRowSports, the domain of their site keeps changing repeatedly.
How VPNs Protect You on Malicious Sites?
One of the key ways that a VPN protects against viruses and malware is by encrypting your internet traffic. Anyone who tries to intercept your data, Whether a hacker or your internet service provider, will only see encrypted gibberish instead of your personal information.
Also, your IP address is necessary for determining your location and other personal details. By hiding your IP -VPNs make it more difficult for hackers to target your device with malware.
They won't be able to see your IP address, So they won't know where you are or what device you use.
In addition to these basic security features. Some VPNs offer additional protection against malware and other online threats.
Many VPNs include a kill switch -a feature that automatically disconnects your device from the internet if your VPN connection drops.
Some VPNs offer DNS leak protection, which prevents your device from sending unencrypted DNS requests that could reveal your location and additional personal information.
Read our Detailed Guide to Check if You Need a VPN
Why VPN to Stream Free Live Rugby?
1. Data Safety
Watching free live streams without a VPN is not safe and can put your personal information and device at risk. These free live streams are often hosted on third-party sites that do not have the proper rights to the content being streamed.
This means that the content is likely pirated, and viewing or downloading pirated content is illegal in most countries. So a good VPN is necessary to ensure your data is safe and secure while streaming rugby online.
2. Ad-free Streaming
One of the biggest annoyances of above mentioned free live-streaming websites is the constant bombardment of ads. These ads can interrupt the flow of the content you are watching and ruin your enjoyment of the stream.
A VPN helps block these ads and gives you an ad-free streaming experience.
3. Malware and Virus Protection
In addition to blocking ads, a VPN can protect your device from malware. Free live streams from third-party sites are often filled with malware and other security risks. By connecting to a VPN, you can encrypt your internet connection and hide your IP address -making it difficult for hackers to track your online activity or steal your personal information.
4. Bypassing Blackout or Geolocation Restriction
Live streaming blackouts can be frustrating for sports fans. As it prevents you from watching your favorite teams and players in action, Fortunately, a virtual private network (VPN) can help you bypass these blackouts and access the content you want to watch.
Many live-streaming platforms block access to their content based on your geographic location. By using a VPN, you can connect to a server in a different region and access the content that is normally only available there.
Some ISPs block access to certain streaming platforms or content -because of licensing agreements and other geo-restrictions. So, It can also help you bypass blackouts imposed by your internet service provider (ISP).
A VPN encrypts your internet traffic and prevents your ISP from seeing what you are doing online. This can help you access the content you want to watch, Even if your ISP has imposed a blackout.
Last but not least, a VPN can help you get around blackouts that are put in place by the streaming platform itself, Some streaming platforms, such as ESPN+, apply blackouts to prevent users from watching content unavailable in their region.
A VPN can greatly improve your free live-streaming experience by blocking ads, protecting your device from malware, and giving you access to more content -It's a simple and effective way to enhance your streaming experience and keep your personal information and device safe.
Best VPNs for Live Streaming Rugby
When it comes to choosing a VPN, there are many options available, Two popular choices are ExpressVPN and NordVPN, but Surfshark VPN is also gaining traction in the market. We will compare these three VPNs to help you decide which is best.
1. ExpressVPN
First, let's take a look at ExpressVPN. It is known for its fast speeds and strong security features. It offers 256-bit encryption and a strict no-logs policy -which means your personal information is kept safe and private.
ExpressVPN has a large network of servers, over 3,000 in 94 countries. This gives you plenty of options for connecting to a server and accessing content worldwide.
One of the biggest advantages of ExpressVPN is its user-friendly interface. It is easy to install and use -making it a good choice for new VPN users.
On the downside, ExpressVPN is one of the more expensive VPNs on the market and doesn't offer static IP features in its subscription plans. It also doesn't offer a free trial -you'll have to commit to a subscription before testing it out.
Read Detailed ExpressVPN Review
2. Nord VPN
NordVPN is known for its strong security features and a large network of servers, and It also offers military-grade encryption and a strict no-logs policy to keep your personal information safe.
NordVPN also has a massive network of over 5,400 servers in 59 countries.
One of the advantages of NordVPN is its price. It is more affordable than ExpressVPN and offers a variety of subscription plans to choose from. NordVPN offers a free trial, So you can test it before committing to a subscription.
On the downside, NordVPN is not as user-friendly as ExpressVPN -It has a more complex interface and may not be as easy for beginners to use.
3. SurfShark
Finally, let us look at Surfshark. This VPN is known for its affordable pricing and strong security features -It offers 256-bit encryption and a strict no-logs policy. So, your personal information is kept safe and private.
Surfshark VPN has a network of over 3,200 servers in 65 different countries, Giving you plenty of options for accessing content from around the world.
One of the biggest advantages of Surfshark VPN is its unlimited simultaneous connections, and This means you can use the VPN on as many devices as possible without purchasing additional subscriptions. It also offers a free trial and is one of the more affordable VPNs on the market.
On the downside, Surfshark VPN is not as well-known as ExpressVPN and NordVPN, and It may not have the same reputation or trust in the market.
Read Detailed Surfshark Review
In conclusion, all three VPNs have their strengths and weaknesses.
ExpressVPN is known for its strong security, fast speeds, and user-friendly interface, But it's more expensive and doesn't offer static IP and a free trial.

NordVPN is known for its strong security and a large network of servers, But it's not as user-friendly.

Surfshark is known for its affordable pricing and unlimited simultaneous connections, But it's not as well-known as the previous two VPNs in this list.
Conclusion
So there, you have seven amazing sites offering free rugby live streaming. No matter where you are, You can now watch your favorite rugby teams live without spending any money. So what are you waiting for? Go check out one of these websites and enjoy some quality rugby streaming!
And remember: always cheer for your team! Good luck!
1. Is it safe to use a free VPN for live streaming?
A free live-stream VPN is not recommended due to slow speeds and limited server options that can negatively impact your experience. Free VPNs may not offer the same level of security and privacy as paid options, potentially putting your personal information at risk. To ensure a smooth and secure streaming experience, it's best to use a reputable paid VPN.
2. Can a VPN unblock all streaming services?
Not all VPNs can bypass the measures that some streaming services put in place to prevent VPNs from accessing their content -using a reputable VPN with many servers can increase your chances of accessing a wider range of content.
3. Will using a VPN slow down my streaming speeds?
Using a VPN can sometimes slow down your streaming speeds -It depends on your VPN and internet connection. A high-quality VPN with fast speeds and a considerable network of servers can help minimize any probable slowdown.