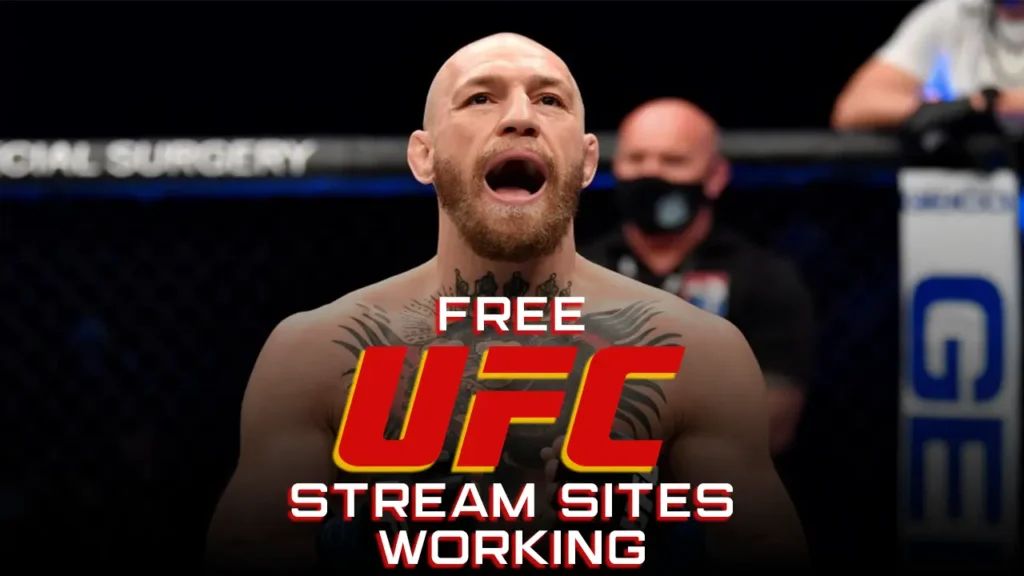 The Ultimate Fighting Championship (UFC) is the biggest organization in Mixed Martial Arts (MMA). It hosts some of the world's most hotly contested bouts between elite fighters, which makes it a popular choice for streamers.
Tips to Access Boxing Streaming Websites For Free:
Some websites on the list may be inaccessible in your country due to geo-blocks
So It's recommended to use a quality VPN like ExpressVPN to overcome blocks
The trick to getting the VPN for free is to use 30 Days Money Back Guarantee
Download and Install the VPN
Connect to Countries like Switzerland or Finland
Access the site Securely
If you want to stream UFC events online, prices vary depending on your location and subscription plan. For example, pay-per-view broadcasts can cost upwards of $65 or more for one event. However, if you're looking to stream UFC for free; there are ways to do so. In today's article, we will discuss 7 sites to stream UFC events for free.
7 Best Sites To Stream UFC for Free in 2023
Since there are so many websites that claim to be free but are hidden behind paywalls, we've curated a list of the top seven platforms where you can stream UFC – for free. However, some websites may be banned in your area – a VPN can easily get you through!
1. Official UFC Youtube Channel
So, if you want to watch UFC for free; check out the official UFC Youtube channel. They have a list of past fights uploaded on the channel; including the previous PPV events -Just search "UFC" on Youtube and you'll be able to find all the UFC matches.
Though you cannot watch live matches, you can stream the previous UFC events for free. The videos are uploaded within hours after an event concludes and remain on their channel for longer; Apart from full fights, you also get to watch amazing youtube shorts, match highlights, and after-match interviews of the players.
2. WatchWrestling.AI
Another free streaming platform for UFC events is WatchWrestling.AI. This free site allows you to stream all the recent and past PPV events live and free of cost. You can also check out multiple fights in a single day by navigating their "Fight Calendar" feature. Apart from UFC matches, this platform also offers free streaming for boxing and WWE events.
The only downside is that the site is filled with ads, but it is free, so there's not much to complain about; The video quality of this platform isn't great either. However, if you are looking for free streams of UFC fights, WatchWrestling.AI should do the job.
All these sites have their advantages and disadvantages, but they all provide free access to some of the biggest MMA fights; So don't miss out on your favorite fighters! Go ahead and check them out today and enjoy free streams of UFC events!
3. Stream2Watch TV UFC
Stream2Watch TV UFC is an online streaming service reserved only for UFC events. It provides live-streaming links and highlights of UFC bouts. UFC fans from all over the world can watch UFC matches for free on this website; simply visit their website and search UFC to access free streaming links of UFC events.
The only issue with Stream2Watch TV UFC is that you must create an account before streaming UFC matches. It's an easy and quick process, but it should be noted that you do need to register on their platform before streaming UFC bouts.
Stream2Watch TV UFC is a great way to stream UFC events online for free. Its reliable links and user-friendly interface allow UFC fans to enjoy HD streaming their favorite matches easily. Furthermore, since other users provide these streams, there is no guarantee of quality. Therefore, check out the reviews and ratings before streaming UFC events on this website.
4. MMA Mania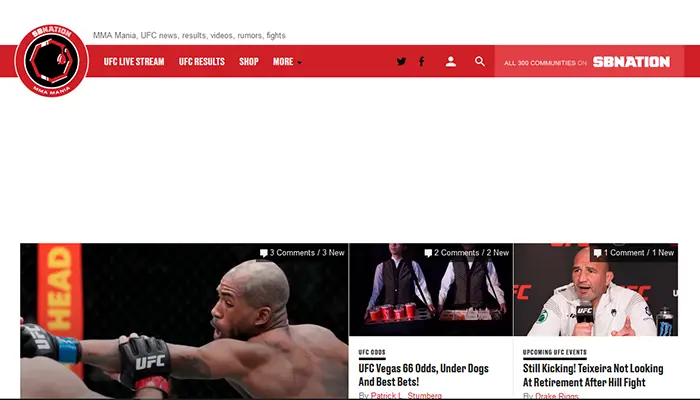 MMA Mania is one of the most popular free streaming websites committed to mixed martial arts; It offers free streaming of all major UFC events, including pay-per-view cards, weekly shows, and international games.
MMA Mania provides live UFC streams from the ESPN+ network; therefore, the live stream links show up on the platform 35-40 minutes before the match.
The website also provides free highlights and replays of previous UFC bouts; and will allow you to stream all the upcoming UFC matches.
5. MaMa HD
MaMa HD is a free streaming service that specializes in live combat sports; It features streaming of all the major UFC events and has an intuitive-user-friendly interface. You can also watch free replays of past fights and player interviews on this platform, making it a great source for free UFC streams.
The best part about MaMa HD is that you don't need to register to stream free UFC fights. All you have to do is visit their website and start watching free matches with just one click; Plus, the streams are high quality and provide an uninterrupted viewing experience for long hours without any buffering issues.
However, the downside to MaMa HD is that users have to face tons of ads; which can be quite distracting. Despite that, it's still a decent streaming service to watch free UFC fights without a subscription or registration.
6. Reddit
Reddit is one of the most popular online forums where you can watch free streams of UFC events. There are numerous subreddits dedicated to sharing live-streaming links of UFC matches. You simply need to search for relevant subreddits and follow them to get notifications about free streaming links of upcoming fights.
The drawback with this method is that it requires you to sort through several free streaming links, as some may not be working or be malicious. Therefore, check out the reviews before relying on any free link shared on Reddit.
Nonetheless, Reddit is a great place to find free UFC live streams if you don't mind doing some research.
7. FirstRow Sports
FirstRow Sports is a free streaming website dedicated to free live sports streams; It mainly focuses on football and provides free streaming of various other sports, including UFC. The website offers free streaming links to all major UFC events, including PPV cards and international bouts.
The interface of the website is quite simple and easy to use. You can search for specific events or browse through the upcoming fights easily.
FirstRow Sports is great for watching free UFC streams without subscription charges. However, it's important to beware of malicious links before clicking on them; as some may contain malware or viruses that could harm your device.
What is UFC Blackout
UFC Blackout is a policy employed by the organization that prevents streamers from watching certain fights; This policy has been implemented to protect revenue streams for pay-per-view events. In some countries, streamers cannot stream UFC fights due to blackout restrictions. This means streamers must purchase a pay-per-view stream in that country or find another way to stream the fight.
The UFC blackout policy is implemented differently depending on the country or region. For example, streamers in the United States will not be able to stream a UFC fight until it has been broadcast, usually after midnight; This is to protect the pay-per-view revenue stream for the UFC.
On the other hand, streamers outside the US may not be able to stream UFC events; due to international broadcasting rights agreements or other restrictions applicable in those countries. Thus, streamers must look into their specific country's blackout policies to determine whether they can stream UFC fights for free.
How to Bypass UFC Blackout?
In some countries, streamers may need to purchase a pay-per-view stream to watch the fight; however, there are ways to stream UFC events for free in other blackout countries, such as via third-party streaming services or virtual private networks (VPNs).
With the right knowledge and resources, streamers can find ways around any UFC blackout policy and enjoy watching their favorite fighters battle it out!
Risks of Free UFC Streaming?
The main disadvantage of free UFC streaming is the risk of virus and malware infection. While it's possible to stream UFC for free; there are no guarantees that the stream or website you're using is safe. Many streamers will use websites with dodgy security protocols; leaving your device vulnerable to viruses and malware.
Additionally, streamers risk facing legal action from content owners when they access copyrighted material; Therefore, streamers should always be wary when streaming UFC events online for free.
Why Use VPNs When Streaming UFC?
When it comes to streaming UFC online, there are a few things you need to take into account. First and foremost amongst these is your safety. When you connect to the internet, you do so through an ISP (Internet Service Provider); This means that your data is being routed through their servers and could be intercepted by anyone with access to them.
That's where VPNs (Virtual Private Networks) come in. A VPN encrypts your data to be unreadable even if it is intercepted; It ensures that your privacy is protected and your data is safe.
In addition to this, VPNs can also help you bypass geo-restrictions; If you're trying to stream UFC from a UFC blacked-out geolocation, a VPN can help you connect to a US server to access the content you want.
VPNs are a great way to watch live streams without the risk of ads or malware; However, not all VPNs are created equal, some VPNs are better at blocking ads than others.
When looking for a VPN to use for streaming UFC, you should consider the following factors:
Ad-blocking capabilities
Server locations and speeds
Number of devices supported
Price and features
Once you've found a VPN that meets your needs; you can simply connect to their servers and start streaming UFC events free and safely!
VPNs are vital for anyone who wants to stream UFC online for free; safely, and privately. Make sure you choose a reputable VPN with strong encryption and security protocols to protect your data.
Related Articles:
FAQ
1. Why shouldn't you watch free live streams without a VPN?
For two reasons, watching free live streams without a VPN is not recommended. First, you risk being exposed to malicious ads, viruses, and other malware that can harm your device; Second, streamers may be liable for fines or legal action if caught accessing copyrighted material without the owner's permission.
2. Why should you use VPN when streaming PPV matches?
Since a VPN encrypts your data; you'll be able to stream safely and privately.
3. Can a VPN bypass UFC Blackout?
Yes, a VPN can bypass UFC blackouts by connecting to servers in different countries. This will allow you to access the content that may be blocked or restricted in your current location; However, you should always check with the VPN provider to ensure that the UFC does not blacklist its servers.