The cloud is a hot topic in the IT world discussed in computer science. But what is it and how does it work? This article explains all you need to know about using cloud computing-based services, especially if you're new.
First, what is it?
In my pocket list, I will cover
What is cloud computing?
Cloud computing is a network of remote servers hosted on the Internet (a.k.a software as a service). When you use cloud technology, you store your information in these remote data centers instead of your computer's hard drive. Cloud computing is used by corporations, businesses, and individuals to save money, gain flexibility, and access computing power when needed.
In short, For example, if you go abroad for a job and you looking for a job is not only a primary purpose as you also have in your mind where you live should I rent a house or buy a house. You will probably go for renting a house because it is affordable at starting and it's easy.
Same as When you are starting a business you not only need an Investment or idea but you also need IT professionals who can execute your plans. In that situation, business professionals purchase subscriptions from vendors so that they take care of their company's data.
Types of cloud computing services
If I talk about the types of Cloud computing services There are many different cloud computing services that you can use for your business. Cloud computing services work differently depending upon the provider. There are three main types of clouds: platform as a service, software as a service, and infrastructure as a service.
Let's Know in detail😀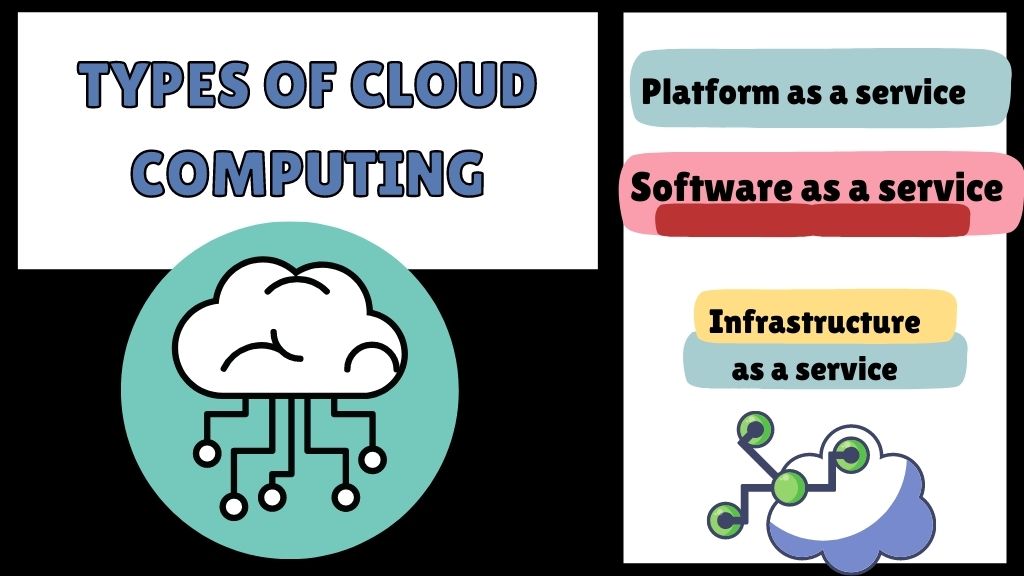 1.) Platform as a service
Platform-as-a-Service (PaaS) Cloud Computing can be broken down into several categories. PaaS may be the most basic service and is sometimes described as an IaaS layer – Infrastructure-as-a-Service. It is a software development platform that includes programming languages, operating systems, and databases which makes deployment and scaling much easier.
The real benefit of PaaS is being able to have resources allocated upon demand instead of purchasing and building them in advance.
2. Software as a service
Software as a service (SaaS) refers to software that is accessible over the web. If a software solution is available on the Internet and delivered as a service then most probably it's SaaS. One of the first and most popular services of this kind was Gmail — an email service provided by Google that can be accessed from any computer with Internet access.
3. Infrastructure as a service
Infrastructure as a service, or IaaS is a cloud computing service that provides virtualized computing resources over the Internet on demand. It is useful for all businesses of all sizes, including small business owners. The storage and computing power are scalable so that you only pay for what you need (and you only need to pay for what you use).
IaaS also helps reduce local IT costs and enables your organization to focus on its core tasks and projects rather than managing its infrastructure.
Is the cloud secure?
One of the most important questions that click in your mind that the cloud is secure or not? Although you shouldn't depend purely on Cloud for safety.
But according to me, It is secure, and why I'm saying?😉
Because it keeps your data encrypted and The cloud is very secure because security has always been a top concern in the cloud industry. With heightened awareness and demand, cloud service providers and companies are now exploring newer ways of ensuring the security of their customer data. To start with, there are multiple layers of protection in the cloud such as physical (location), network, hardware, software, and applications.
1.) 24/7 mentoring
Some people are afraid of the cloud. They believe that the cloud may bring in cyber attacks and intrusions. However, what they do not know is that there are now cloud service providers that provide 24/7 support. The cloud support providers help to secure your data, thereby helping to increase the overall security of the cloud.
2.) Encryption
No surprises! Cloud not only takes the responsibility of storing your information in the form of text, images, files, etc. But also keeps your files encrypted. You will be shocked to know even data providers( Vendors) can't decrypt your data.
So it's bar far not easy for hackers to hack the data.
3.) Redundancy
Redundancy is one of the main benefits of moving your small business applications to the cloud. Business owners become more flexible because they can easily add extra processing power, storage, and other features if needed, with just a few clicks of your mouse, without having to buy a new server.
You can bring additional servers online in case any of them fail and have the ability to have unlimited amounts of automated backups that could be restored within minutes or hours, depending on your needs.
How do Cloud computing work and its characteristics?
I bet that you have used cloud computing before and it seems like a great idea, but how does it work? Cloud computing is a great way for companies to reduce costs by moving their services online. This means companies will be able to get access to their data or services wherever they are in the world.
You also don't need as many resources as you would if your business was onsite, giving your company more power to expand your business operations.
Cloud computing is one of the newest trends in information technology. It refers to an array of technologies and services used for storing, processing, and distributing data over the internet. This involves virtualization, which means storing a company's data on remote servers that are accessible via any device with an internet connection.
There are many types of cloud computing that play essential roles in keeping businesses up and running which I already mentioned in my article.😀
Characteristics Of good Cloud computing
1.) Economical
The main characteristic of Cloud computing is that it is economical. It works because it gives you the ability to use resources that you don't have. This means that there's no need for you to spend money on hardware, maintenance, and upgrades. It also gives you unlimited storage and virtualized servers.
This software was created in such a way that it can be accessed via any device that has an internet connection which is a great advantage.
2.) Access to a large network
Cloud computing is a term that is thrown around these days, but many people don't understand how it actually works or thinks it's something brand new. Cloud computing is not a new technology at all actually, it's just the newest buzzword in IT.
Cloud computing is utilizing servers to allow access to content remotely. This means files and applications can be accessed anywhere there is an Internet connection.
3.) Availability
One thing you always wanted to have in your pocket list is that the best thing is always having available all the time and that is what the cloud provides with its 24/7 services. You can access it anytime from its network.
4.) Maintenance is easy
Cloud is easy to install anywhere and it allows the storage and retrieval of data using the internet. It is much more powerful, reliable, and cost-effective than traditional servers. In the cloud, you get applications from the server network to be accessed on your local system with the help of software.
FAQs
Is Cloud computing safe to use?
Yes, To an extent it is safe to use but I advise you not to depend solely on Cloud computing services although it makes your data encrypted and even data products can't decrypt your data files.
How cloud computing is beneficial?
There are so many benefits of this that how it is beneficial like
1.) It makes your data encrypted
2.) Large database
3.) Easily accessible
4.) Low maintenance
5.) Proper automation
What is the future of cloud computing?
Cloud computing is a future that will give you good technical support and reach the world. It will allow you to access data from anywhere and manage as many devices as you want.
We are able to store our important data with help of this, so we don't have to worry about the loss of data. So if anyone wants to go for the cloud server hire then he or she will be valued for the money he or will spend on that server.
Can cloud computing go wrong?
Can cloud computing go wrong? The answer is yes. I was recently reminded of this fact during a recent review of some cloud computing contracts when a client — who no longer had the need for the services, and in fact never performed any work on said projects — was billed over $20,000 due to poorly defined terms and even poorer project management by their vendor.
Can cloud computing be hacked?
Not all bad news, cloud computing can be hacked but the good news is it will not be an easy job. Cloud computing is among the most secure ways of storing data, however, that doesn't mean it's hackproof.
When you have thousands of machines on a server farm, hackers have multiple opportunities to get through firewalls and access databases containing sensitive information.
Conclusion
I hope this article has provided you with a basic idea of what cloud computing is, why it is so appealing and how it could be useful for businesses. However, there are numerous other services that the cloud provides and other companies that offer them, and there is always more to learn. So you may want to dive deeper into the subject if you feel your knowledge of this disruptive technology leaves something to be desired.