Are you also a sports lover? Whether you're into football, basketball, baseball, or even cricket, there's nothing like watching a great match and enjoying the competition.
But what if you're traveling somewhere and you don't have that access? Or, maybe you just don't have cable for now.
Lucky for you, I've compiled the list of best sports streaming sites in 2023 so that you can go straight to the source and enjoy watching them too.
What to do if the sports site you want to access is blocked?
Tips to Access Sports Streaming Sites safely:
Most of the Sports Streaming sites we have listed here are safe to use and accessible from anywhere but Streaming sites can be blocked, especially if you're in a different country than your team.
Luckily, there are ways to get around blocked websites and access the content you want! VPNs (Virtual Private Networks) can help you unblock streaming sites so that you can enjoy all of your favorite sports in HD, live.
VPN work by creating a tunnel between your device and the internet that encrypts your data and physical location so that websites can't block it. This means you can stream as freely as ever—all while staying safe and anonymous online.
It also allows you to change your IP address so it looks like you are connecting from another country, which can help with accessing different content.
I recommend using NordVPN which is best for Streaming and privacy and comes with 30 days money-back guarantee so you can try it free for 30 days.
In this article, I will tell you the best 31 sports streaming sites
1. Stream2Watch
Stream2Watch is one of the world's largest sports streaming websites with a focus on international sporting events.
The site has a large number of links to all kinds of sporting events, ranging from football (the American kind), rugby, and tennis to soccer, cricket, and even baseball. It's not just limited to sports, though. Stream2Watch also offers links to news and TV shows for those who want to keep up with their favorite actors and actresses but can't afford cable or satellite.
Pros
limited support for mobile devices
An easy interface that's easy to navigate
Options for both sports and television shows
Cons
-some links may expire after a certain period of time
2. Sportrar
Sportrar is a great site for sports fans. The user interface looks very modern and is well designed, which makes it easy to find your way around the platform. On Sportrar you get access to various sports channels. You can also watch all highlights of matches that have been played in the past 30 days.
Pros
Free website
Live Sports Streaming
Easy to Navigate
The quality of streams is very good
Cons
Not available in your country/region
Able to watch live sports on this platform
3. Fox Sports
Fox Sports is a popular sports streaming site that is well known for having a huge selection of events. However, if you want to watch live streams for free, you'll be disappointed because Fox Sports' main feature is its ability to let you watch matches from the last few days.
Still, there are a lot of other things that make this site worth using, such as the ability to filter through the different sports and events so you can find exactly what you want. The site also keeps track of your viewing history, so it's easy to pick up where you left off.
You can access Fox Sports on most devices, including your phone, laptop, and desktop computer. You will be able to watch matches on any device as long as you have a web browser that supports Flash.
Pros
Free to use with a cable subscription
Comprehensive coverage of major sports leagues and events
Streams in high quality without buffering
Includes international sports coverage
Wide variety of shows and documentaries about sports, both on-air and on-demand
Cons
Sports coverage is only available in the US and Australia, so it can't be used internationally
Requires a cable subscription to stream online
There are ads during games
4. SonyLIV
SonyLIV is a well-known player in the digital space, and it's one of the best sports streaming sites. It has a wide variety of content, ranging from cricket and football games to reality shows like Indian Idol. There are even some movies you can choose from.
The best thing about this site? Unlike some other streaming services, such as Hotstar, SonyLIV doesn't require you to subscribe in order to access its content. On the other hand, there are ads – but not so many that hinder your viewing experience.
Pros:
Great selection of shows
No subscription required
Relatively few ads
Large selection of channels to watch
Cons:
-Only available in India and select other countries
5. BEIN Sports
BEIN Sports are the newest kind of TV network. A network that's completely cable-free, so you can spend less time worrying about what you're going to watch today and more time focusing on living your best life.
So if you're looking for the best streaming site then BEIN sports has got you covered for any sporting event you can imagine. From soccer to tennis, baseball to cricket, and everything in between, BEIN sports offers live streaming of anything that covers the field, the ice, or the court.
Pros
Easy navigation
High-quality streams
Good variety of live sports events
Cons
-Annoying popups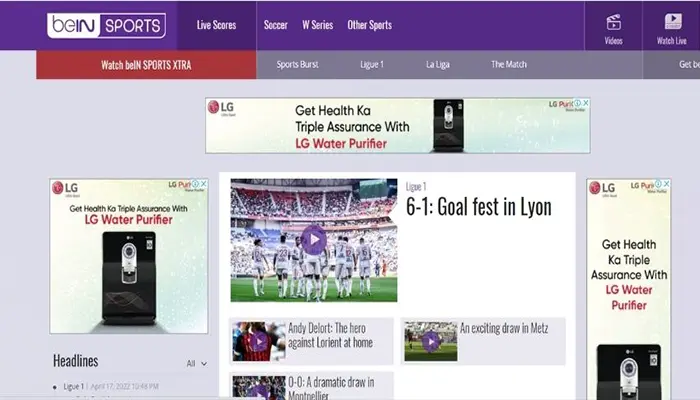 6. CBS Sports
CBS Sports has been around since the 1950s, so you know they've got the expertise to deliver excellent sports coverage. They have a lot of airing rights that give them exclusive access to events and programming, and the site is easy to navigate. There are even free sports radio stations you can choose from if you want to listen in instead of watching.
Pros
Lots of live sports from all over the world
Great interfaces for easier navigation and more efficient browsing
Easy to find exactly what you want with filtered searches and multiple viewing options
Free radio stations for those who don't want to watch
Cons
-No coverage of Olympic sports or international soccer
7. SportLemon
SportLemon is a site that allows you to stream live sports events as well as watch them on demand. It's a great resource if you're looking for a game to stream on your TV but can't find one being shown on regular channels.
Pros
Lots of different sports events are available
The easy-to-use interface makes it simple to navigate through menus and find what you want quickly
Free streaming services with no fees required
Cons
Some ads are displayed while using this website, which can be annoying at times but are manageable overall
8. Streamwoop
Streamwoop is one of the best sports streaming sites. It is a one-stop destination if you are looking to stream live sports events. It has a very simple interface which makes it easy for you to use. It provides you with all the information that you need to watch the live event and enjoy your favorite sport. It also provides you with links to different sports such as soccer, rugby, basketball, volleyball, cricket, tennis, football, and many others.
Pros
Live scores and updates
Live to a stream of all sports
Easy-to-use interface
Free of-cost service
Consists of detailed information about all the matches being played
Provides links to watch live sports events from around the world in one place
Cons
The site sometimes has issues with buffering, so it may not work well when you're using your cellular data to stream games.
Not very user-friendly if you're looking for a particular game that's not listed on their homepage or search bar.
9. SlingTV
SlingTV is a great way to watch live sports on your TV. It's also one of the cheapest streaming services available. There are many other features that make SlingTV one of the best streaming services for live sports as well.
Pros
Allows up to 3 simultaneous users per account
Lots of other channels besides sports for a low price
Great for remote access on mobile devices
Option for DVR and Cloud storage
Cons
Not great for low internet speeds or non-US VPNs
Need to pay extra for some channels
10. Bosscast
Bosscast is the best sports streaming site for watching NFL games online. You can watch any game you want, whether it's live or on-demand, without having to pay a cent. Most important you can enjoy it for free by sitting on the couch and watching your favorite sports.
Pros
Free to use
Doesn't require registration
Mobile friendly
Cons
Low-quality video
Annoying pop-ups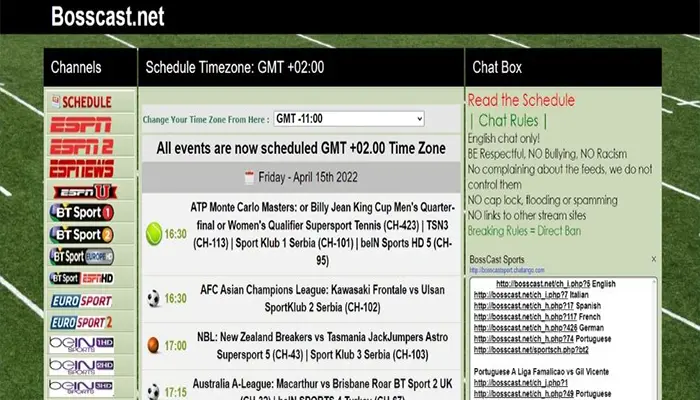 11. Hotstar
Hotstar is a major streaming service in India, with over 50,000 hours of content in 9 languages, including live sports and news. It is available as a free option, though some shows and sports have to be paid for.
Hotstar has an app for iOS and Android phones, so you can watch Hotstar on the go. If you want to watch Hotstar on your TV, then you can do so via Apple TV, Chromecast, or Amazon Fire Stick Tv.
Pros
Free (though not all programs are free)
Available for Android and iOS as well as desktop sites
Has both live sports and recorded shows, like a lot of Netflix originals
Huge variety of sports available
Cons
It is not totally free; requires a paid subscription to access content (only $7/month)
Most content is Indian, so if you're looking for something from another country it's probably not here
Some content requires a paid membership
12. FromHot
Like many of the other streaming sites on this list, Fromhots allows you to watch a variety of live sporting events for free. It has a clean, easy-to-use interface and is designed for mobile devices, so you can watch your favorite sports from the comfort of your phone.
Pros
Easy to use interface
Shows live sports from around the world
Lots of different sports are available
Cons
No smartphone app is available yet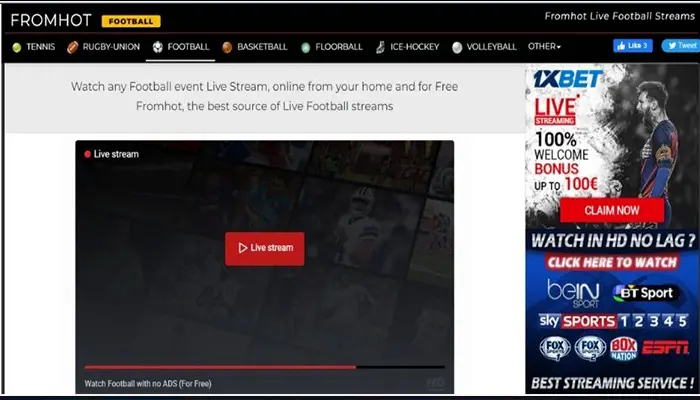 13. BBC iPlayer
Unlike other streaming websites, BBC iPlayer requires no registration or even an email address. Simply visit the website and start watching!
There's a great selection of sports available on BBC iPlayer, including football, rugby, cricket, and more. You can even watch live events like the Wimbledon tennis tournament.
Pros
You can watch live games and events without needing an account first, which is pretty awesome!
This website has been around since 2002 so they have some experience in the business and know what they're doing when it comes time to stream sports streams online.
Cons
The site doesn't have any ads, which means there's no revenue stream for them (at least not yet).
The site is only available in the UK so that may be an issue if you're looking for a sports streaming site outside of this area.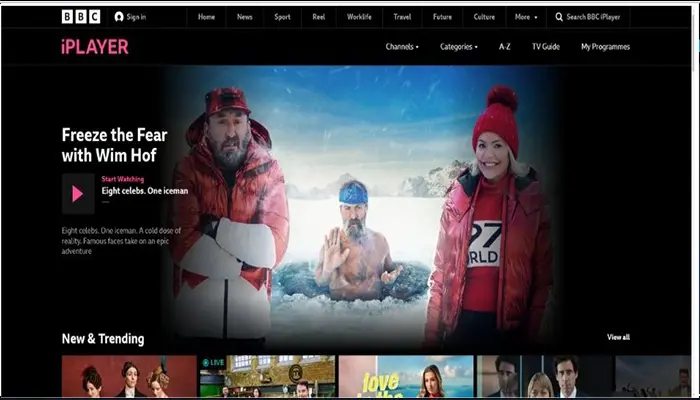 14. FirstRow Sport
FirstRow Sport is a sports streaming site that lets you watch live and recorded sports matches. Whether you're interested in basketball, football, or soccer, this site can give you real-time updates on your favorite teams.
However, as with any streaming service, FirstRow Sports has its fair share of pros and cons.
Pros
It has a simple design which makes it more attractive and easy to use.
It provides you with all the required information related to your favorite game or sport.
FirstRow Sport has an awesome search feature that helps you to find your desired game.
Cons
Popup ads can be annoying at times but they are not too frequent to be distracting when you're trying to watch your favorite game online.
15. Laola1
Laola1 is a website that streams everything from Aussie Rules football to water polo. It features live streams, highlights, and full replays of games from all over the world. You can even find current standings and upcoming events to look forward to on the site.
Pros
Free to use
Sports-focused
Great interface
Cons
Lack of a search feature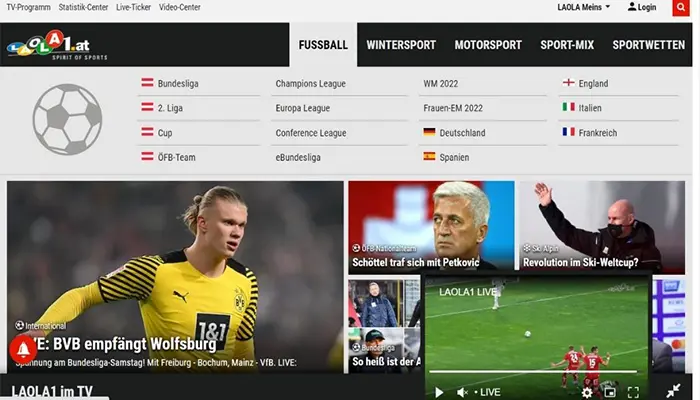 16. StreamSports
StreamSports is a sports streaming site that offers on-demand access to over 500,000+ live sporting events, including professional and college football, basketball, baseball, hockey, soccer, and tennis. The site is available for streaming on all major devices including the iPad, iPhone, iPod Touch, and Mac or PC.
Pros
The website is simple and easy to navigate
You can watch any game that has been broadcast by ESPN in the last 30 days
Cons
Links are occasionally broken or missing audio/video
Ads can distract from your viewing experience
17. NBC Sports
NBC Sports is a great sports streaming site to watch your favorite sporting events, including the NFL. It has a clean interface and provides users with a variety of content.
NBC Sports is one of many online services that allow you to stream live sports over the internet. The service offers a wide range of content including on-demand video, live streams, and highlights from major sporting events such as the NFL.
Pros
It's free.
You can access it on your phone with an app.
It's easy to use.
It has a lot of sports coverage.
Cons
It doesn't have as much sports coverage as some other sites
Can't download videos – No interactive features such as chat or forums
18. LiveTV
LiveTV is a popular choice because it offers tons of live streams for many different sports, with a wide variety of options and pretty much no ads. You can start by watching the upcoming events on the homepage or search by sport and country to see what's available to you.
Pros
Lots of options
Easy to find what you want
Lots of content from many different countries
Good for international sports and events
Cons
Requires an account to use
It still has some annoying ads/popups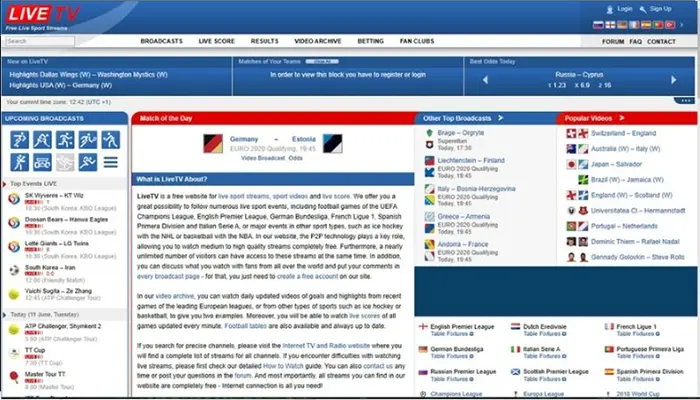 19. LiveScore
LiveScore is one of the most popular sports streaming sites on the internet, and it's easy to see why. From football to hockey, soccer to basketball (and beyond), you can find just about any sport you can imagine on LiveScore.
The best part? With a quick glance down the page, you can see the time and score of each game, making it easy to keep up with all your favorite teams at the same time. Whether you're into football or baseball, hockey or soccer, LiveScore's got you covered!
Pros
Easy-to-use interface
No registration required
Free of cost
Cons
No live stream is available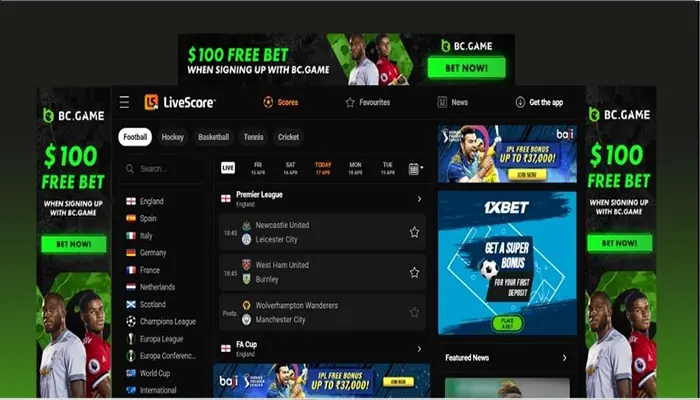 20. HULU
Hulu is a free service that streams thousands of popular TV shows and movies to subscribers across multiple device platforms. Hulu's on-demand content includes top shows from ABC, NBC, FOX, and more.
Hulu is an excellent alternative to a cable package because you can watch what you want, when you want, without pesky late fees or commitments to one particular network. You can watch 65+ live channels and the best part about it is that you can use it from any device.
Pros:
Wide variety of channels
You can use it from any device.
Cons
Services are not free
21. Reddit
Reddit is a well-known forum with lots of interesting sports-related content. It's perfect for finding new sports blogs or subreddits to follow, as well as discovering which players are most popular right now. You could also participate in the conversation by posting your own thoughts and opinions on the subject matter!
Pros
It has an excellent user interface
You can post and view live streams as well as discussions about different sports
It offers an option for you to create your own subreddit if you want
Cons
-The content available on this website may be outdated, depending on when it was last updated
22. TENSports Live
TEN Sports live streaming is the most important channel available to the world of sports in the digital age. Most people use conventional methods of getting their TEN Sports live streaming, such as cable and satellite.
This can also be limited; you often cannot watch sports at all times on channels like this and some users may be forced to choose between watching something else or risking missing an event that they really want to see and recording the broadcast instead.
Pros
Widely populated because of its services
You can view it on a desktop or mobile
Cons
No Live stream (only recording)
23. Batman Stream
Batman Stream is a website that allows you to watch live sports online. It was founded in 2013 and is owned by a company called DS Media Labs Ltd. The site has grown rapidly since its inception. It now receives over 10 million visitors per month and has a Facebook page with over 500,000 likes!
Pros
Several sports categories are available for viewing
Free and easy to use
Fast streaming speed
Easy navigation and user interface
Cons
Doesn't work in all regions
24. Facebook Watch
Facebook Watch is a video-on-demand service operated by Facebook. It was launched in August 2017, and notably includes long-form original content, including shows such as "Red Table Talk" with Jada Pinkett Smith and a revival of the cult classic TV show "Loosely Exactly Nicole."
Here's a look at the pros and cons of Facebook Watch:
Pros
Facebook is a social platform, so you can invite your friends to watch the video together.
You can use Facebook to promote your content and attract new viewers.
You Don't have to pay any fees until your video has generated more than 10,000 views.
Cons
The quality of the video is not always good.
The platform does not allow you to monetize your content or make money from it.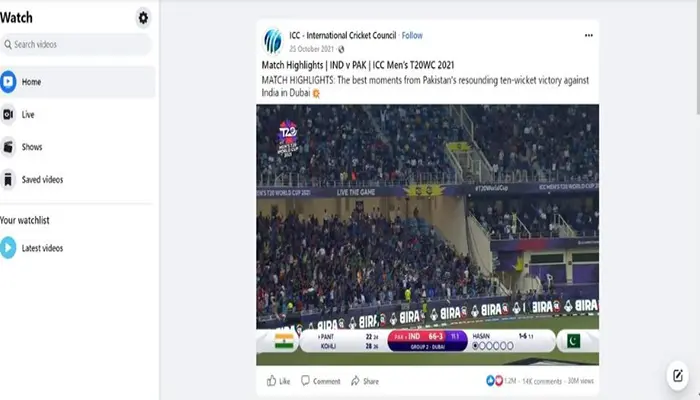 25. USTVGO
USTVGO is a great option for streaming TV in the USA. It is completely free and offers a wide range of channels, including sports channels. They offer both live and on-demand content, so you can watch your favorite game whenever you want!
Pros
Free to use
Works on all devices, including smartphones and tablets
A broad range of channels to choose from, including NBC, USA, FOX, CBS, and others
Cons
Ads are displayed before the stream begins
26. LiveSoccerTV
LiveSoccerTV is a hub for all things soccer. They have tons of resources: news, schedules, team pages, league pages… you name it.
And of course, they also provide live streaming. This site is great if you want to stay on top of the news and your favorite teams.
Pros
Amazing schedule features
Easy to find live streams
Great news section
Cons
Sometimes the streams don't work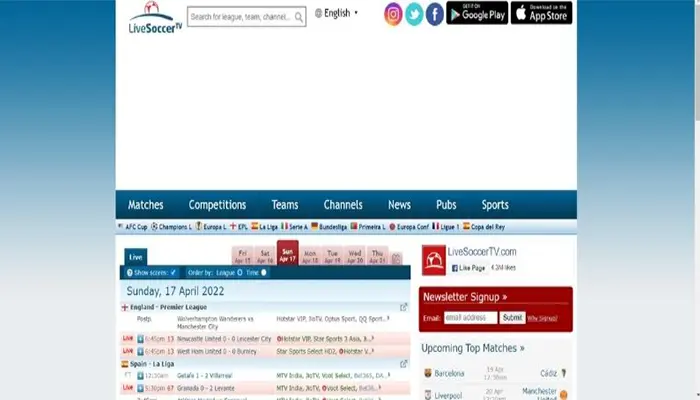 27. FootyBite
FootyBite is a streaming site that specializes in football coverage, or soccer, as the Americans call it. With an easy-to-navigate interface and an unbeatable selection of matches, it's no wonder Footballbite is considered one of the best sports streaming sites.
Pros
The streaming quality is good.
There is a wide variety of sports available on this website which includes Football, Basketball, Cricket, and Golf.
You will also find some popular TV series on this website.
Cons
The live chat option is not available on the FootyBite website.
28. Watch ESPN
Watching the game has never been easier with espn.com/watch, your destination for streaming sports online. Catch every pitch, goal, and buzzer-beater that matters to you. Sign in to create personalized Watchlists of your favorite teams and leagues and access watch anywhere on your desktop or mobile devices with ESPN Player.
ESPN Live Sports | Make every game an ESPN game! Stream thousands of live sports events in HD, plus get scores, on-demand news, highlights, and expert analysis.
Pros
You can make a customized watchlist of your favorite teams
ESPN+ gives subscribers access to exclusive content, like MLB, NHL, MLS, and college sports games, as well as 30 for 30 documentaries.
Cons
It only has services in the USA
29. Sportsurge
Sportsurge offers Live Streaming of Sports TV Channels Online, HD quality, Live Scores, News, Highlights, and Match Replays, Watch Live sports on your PC, Mobile or Tablet. All you need to do is click on our channel logo!
Get all the best sports streaming sites and apps in one place at Sportsurge. They have your favorite sport and leagues covered with live stream links, highlights, schedules, news, and more. Find out everything you need to watch basketball, soccer, baseball, football, and hockey online.
Pros
It's easy to use.
It has a lot of sports coverage.
Cons
Your data can be compromised as there are so many duplicates available
30. Crackstreams
Crackstreams is a live-streaming site for watching videos. It works with all types of devices, including tablets and mobile phones. You can also watch on your gaming console or a smart TV if you want to. Registration is free.
Crackstreams is a website that streams live sports and events for free. One can watch just about every sporting event they can imagine on this website.
Pros
It is free to use
It can work on all the devices
Cons
-Advertisement popups when you log in.
31. Yahoo sports
Yahoo Sports is one of the best places to stream sports on the internet. The site offers live scores, video highlights, fantasy leagues, and more, all at no cost.
Many people check these types of sites every day to get the latest news on their favorite team or player as they are updated all time.
Pros
Easily available
Free to use
Cons
Advertisement popups when you watch sports
FAQs Related to Sports Streaming Sites
Do I need a VPN to watch live sports for free?
The short answer is yes—you'll need to use a VPN if you want to watch live sports for free. A Virtual Private Network (VPN) will allow you to connect remotely and securely to another computer or network, which will then help you bypass region-locked content—in this case, live sports events.
When you look for "best sports streaming sites," remember that you'll also need to make sure the site has a virtual private network or another way to access blocked content.
Is it Legal to Stream Sports for Free?
Streaming sports for free is legal in most countries, but there are some countries where it's not allowed.
In the US, a federal law called the Copyright Act makes it illegal to stream copyrighted material without permission from the copyright holder. But what if you don't have permission?
There are several ways that you can get around this problem. One way is by using a VPN (Virtual Private Network).
A VPN allows you to connect to a remote server that encrypts your traffic and hides your IP address so that nobody can see what sites you are visiting or what files you are downloading or uploading.
Is VPN safe?
VPN is absolutely safe to use as long as you don't use it for theft, kidnapping, online scams, blackmail, etc. VPN is a good software if your favorite is blocked then it works really well.
Wrapping up
The next time you want to stream a sports game, give one of these sites a try. You'll get to watch the game you love for far less than it would cost on cable—and without any of the frustrating ads. It's exciting to see how accessible live-streaming services have become in just ten years, and we're hopeful that these companies will continue their efforts to provide more and more content online.