Canada might just be one of the biggest markets for VPNs in North America, and finding the right VPN can get a bit rough when you have so many options to pick from. With so many options available, how exactly can one know that one VPN is better than the other? Let's take a deeper look.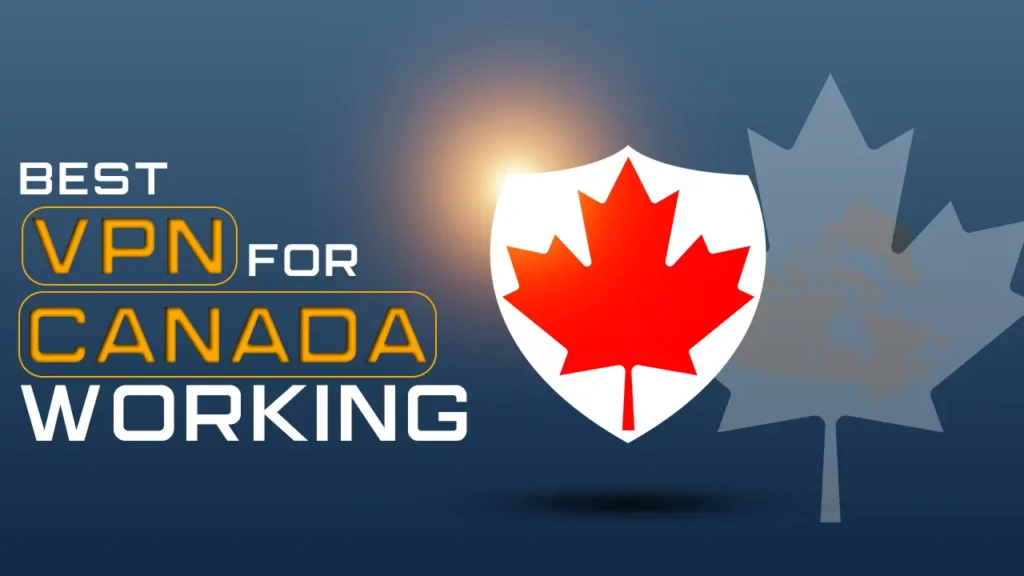 When it comes to picking the right VPN, you need to look at the quality of three factors – speed, security, and privacy. A VPN that lacks quality in any of the three factors is not even worth mentioning. There's no browsing without speed, there's no safety without security, and there's no privacy when you're being watched.
If you're in Canada, you may already know the reason for using a VPN. For those that don't, here's the reason.
Reasons To Use A VPN in Canada
While Canada is not a part of the US – it seems to be heading in a similar direction of internet censorship. However, internet censorship is not the only thing to worry about in Canada. The government can do – and has done – a lot more than supporting censorship in the past.
---
Communications Security Establishment (CSE)
It was revealed by the Edward Snowden leaks that the Communications Security Establishment (CSE) was using airport Wi-Fi to track all travelers. Any phone that was connected to the free airport Wi-FI was being tracked – even after it left the airport.
The mass surveillance affected so many people that even the Canadian Security Intelligence Service (CSIS) could not figure out an estimate. Despite the CSE being caught red-handed, they maintained that their method was consistent with all relevant laws and mandates.
It doesn't end there, certain Canadian identity information was shared with foreign governments by the CSE in 2016. It's highly unlikely that we can trust CSE to stop watching over its citizens digitally. The Wikipedia page of the CSE has multiple several controversies – ranging from 1994.
Not to mention, Snowdens documents also revealed that the government actively collects all emails sent and received in Canada. Is that the only threat to the citizens of Canada when it comes to digital freedom? Not really.
Bill C-11 – Online Streaming Act
The Online Streaming Act, more commonly known as Bill C-11 is a bill introduced in the 44th Canadian Parliament in November 2020. It was introduced in order to regulate streaming or any audiovisual content in Canada. But what exactly does that mean?
It means that the Canadian Radio-television and Telecommunications Commission (CRTC) will hold an immense amount of power over any digital audiovisual content – including monetized social media content. Any YouTuber or content creator – even social media users will be directly affected by this bill.
So what exactly happened with this bill?
It was passed in the House of Commons on June 22, 2021, but failed to pass the Senate. It didn't really stop there. Bill C-11 was reintroduced as the Online Streaming Act in February 2022 and passed the House of Commons again.
It is now awaiting Senate approval. If the bill passes, many content creators on Tiktok and Youtube will suffer as their content will not be reaching their intended audience. It may not even reach an audience at all, and here's why.
Everything Wrong With C-11
➼ All small content creators will find it hard to survive unless they are making Canadian content. The content is expected to be "Canadian" enough or you can simply watch your views drop. C-11 will also attempt to distinguish between "professional" and "amateur" content creators – based on the money they make.
➼ Many Canadian people that make content for other demographics will also suffer – as their content will be regulated. If their content does not reach CanCon requirements, their discoverability will go down.
➼ The bill is also made to regulate all streaming services and major platforms – by pushing CanCon (Canadian Content) to them. Netflix, Youtube, Tiktok, and other platforms will find their content regulated by the CRTC.
➼ Since all audiovisual content will be regulated by the CRTC, they will simply push the content that they want you to see. This will be done by manipulating your playlists, feeds, and algorithmic recommendations. All in all, this will affect you as well.
➼ The content that you actually want to see may even be downranked or hidden by the CRTC for not being Canadian enough. Not to mention, global content will become hard to find as well. The government is simply trying to shove Canadian Content down the throat of people in Canada.
If the bill passes, digital freedom will take a huge hit in Canada. But that's not the only bill that could affect digital freedom.
Bill C-18 – Online News Act
Canada's Heritage Minister introduced Bill C-18 – the Online News Act. Under this act, any digital news intermediaries that make "news content" available to the general public will have to negotiate with the Canadian News companies.
➼ This means that the digital news intermediaries (digital news start-ups, news blogs, independent media, and the like) will have to pay the Canadian news companies. It is a winners and losers setting – the big news outlets will get paid whereas the small news outlets may either shut down or have to pay the bigger ones.
A group of Canadian independent news outlets has come together to fight for basic fairness in the news industry. and so has Google. A move so bad that even Google responds. Here's an interesting excerpt from Google's take on Bill C-18.
If the bill were to pass, Google would also have to start paying the big-time Canadian News outlets. There's a huge problem as well – this would mean that news media would be regulated. Fabricated news, straight-up lies, political news – all of it would be possible. This is an attack on the freedom of digital media.
Oh, did I mention that the CRTC is involved in this one as well? The CRTC and the government will be maintaining a list of all digital news intermediaries – and they will have the power to decide whether they should be extorted or not.
Canadian Court Against Google
And the list of reasons to use a VPN in Canada keeps growing. In 2017, The Supreme Court of Canada upheld a company's effort to force Google to de-list everything from their search index – which would make it unable for anyone to find anything on Google.
FairPlay Canada Controversy
FairPlay Canada – a coalition comprised of 25 Canadian Media organizations wanted CRTC to establish a new body called Internet Piracy Review Agency [IPRA]. They wanted CRTC to block websites that are engaged in content theft with IPRA's assistance.
Big-time media companies with the power to block websites? That already sounds like a big no-no. Thankfully, that didn't happen. Though we don't really know if it won't in the future.
Five Eyes Alliance
Here's one huge reason to use a VPN in Canada – The Five Eyes is an intelligence alliance under which five countries openly share the data of their citizens between themselves. It's no wonder that CSE is a part of it. Things are not looking very bright for internet freedom in Canada.
---
With all of the reasons listed above, it's only natural that more and more people have started to use VPNs in Canada. As you may already know, the use of a VPN can help mask your digital profile and keep you safe from all ill-intentioned eyes.
Top 7 VPNs for Canada
Here's a list of the top 7 VPNs available in Canada – with a quick overview.
ExpressVPN has been a leading brand amongst all VPNs since 2009. It has managed to stay at the very top for over a year by constantly upgrading its features and capabilities. There are not many VPNs around that provide as much as ExpressVPN does.
➼ Features
ExpressVPN is filled with helpful features that make your overall VPN experience fast, secure, and private. In terms of features alone, it is unrivaled.
No Logs Policy – ExpressVPN has a very strict no logs policy that has been proven in the past.
Independently Audited – It has also been independently audited by professional auditors.
Military Grade Encryption – It uses AES 256-bit military grade encryption.
Trusted Servers – On top of the encryption, it also uses trusted servers that run on RAM instead of hard drives.
Lightway – It also has its own protocol that speeds up the VPN experience.
Private DNS – ExpressVPN has its own private DNS – all of your DNS requests are also encrypted with 256-bit encryption.
Network Lock – ExpressVPNs kill switch protects you during P2P file sharing or any unexpected connection drop.
Aside from these features, ExpressVPN also offers P2P support, Split tunneling, Shared IP addresses, Threat Manager, Stealth Technology, and a lot more. You also won't have any complaints if you're looking to use ExpressVPN for streaming in Canada.
➼ ExpressVPN Pros and Cons
See More: ExpressVPN Review
NordVPN is another great VPN for users in Canada. It's great overall for both privacy and high speeds. While it was only released in 2012, it has managed to climb to the list of Top VPNs overall. It is one of the big giants in the VPN industry.
➼ Features
Military Grade Encryption – NordVPN also uses AES-256-bit encryption.
No Logs Policy – It also has a no logs policy and refuses to store any consumer data.
Huge Network – It boasts over 5,600 servers throughout the world.
Double VPN – A feature that routes your traffic through two VPN servers for double the security.
Kill Switch – NordVPN offers a reliable Kill Switch that keeps you safe throughout the use.
CyberSec – A feature that blocks malware and ads on websites to keep you safe.
SmartPlay – Another helpful feature that makes your streaming experience easier and faster.
Other than these features, NordVPN also offers P2P/Torrenting support, Split Tunnelling, Obfuscated Servers, P2P Servers, and Dedicated IP servers. If you plan on streaming Netflix on NordVPN in Canada, you're most likely going to have an amazing experience.
➼ NordVPN Pros and Cons
See More: NordVPN Review
➼ #3 SurfShark
SurfShark is another VPN giant that climbed its way up despite coming out in just 2018. It offers a variety of features for a cheap price while also providing great security and high speeds. It has over 3200 servers in 59 countries.
➼ Features
Military Grade Encryption – Like the others, SurfShark uses the AES-256-bit military-grade encryption as well.
Kill Switch – A reliable kill switch that keeps you safe during connection drops.
Strict No Logs Policy – SurfShark also refuses to collect customer data.
CleanWeb – A helpful feature that works as an adblocker, tracker-blocker, and also a malware blocker.
WhiteLister – SurfSharks split tunneling feature that helps bypass VPN connection on different websites or applications.
MultiHop – SurfSharks own double-VPN feature that lets you hop from one VPN to another.
WifeProtection – A feature that keeps your device and data safe when connecting to free Wi-Fi networks.
See More: SurfShark Review
CyberGhost is another big-name VPN that works amazingly in Canada. It provides excellent speeds as well as security to its users. Like the other big brands on this VPN list for Canada, it also has a strict no-logging policy and top-notch encryption.
➼ Features
No-Logs Policy – CyberGhost does not keep any logs on its users.
Military Grade Encryption – It also uses 256-bit encryption to keep its users safe.
Specialized Streaming – It offers specialized streaming servers for a faster streaming experience.
Large Network – Cyberghost has a very large network: 7300 Servers in 91 countries!
Gaming Servers – It also provides servers optimized for Gaming.
NoSpy Servers – Special servers that run on RAM – like ExpressVPN's Trusted Servers
Dedicated IP servers – A single IP that helps you access all content.
Aside from these features, they also provide specialized servers for P2P/Torrenting. There's also their Kill Switch, Ad-blocker, and an exception feature instead of split tunneling. CyberGhost is also compatible with Tor to keep you safe.
See More: CyberGhost Review
PIA is another VPN that is reliable for use in Canada. It offers a kill switch and unrestricted torrenting. It is also highly configurable. PIA also has a huge network offering, with 11,000+ servers across 95 locations in 74 countries.
➼ Features
Kill Switch – PIA offers an advanced kill switch for connection drops.
WireGuard – It also offers OpenVPN and WireGuard protocols.
Split Tunneling – There's also split tunneling on Android and Desktop versions.
Customizable – PIA is very customizable in terms of connectivity – such as custom DNS settings, proxies, port-forwarding, remote ports, and more.
Adblocker – PIA has a built-in adblocker.
Dedicated IP – It also offers a dedicated IP address.
No logs policy – Naturally, it has a no-logs policy.
IPVanish is packed with high-security features while also delivering high speeds. It has a zero-logging policy and over 1900 servers throughout 75 locations. It also offers AES-256-bit encryption, which is used by all the top VPNs for security.
➼ Features
Encryption – Highly Encrypted AES-256-bit connection
Geo-Blocking Bypass– Unblocks all major streaming platforms
Inbuilt Kill Switch – for dropped connections
Split Tunneling – to exclude/allow connections through VPN
No Logs Policy – for privacy in Canada
Tor Compatibility – for more security
Inbuilt Malware Detection Tool – for security
See More: IPVanish Review
AtlasVPN is one of the very few VPNs to provide a free version, however, the paid version is definitely more secure – especially if you're in Canada. There's no compromising security. It has 750 servers in 34 countries, which is understandable as it was only founded in 2019.
➼ Features
SafeSwap – AtlasVPN lets you use multiple IP addresses at the same time for more privacy.
Inbuilt Blocker – It also has ad-blocker and malware protection.
WireGuard– It uses the WireGuard protocol.
Tracker-Blocker – It also has a track-blocking system that fights off trackers.
Split Tunneling – AtlasVPN supports split tunneling as well.
MultiHop+ – Helps you tunnel your connection via multiple VPNs for higher security.
PrivateDNS – AtlasVPN has its own private DNS.
Conclusion
Using a VPN in Canada has become essential due to many controversies about the government trying to spy on their people. With both the bills currently awaiting approval, it would be wise to gear up with a VPN you can trust. VPNs will help protect your digital identity and freedom.
FAQs
Can Using A VPN Hide Me?
Yes. Even if the bills are passed in Canada, using a VPN will help bypass them by routing your traffic to a different country. You will also be hidden from any prying eyes – be it the government or ill-intentioned strangers.
Can I Use A free VPN?
While you can use a free VPN, it is not recommended to do so. They are generally unreliable and unequipped to deal with most VPN-blockers. Not to mention, they can still collect data and sell it to third parties. Always use a premium VPN to ensure safety and privacy.
What is the best VPN for Canada?
Currently, ExpressVPN is the top VPN in Canada. It provides an array of features and is dedicated to providing you with security and privacy – while also offering fast VPN speeds. All of the VPNs listed in this article are also reliable and safe to use.