Is cache always beneficial to you? Sometimes not, that's why you want to disable cache in your browser. In this article, I will tell you how to completely disable cache.
So stay there and read I am sure you will get the best solution here😊
In this article, I will cover
What is cache?
Well, Catch is basically a copy of a website that stores images, codes, and other files to avoid re-downloading them repeatedly. Its benefit is that website would load faster the second time if the cache stores the website files. It is there to improve the loading speed of the website. Cache data is stored in a computer memory which provides a greater help to the user to load web pages.
But sometimes due to technical problems or malware reason user has to disable the cache from the browser.
Why do you need to completely disable the cache?
Not every time do you need to clear the cache regularly so here I will show you when you need to do this.
Here are some of the reasons listed below🤐
When there is a 404 or 502 error shown on your screen in that case your cache is corrupted and then there is a need to clear the cache
Malware situated in the website can be another reason where you need to clear the cache, as when you clear the catch in which malware situated in it will delete the malware files also.
Always recommended when you feel you need to clear the space on your hard drive in that situation you can clear the cache so that your device can run smoothly
When you saved your private information in the browser then it is advisable for you to clear the cache to protect your privacy from being hacked or tracked.
Disable cache in Google chrome
Google chrome has the most no of users in the world, It will not be wrong to say that chrome is ruling the browsers market. Chrome also has problems related to technicalities or any other problem so sometimes you need to disable cache. Now the question arises in your mind How to do it?
There are two types of methods you can try to disable cache in Google chrome.
Wanted to know?🥰
Let's know
1. Disable cache from developer tools
One of the most reliable methods you will come across is Developer tools as you don't have to download or install any extensions for the browser. You just have to use developer tools by clicking F12 or clicking CTRL+SHIFT+I keys on the keyboard. However, the catch will be enabled once you closed the window.
Don't worry I will tell you the tips, later on, to disable the cache without getting distracted from an open window.
Click on Three dots from the right top menu button and go to more tools
After going to more tools select developer tools and go to Network on the upper side.
Now the third step is to click on disable cache under the network option.
Now the point is once the developer option is closed or refreshed the new website will again save the cache
So here, is the solution for you
Click on the three-dot button on the above right and select the Dockside option to open the developer option in a different window so that you would not be disturbed by the screen and doing changes in the current window will not impact the Developers option.
2. Add Chrome Extension
You can also add a chrome extension to disable cache. With one click it will do a job for you although there are so many extensions that are there due to their complexity in installation, I recommended installing Classic cache clear chrome extension. By enabling it you will see the latest version of the website but on the other hand, you will feel that loading time has increased.
As it loads website from the scratch. You just have to toggle it if you want to on that or of that.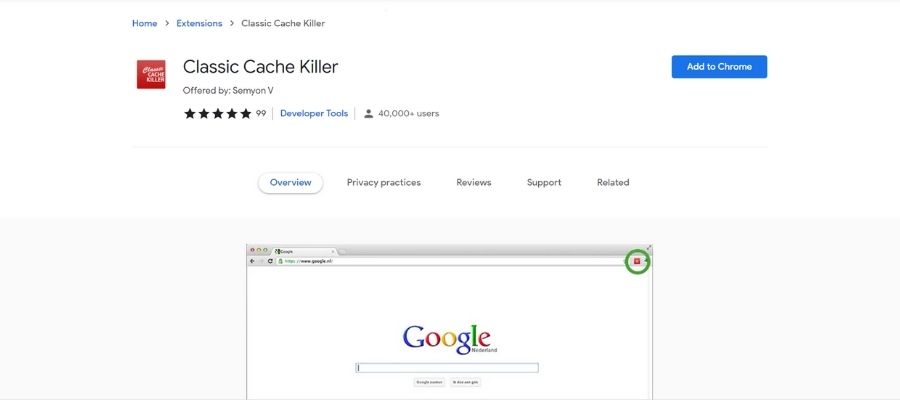 Disable cache in safari
Safari is the same as chrome in terms of disabling the cache. However, with the updates process of doing this has been changed. As this option has been changed to a web inspector tool that is similar to chrome.
Here is the process to disable
Click on the safari icon> then go to preference> show develop menu in the menu bar then go to preference> show develop menu in the menu bar">
Then go to Develop option and select Connect Web Inspector
Now click on network and click on a line passing through a cylindrical-shaped icon which is Use the resource cache when loading resources.
Disable cache in Firefox
If you are facing some technical issues related to a web page in Firefox regularly. It means you need to clear your cache. You can do it by using an extension or by in the browser settings. so here I will you the Two methods.
Interesting?
I am going to show you two methods that can disable cache in firebox easily.
1. Disable cache in Firefox using preferences
You need to type about: Config in the firefox address bar and hit enter and then a warning message will be displayed and you need to accept to go to the next step.
Here in the search bar, Copy paste the below mentioned-preferences one by one and turn their value to False to disable the cache.
browser.cache.disk.enable
browser. cache. memory. enable
After this restart, the browser and Firefox will stop using cache. The first preference you are seeing is to prevent firefox from storing cache in Hard disk memory and the second preference stops it from storing cache in PC memory.
2. Use a Firefox Addon
Firefox addon is the fastest method to clear the cache as you just have to add an extension in the browser to clear the cache. This is simply because you don't have to go through the long process. This is recommended when you have to disable the cache more often as it saves time.
Although there are so many extensions that are impressive and Clear cache is one of these you just have to do a single click on the top right side of three rows or via the F9 button.
Disable cache in Edge
Disable cache in Edge is very easy. You just have to follow such simple steps. It is a Microsoft edge which is known for its organized structure. However, To Disable cache you have to do:
Click on Microsoft edge settings and click on privacy settings
Click on choose what to clear every time you close the browser
Then select whatever you want to disable the cache
FAQs
What is a cache used to?
The cache is used to store website data in a computerized form. It improves the website loading performance and whenever you go to the website a second time then it will loader faster.
Is having a cache is dangerous for privacy?
Yes, you can say that if your personal information is on websites like online shopping or you purchased something and if that information is saved then this can be dangerous.
Does loading time become slow if we disable the cache?
Yes, It takes time to load because Cache helps in increasing the loading speed of the website by storing images, text, codes, etc.
Conclusion
My friends, I hope your all questions are answered by me about cache. Hope you know the difference between when to disable the cache and when not to. and please write it down in the comment section if you liked the article. I will be more than happy to solve all your queries if you have your suggestions or queries.
Happy reading😊