Cyberattacks are on the rise, and more and more companies are finding themselves on the wrong end; with so much data floating around the internet. Cyberattacks are a reality and will only become more common; The following article explores seven cyberattacks that have made companies go bankrupt.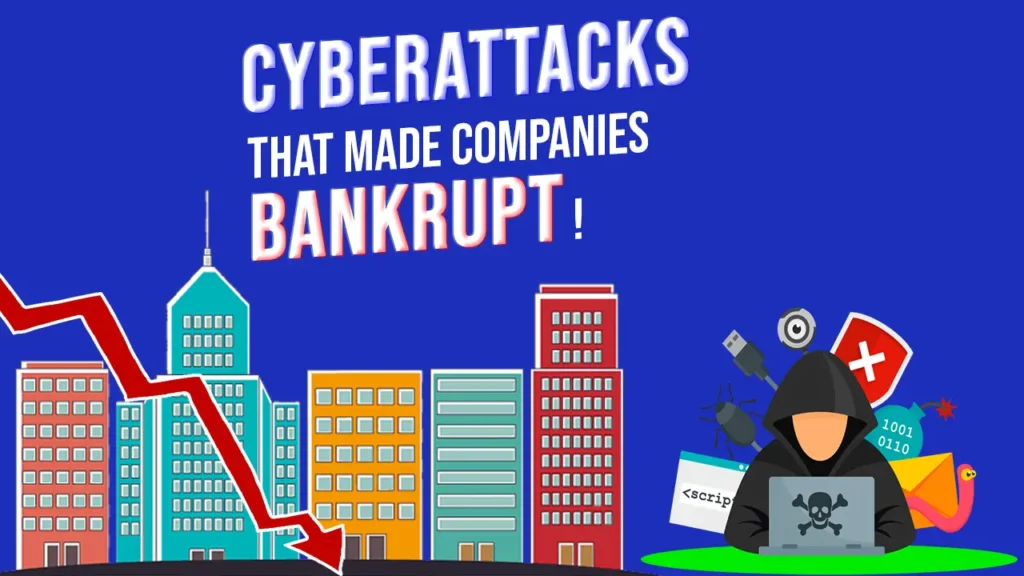 If you're a business planning to stay online during these attacks; ensure you take the precautions mentioned In our most important cybersecurity tips article.
1. Livecoin Crypto Exchange
Coming in first on our list is the Livecoin crypto exchange. The company filed for bankruptcy shortly after the attack; many are still trying to understand what happened. In December 2020, the Livecoin cryptocurrency exchange went bankrupt due to cyberattacks that made off millions of dollars worth of cryptocurrencies.

The company has experienced two cyberattacks in the past years; the first of which occurred on January 12, 2018, and resulted in a loss of ~$200,000. And on September 24; Livecoin suffered another cyberattack that caused an estimated $2.4 million in losses.

According to Livecoin CEO Alex Momot, the first attack was carried out by an individual or group who installed malware on the company's servers; this malware allowed hackers to steal user data and trade logs.
However, the second attack was perpetrated by a competitor; who targeted Livecoin's reserve account to drive down the value of LCL cryptocurrency by 60%.
2. Youbit Crypto Exchange
The popular South Korean Bitcoin and cryptocurrency exchange, Youbit, has announced filing for bankruptcy protection. This comes after a series of cyberattacks in April 2017 prevented the company from operating.
The attack was allegedly carried out by North Korean hackers; who reportedly used malware to infect the company's systems and steal 4000 Bitcoins and other assets. Once accessed, the hacker removed keys from the system, leading to the loss of $80 million worth of digital assets.

Ultimately, Youbit's demise is likely attributable to its decision not to upgrade its security system despite warnings from experts; had it done so, it might have avoided being breached in the first place.
Following the attack, investors rushed to pull their money from the exchange; Its share price tanked, and Youbit eventually filed for bankruptcy.
According to reports, the company had lost $2 billion since the attack began. In a statement released by Youbit; it said that it would suspend all operations immediately. the company also stated -it would seek "full compensation" from those responsible for the attack.
Youbit had operations in Kuwait and Japan as well. This is also why The company plans to use bankruptcy to find a buyer for its assets and restructure debts. However, this may not be easy as many companies interested in acquiring the exchange are likely worried about its future security risks.
3. Codespaces
Another company that has been hit hard by a cybersecurity breach is codespace. Codespaces filed for Chapter 11 bankruptcy after being hacked in May 2014. The company reported losses of $14 million due to the attack; This doesn't even consider the other financial setbacks codespaces has faced in recent years, including a layoff of 50% of its workforce in January 2014.
The attack occurred in 2014 and resulted in data theft from customers and employees. Allison Hinkle, codespaces' CEO, said that the company was forced to file for bankruptcy because it couldn't afford the damages from the cyberattack:
"The cost of paying our legal team and other costs associated with defending ourselves against these attacks continues to multiply while our revenue remains stagnant or declines….Without filing for bankruptcy protection, we simply cannot sustain this financial injury."
4. Vastaamo Psychotherapy Centre
A cyberattack on Vastaamo Psychotherapy Centre in Finland left many people rattled; This attack is a shock to many, as the center is one of Finland's most reputable mental health facilities. At its core; this cyberattack is an example of how vulnerable we all are to digital attacks.
On March 18, 2017, the Vastaamo Psychotherapy Centre (VPC) became aware that hackers had attacked their website. The site was down for hours, and when it came back up; all of the content was gone. The only thing left was a message that read, "You are being watched."
After some time, the clinic's website was hit with a distributed denial of service (DDoS) attack on February 3, 2019; this type of attack causes websites to become overloaded and difficult to use. The attack was sustained for more than 48 hours, causing significant damage to the clinic's website.
The attack affected the center's computer systems, losing 4,000 patients' records; Clinic officials say they were unprepared for this attack and that it has taken a toll on their business. They estimate that the total cost of the attack was $40,000. In addition to the financial impact; officials say that the DDoS and data breach attack has caused embarrassment and disruption for their patients.
The Finnish Data Protection Authority fined Vastaamo 608,000 euros in December 2021 for violating the provisions of the General Data Protection Regulation. This cyberattack led to the center's negative reputation and eventually bankrupted it.
5. MyBizHomepage
MyBizHomepage is a website that helps small business owners manage their financial records; unfortunately, they have been the victim of a cyberattack which has led to their bankruptcy. The cyberattack began on October 1, 2012, and lasted for eight days.
During this time, MyBizHomepage was hit with a DDoS attack which caused the site to go offline; additionally, it was the target of a credit card breach that compromised users' personal information.
This cyberattack took down myBizHomepage and affected other businesses with links to the website through their affiliate programs. In total; the cyberattack impacted over 150 businesses.
As of now, it is not clear who is responsible for these attacks; but several theories are circulating the internet.
6. Wood Ranch Medical
Wood Ranch Medical is just one of many businesses hit by ransomware. The ransomware encrypts data on infected computers and demands a ransom to release it. If the ransom is not paid; the data can be permanently lost.
Wood Ranch Medical, a medical supply distributor; filed for Chapter 11 bankruptcy in December 2019. The company disclosed that it had been a victim of a ransomware attack that may have led to the theft of intellectual property and customer data.
The malicious act occurred in late August 2019 when Wood Ranch Medical's database was breached. It is believed that personal information—such as social security numbers and credit card numbers was accessed.
A single piece of malicious software has bent the entire organization to a halt permanently. Wood Ranch Medical said it has not yet been able to determine the extent of the damage caused by the cyberattack.
According to court documents, the attack was directed specifically at the medical center's financial system; resulting in a loss of revenue and an increased cost of maintenance and operations. Due to this; the hospital estimated that the attack resulted in losses totaling $14 million.
7. HBGary Federal
In late 2011, HBGary Federal, a company specializing in cyber security and defense consulting was hacked by an unknown group Anonymous. Initially discovered by the company's CEO; the attack exposed internal emails, financial information, and other sensitive data.

The attack on HBGary Federal stemmed from an email sent out to thousands of employees via the company's intranet; the email was supposedly from senior management at HBGary Federal instructing employees to stop working with WikiLeaks and report any suspicious activity they may encounter. However, HBGary later discovered that hackers created the email to gain access to the company's servers.
Anonymous released a statement on its motivations for attacking HBGary Federal; an American company that provides technology and consulting services to government agencies. Anonymous cited the company's involvement in the hacking of WikiLeaks and its alleged participation in surveillance programs as its main reasons for targeting HBGary Federal.

In a video posted to YouTube; Anonymous said it had obtained evidence that HBGary Federal was working with the US Army and FBI to develop spyware. That could hack into computers and surveil citizens; the group also claimed that HBGary Federal was planning to use the information gained from these spying programs to blackmail politicians.

Anonymous has not released any evidence to support its allegations against HBGary Federal; However, the group has released documents and emails from HBGary Federal that appear to support its claims.

The attack triggered a public outcry and raised questions about the safety of government information; in February 2012, HBGary Federal filed for Chapter 7 bankruptcy. The company cited the cost of defending itself against the Anonymous attacks as one of its major factors in filing for bankruptcy.
Common Cyberattacks on Companies
Cybercriminals use various methods to launch cyberattacks; including spear-phishing when attackers send unsolicited emails with links that lead to infected websites.
Ransomware uses malware to encrypt files on a victim's computer and then demands payment from the user for the key to decrypt them. DDoS (distributed denial-of-service) attacks flood a target website with traffic to knock it offline.

To protect against cyberattacks, businesses should implement strong security measures; including authentication mechanisms such as passwords and PINs, firewalls to prevent unauthorized access, antivirus software to detect and remove viruses, and intrusion detection systems (IDS) that monitor suspicious activity on networks.
Conclusion
As we move into a digital world where everything is connected, businesses must be cautious about their data security; unfortunately, cyberattacks are on the rise and seem increasingly becoming more sophisticated. And unfortunately, these numbers are only going to continue to rise.
Cyberattacks are causing companies to go bankrupt, and there is not much that companies can do about it apart from increasing their cybersecurity budget. As these attacks become more common; business owners need to understand what cybersecurity measures they should take to protect themselves and their employees from attacks.
Check out the 12 most destructive computer viruses to check whether your company is infected with virus attacks.
FAQ
What are the signs of a cyberattack?
Many signs may indicate that your business is under attack; but some common ones are irregular network activity, unusual login attempts, and data loss. If you notice any of these signs in your business -it's important to take action and have the plan to protect your data.
What are the consequences of cyberattacks on businesses?
Cyberattacks can have a variety of consequences for businesses; Some common consequences include loss of revenue, data loss, and business disruption. In extreme cases, cyberattacks can lead to company bankruptcy.
What are the most common cyberattacks?
There are various cyberattacks, but the most common are data breaches and phishing.