We have all been curious about wanting to experience the thrill of conversations with unfamiliar random strangers online, and a website like Omegle offers exactly that. Omegle is a popular platform where people meet through online chat or video rooms, offering the opportunity to interact with people from all across the world.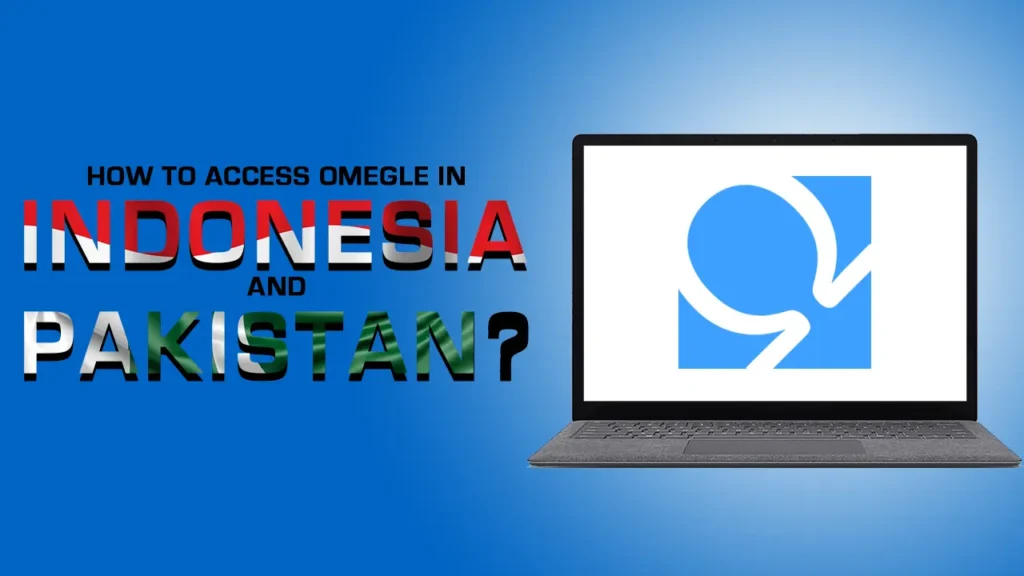 Unfortunately, it has been found to be blocked in several countries, like Pakistan and Indonesia, If you're tired of constantly encountering such issues with Omegle, then you've come to the right spot, we've got a solution for all your problems right here!
⌛ Short On Time? Here's How To Access Omegle With Ease ⌛
Subscribe to a reliable VPN like NordVPN.
Download and Install the client.
Connect to the server of your choice.
Enjoy unrestricted access to Omegle!
Why Can't I Access Omegle?
Omegle is an amazing website, that offers you a conversation with strangers from everywhere anonymously, on the off chance you might be facing difficulties in accessing Omegle, they can be caused because of several reasons, and these problems can restrict your access to the website. For your information, a list of these reasons has been made and is given below:
1. Geoblocked/Restricted for your country:
Omegle is a famous and equally controversial website that is known to be blocked in many countries, some of which happen to include Pakistan and Indonesia, This is done to uphold specific countries' regulations and censorship laws, if any website is known to violate those laws, it is immediately geo-restricted.
This will, unfortunately, limit access to the site, However, just because it's limited does not make it impossible, you can still enter Omegle by using, proxies, VPNs, and the like, methods that will be discussed in detail to help make your choice easier.
2. Blacklisted by your ISP:
It is also very likely that Omegle was Blacklisted by your Internet Service Provider (ISP), this can be done in the case your ISP deems the website inappropriate, or guilty of violating censorship laws, in-case no action was taken or implemented by the government, its possible your network service provider took steps to block access to the site.
While it occurs rarely it is not completely unheard of, and a simple fix by the use of a VPN can help you connect to your internet and access Omegle, it hides your information so that you remain hidden to your ISP.
3. Blacklisted by your work/school Network Administrator:
This particular instance plays out if your trying access Omegle on your work or school supplies computers, they are engineered to restrict your access to entertainment or social media websites so that you remain focused on your tasks, a strategy which is implemented by the admin who's in-charge of your institutions network services.
Although, much like in the case of blacklist by your ISP, you can bypass it by several methods, remember to proceed with caution, because if caught you may find yourself in trouble that might result in you either being fired from your workplace or expelled by your school, only take risks your willing to brave the consequences for.
4. IP banned by Omegle:
You could also be one of many select few who has been ip-banned by Omegle, which means your ip-address have been backlisted by the concerned site, because of violating their terms and conditions as well as community guidelines.
Most websites have a set of rules and regulations that user must adhere to, naturally when there is infringement to those very rules, you may find yourself on the opposite ends of the spectrum, and while we don't encourage such behavior to continue, you might of the unlucky few who were wrongly condemned.
Some of the reasons you may be Ip-banned include:
Spamming, Doxing, or any other inappropriate behavior.
Violating the website's Terms and conditions.
Harassment or bullying.
Sharing content or imagery of explicit nature.
Using multiple accounts from the same IP address.
---
How To Access Omegle?
Having understood the many ways, listed and otherwise, that you can find yourself on the short end of the stick with this spectacular website, only one question comes to mind, and that is the very purpose you are here for, how to access Omegle in a safe and secure manner.
We have compiled a list of detailed fool-proof ways that you can access Omegle and bypass its restrictions, these have been carefully tested and evaluated for their performances, speeds, and quality to provide you with the best options for accessing Omegle.
1. Use a Virtual Private Network (VPN)
This tool or application is built for rerouting your internet connection through servers that are located all around the world. The way it works is by encrypting your information and letting you access any server of your choice.
This means that using a reliable and dependable VPN service like NordVPN, (more on that later!) will change your IP address and allow you access to Omegle from a country where it is not found to be restricted. To keep your privacy and security safe, it's very important to use a VPN service that has a good reputation.
2. Use a Proxy server
While lesser known in comparison to a VPN, a proxy on first look is often confused with VPNs, however, they are not one and the same, but simply two sides of the same coin, as in, the end result for both is the same, but they work in contrasting ways,
A proxy server will serve as a middle-man between your device and the internet, or in this case, the Omegle website, you can use a web-based proxy server or configure your own to be capable of bypassing geographical restrictions allowing you the website with its complete unrestricted content,
However it does not encrypt your information like a VPN does, which means your personal information will remain at risk, so use it with caution.
3. Use SmartDNS
A SmartDNS is another service that lets you access geo-blocked content by sending your DNS traffic through a server in another country where your desired website is found to be accessible.
This means websites like Omegle can be readily available without having to change or modify your IP address, while being faster than a VPN, it is not as safe and secure, as it does not encrypt your information and leaves your connection unprotected.
4. Use TOR
Tor is a platform notorious for its anonymity feature, it keeps your location hidden and your address untraceable, which means your internet connection will be completely off the grid, While it makes it possible to connect, and provide access to Omegle, it is not recommended.
This is because it is known to slow down your internet connection and provide poor quality for video chats, Along with those setbacks, at times it fails to function for certain websites that actively block Tor, which is why it is advised to use a VPN in combination with Tor, so that you may remain protected while browsing the internet.
5. Use a VPN Browser Extension
And lastly, another way to access Omegle is by using a browser extension, or add-ons, these work in a similar fashion to the other, in which it routes your connection multiple times until your designated website in found to be un-restrcited!
NordVPN and ExpressVPN are some of the many applications that offer extensions and add-ons that you can find on google Play-store, you can easily change your location by clicking on the icon found above after installation, the extensions are available for all popular web-browser, like Chrome, Firefox, Microsoft Edge and so on..
They use a peer-to-peer network to route your connection through multiple different locations, allowing you instant access to Omegle or any other website of your choice, however, they are not the safest option, and are known to sell used bandwidth to other users, it is recommended to use a VPN to ensure your security.
---
Best Way To Unblock Omegle:
We personally recommend using a VPN, and consider it the best out of all the prescribed methods prescribed above, It is the most secure in its delivery, as it encrypts your internet connection and hides your information from all eyes, like your ISP, Network Administrator, or even your Government!
To break it down into simpler terms, it routes your connection from a server in a different location, you can select which country you want to access from, after which it hides your REAL address, assigns you a new address based on the location you have connected to, making it appear as if you're virtually surfing the internet from there! it makes all content free to access from the comfort of your home.
So if you wanted access to content only available in Canada, you would connect to a Canadian server, that way your address will be changed into a Canadian one, letting you access Omegle with ease.
A VPN not only allows you to geographically bypass most restrictions by connecting to any country of your choice, it also helps offer several other benefits, like increased security and privacy features, better connectivity as well as speed and protection against online malicious threats.
---
Best VPN to unblock Omegle – NordVPN
| | |
| --- | --- |
| 🌐Based in: | Panama |
| 🖥️Total Servers: | 5500+ servers in 58 countries |
| 💾Logs: | No Logs |
| ℹ️Support: | 24/7 Live Chat |
| 🍿Unblock Netflix: | Yes |
| 💵Refund: | 30 Days |
| 🔥Discount: | NordVPN coupon 64% OFF |

NordVPN is one of the best VPNs you can use for Omegle as it offers high-grade security without any DNS/IPv6 leaks (proven in tests). With its 5400+ servers in 62+ countries all over the world to quickly connect to a server,
It also offers Onion over VPN for complete anonymity, and its download speeds, as of recently, have skyrocketed with its very own Nord Lynx protocol (special protocol).
NordVPN has a very simple UI and is beginner-friendly and compatible with all the device platforms like Android, iOS, Windows, and macOS. You can enjoy the service in six simultaneous connections per subscription NordVPN is a top VPN recommended by Reddit users.
NordVPN unblocks geo-blocked content on different platforms such as Netflix, Hulu, Disney+,
Amazon Prime, and other streaming apps with ease. Compared to other VPNs, it is very cheap and comes with a 30-day money-back guarantee.
So you can try this without any risk. In case you don't like the app, you can get a full refund within 5 days. And if you need a VPN only for 1-2 weeks, you can try NordVPN for free using its money-back program.
Pros:
Best VPN For Netflix
Smooth Streaming Experience
Fastest VPN With Stable Pings

Independently Audited

Unlocks 32+ Netflix Libraries
24/7 Live Chat
30-days-refund policy
Cons:
No Inbuilt GPS Spoofing Feature
For more information, check out our detailed NordVPN Review.
---
Why Does Omegle Ban Users?
Omegle is an outstanding website that essentially allows you to connect with strangers anonymously for online conversation! the anonymity of the site is what allows users to have judgement free and honest
conversations, their random pairing feature makes it an even more fascinating experience.
which is why it can be quiet the bummer when half the world is restricted from being able to engage with people from all over the world, which brings us to the relevant causes of being banned by Omegle, you can be blocked by the website due to various reasons they range from:
Sharing private information, engaging in illegal activities or offensive behavior, and soliciting information from other.
violation of the terms and conditions of the website and community guidelines by engaging in hate speech or harassment.
Because of national, political or government-imposed restrictions, certain countries may be blocked or restricted by geo-restriction.
Spamming the chats with repetitive and useless information causes disturbance.
By using stolen identities, or creating multiple fake accounts.
Trying different ways to bypass account suspension, resulting in permanent ip-bans.
Are VPNs legal?
Yes and no, what that means is while it's legal in almost all countries, namely the United States, Canada, Australia, UK and so many more.
There are a few countries that outright and publicly condemn the use, these include China, Russia and Iran, they have imposed strict restrictions which can be punishable by law, this makes the entirety of its legality a question mark, which can be answered only by researching your specific country and its laws regarding VPNs.
Additionally, no matter the country and its disposition for VPNs, certain activities such as illegal downloading or accessing blocked websites, while being connected to a VPN can lead to challenging circumstances.
Fun Fact: Omegle was started by a then 18-year-old high school student from Vermont-USA, which explains why it was originally named 'omellete'. The tagline of the website was to be "Talk to strangers, like an omellete!".
---
FAQs:
Can I use a free VPN for Omegle?
While some users have been able to access omegle by the use of free VPNs, it mostly
has mixed reviews, this is because free VPNs are not equipped with enough servers are the
adequate bandwidth for it to effectively work, it is recommended that you use premium
VPNs.
Will a VPN slow my Omegle connection?
While there have been reported cases of some experiencing slow speeds, this likely
depends on your VPN service and can be easily overcome by connecting it to a server as
close to your country as possible.
Can I get banned from Omegle for using a VPN?
Although there have been a few causes of omegle banning users for using VPN,
considering that it is against their terms and conditions, many users have reported to have
had a seamless experience without any difficulties, as long as you use a reliable VPN, there
is nothing to worry about.
What's the best VPN for unblocking Omegle?
NordVPN is the best VPN you can use to unblock omegle due to its amazing features and
services, additionally you can also use ExpressVPN and CyberGhost VPN for effective
results.
Can I unblock Omegle on school/work network using VPN?
Omegle, and other similar chat rooms as well as many entertainment websites are often
banned and restricted on school or work computers,
However, this will come as no surprise that it is in fact possible to overcome them by the use of VPNs, A VPN connection will bypass these blockades with ease.
Be careful though, in case your activity is constantly monitored, as it can put you in heaps of trouble.
---
In Conclusion:
Accessing Omegle can be challenging due to regional restrictions, however, by using a VPN, users in countries like Pakistan, Indonesia, or even anywhere else in the world, can easily bypass these restrictions and enjoy the platform's unique and anonymous conversations with people from all over the world.
All in all, we strongly recommend trying out NordVPN or ExpressVPN, both of these have been thoroughly tested and evaluated for performance, speed, and quality.
Don't forget to always follow Omegle's terms of service and community guidelines to avoid getting blocked as we do not condone ill intent malpractices, this guide is purely for informational purposes.
---