There are many gamers throughout the world that rely on a VPN to access multiple games while also keeping their ping lower than normal. If you're a gamer, you probably already know the immense difference just 10ms can make in gameplay.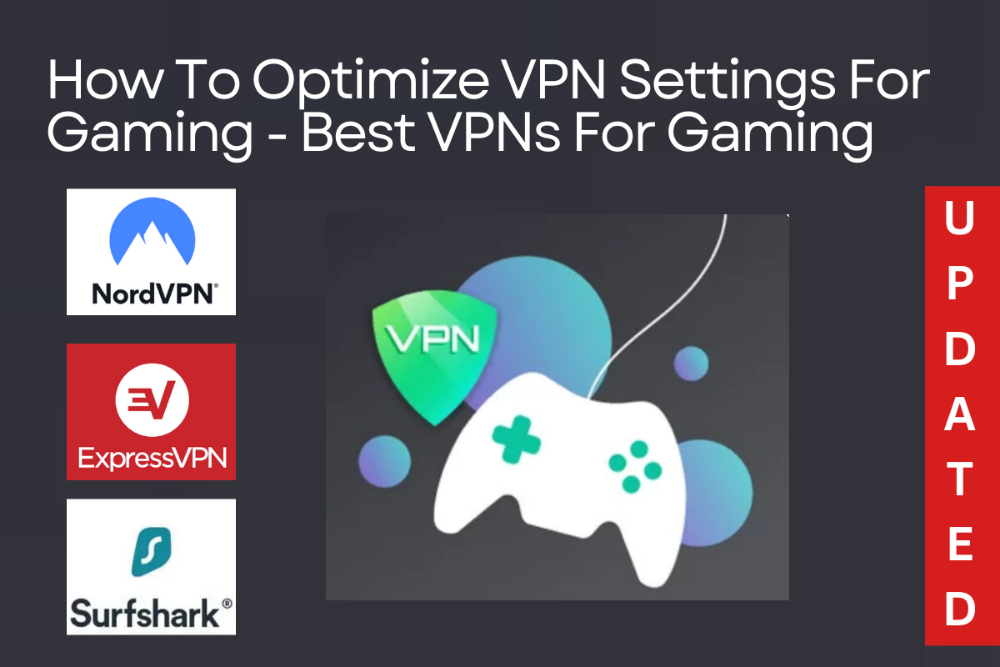 However, getting the right VPN settings for gaming can be a bit harder, as there is no general setting other than a few. Your ping in Valorant, League Of Legends, and other games can definitely be reduced depending on the servers that you connect to. Let's find out more!
Can A VPN Really Help In Gaming?
Yes. A VPN is able to reduce pings for many different games depending on the server that you connect to. Users have shown a reduction in ping on games such as LoL, Valorant, and Fortnite. However, keep in mind that your internet connection does need to be of decent speed and quality in order for a VPN to improve your gaming experience.
With a reliable VPN, you will be able to reduce lag in every online game you play. Additionally, you will also be protected from DDoS attacks and Doxxing, which are quite common in the gaming community. If you do not already have a VPN, we recommend checking the Best VPNs for Gaming section below. Let's get started!
How To Optimize VPN Settings For Gaming – Step By Step Guide
The very first step to improving your gaming experience with the help of a VPN is to select a reliable VPN. There are many VPNs out there that claim to be made for gaming, but they simply aren't worth it. We recommend using SurfShark or NordVPN, as both of these VPNs have considerably made the gaming experience better for everyone.
Once you have found a reliable VPN, you will be able to minimize lagging and unblock every game that is banned in your region, including mobile and console games as well. Most reliable VPNs also offer compatibility and support for such devices.
1. Choosing The Right VPN
Picking the right VPN for Gaming is quite easy, all you really need to do is to make sure that they have the following qualities. Especially when it comes to server count, make sure that you pick a VPN with enough servers so you don't have to share one with too many users.
Independently Audited: It is recommended that you only pick an independently audited VPN. These VPNs have been tested by third parties, proving that the VPN does not engage in malicious activities like collecting and selling your data. We only recommend independently audited VPNs as we respect your privacy and security.
Server Count: Ensure that the VPN you are picking has multiple servers in over 3000 locations. If your VPN does not have enough servers in a certain location, you can experience high latency as other VPN users may also be on the server you are connected to.
VPN Protocol Selection: As you may already know, VPN protocols are the way in which a VPN works. There are many different protocols that offer different VPN experiences. Put simply, it controls the security and the speed of the VPN. If your protocol is more focused on security, you may not have enough speed. We recommend VPNs with the WireGuard protocol, as it is currently the fastest and most secure.
Encryption System: VPNs with an outdated encryption system can actually increase your pings as they are simply too slow these days. It is recommended that you find a VPN with the latest AES-256-bit encryption system. As all of your internet traffic has to be encrypted and decrypted while gaming, always ensure that you are using an up-to-date VPN.
Pricing: Pricing is definitely another important thing to look for in a VPN. Most premium VPNs can cost around $3 to $8 per month or higher. Some high-value VPNs like SurfShark only come at around $2 per month. Since the pricing can be subjective, it is recommended that you pick a VPN with a 30-day money-back policy. All reliable VPNs offer this policy.
Feel free to scroll below to see the Best VPNs for Gaming.
2. Picking The Right VPN Protocol For Gaming
The VPN protocol is generally responsible for the level of security and encryption on your connection. Higher encryption meant lesser speeds, but things have now changed. Protocols such as OpenVPN UDP and WireGuard are able to provide you with both speed and security.
If your VPN has the WireGuard protocol, select it during gaming or even when general browsing. If it does not support WireGuard yet, go for OpenVPN UDP as it is both fast and secure. Additionally, many premium VPNs have also created their own protocols based on WireGuard.
Currently, SurfShark offers the generic WireGuard protocol, NordVPN offers NordLynx which is based on WireGuard, and ExpressVPN offers Lightway which is its very own proprietary protocol. You can change the protocols from the settings tab in all VPNs.
3. Picking The Best Location For Games
In order to find the best server location for gaming, we recommend looking up where the game servers are located. This is quite easy, as all it takes is a Google search. For example, if you wanted to play Valorant on the EUW servers, you would have to google where the game servers are located.
According to Riot Games, the servers of Valorant EUW are located in London, Warsaw, Tokyo, Paris, Frankfurt, Istanbul, Madrid, and Bahrain. Figure out the location which is closer to your location, and then connect to that location. Your ping will definitely reduce.
4. Disable All Background Internet Processes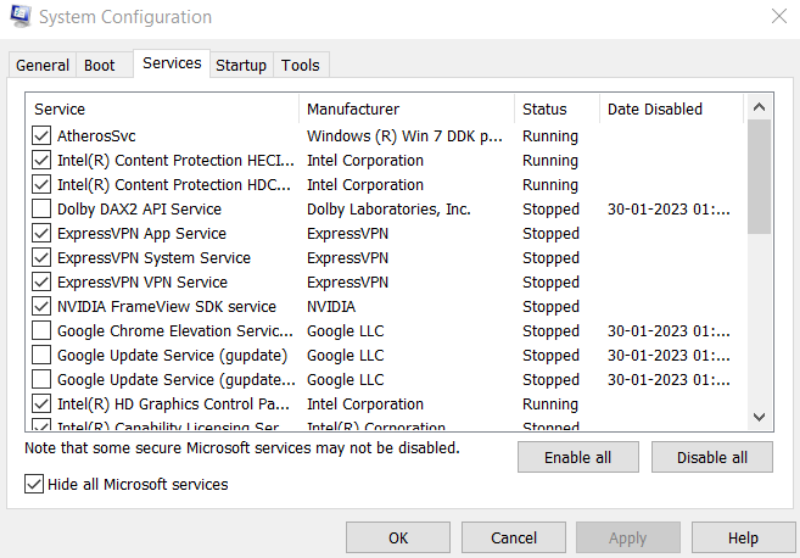 As most of you already know, Windows has a lot of background processes running at all times. From services like Cortana to printing services. These services often consume a lot of background data in the background which could result in terrible pings, even with a VPN.
Hit Windows Key + R
Type "msconfig" and hit enter
Head to the services tab
Make sure to check on "Hide All Microsoft Services" – it will hide all of the essential processes from the list
Click Disable All and restart your PC.
We recommend turning off these processes, as it could save up some speed and even improve your pings when using a VPN. Turning off these processes on Windows is quite easy, simply follow the steps above. Your PC will also boot quicker and you may notice some improvements as well.
5. Try Split Tunneling For Gaming
Split Tunneling is a feature in the most reliable VPNs that lets you control the use of a VPN on several applications. Generally, when the VPN is on, all of your internet data goes through the VPN tunnel. But through split tunneling, you can limit the use of a VPN to a single app or game.
For example, if you enable VPN for Valorant or any other game, then the VPN will only work on those games – it will not work on your browsers or anything else. This will ensure that all of the VPN resources are simply focused on one game, minimizing lag.
6. Change DNS Servers To Google
Most reliable VPNs also offer special DNS servers for gaming. These servers can be found on your account page or dashboard. Additionally, VPNs also offer dedicated IP addresses so you can enjoy your very own server for gaming. Some VPNs even offer special gaming servers (CyberGhost).
However, if your VPN does not offer such services, you can simply change your DNS servers to Google Public DNS, Cloudflare, or OpenDNS. Doing so will definitely make your connection more stable, and could possibly lead to better pings with a VPN on.
Following the tips above should definitely help you to reduce your pings with a VPN. Remember that gaming with a VPN on is more of a trial-and-error thing. If you face higher pings on some servers, try connecting to a different one. Now, let's take a quick look at the best VPNs for Gaming so you can select your reliable VPN.
Best VPNs For Gaming
SurfShark is our #1 recommended VPN for gaming due to its high value. It offers over 3200 servers across 65 countries and has been independently audited. Naturally, it supports the WireGuard protocol, which is most beneficial for gaming.
| | |
| --- | --- |
| 🌐Based in: | the Netherlands |
| 🖥️Total Servers: | 3200+ Servers in 65 Countries |
| 💾Logs: | No Logs |
| ℹ️Support: | 24/7 Live Chat |
| 🍿Unblock Netflix: | Yes |
| 💵Refund: | 30 Days |
| 🔥Discount: | SurfsharkVPN coupon 81% OFF |

With SurfShark, you will be able to unlock all games that have been banned in your country, and it may even help you reduce your pings while you are gaming. It offers split tunneling as well and uses the latest encryption system. The pricing of SurfShark is very modest – just $2 per month!
Additionally, SurfShark offers a 30-day money-back guarantee along with 24/7 Live Chat support as well. This means that you can try their VPN out for free for 30 days and simply get a refund on the last day – if you are unsatisfied.
Who It's Best Suited To
SurfShark is best suited to people that love streaming, torrenting, and gaming. It also keeps you secure from all digital threats and respects your privacy.
Overall, SurfShark does really well in speed, privacy, streaming, and security. The SurfShark One Bundle also offers an in-built antivirus and real-time alerts system.

---
2. NordVPN is a very well-known VPN in the gaming community. It is often endorsed by many YouTubers and for good reason. It has been independently audited multiple times, proving that it is reliable and trustworthy. Not to mention, it hosts 5500 servers across 58 countries.
| | |
| --- | --- |
| 🌐Based in: | Panama |
| 🖥️Total Servers: | 5500+ servers in 58 countries |
| 💾Logs: | No Logs |
| ℹ️Support: | 24/7 Live Chat |
| 🍿Unblock Netflix: | Yes |
| 💵Refund: | 30 Days |
| 🔥Discount: | NordVPN coupon 64% OFF |
NordVPN uses the NordLynx protocol along with OpenVPN UDP and OpenVPN TCP. The NordLynx protocol is based on the WireGuard protocol, and it is currently the fastest in the industry. Additionally, it uses the latest encryption system as well.
Also, NordVPN offers Smart DNS along with a dedicated IP address for gaming as well. Naturally, it comes with a 30-day money-back guarantee and 24/7 live chat support. It is great for torrenting, gaming, streaming, and bypassing geo-blocks.
---
3. ExpressVPN has its very own proprietary protocol known as the Lightway. It is very fast and secure, making it great for gaming. It also has undergone independent audits, proving that it is a reliable VPN. Additionally, it holds over 3000 servers across 94 countries.
| | |
| --- | --- |
| 🌐Based in: | The British Virgin Islands |
| 🖥️Total Servers: | 5000+ servers in 59 countries |
| 💾Logs: | No Logs |
| ℹ️Support: | 24/7 Live Chat |
| 🍿Unblock Netflix: | Yes |
| 💵Refund: | 30 Days |
| 🔥Discount: | ExpressVPN coupon 49% OFF |
While the pricing of ExpressVPN can be heavy for some, it is worth it for the security and privacy that is provided. ExpressVPN is filled with many features that are helpful for all situations, be it browsing, torrenting, streaming, or gaming.
ExpressVPN currently comes with a 30-day money-back guarantee as well as 24/7 live chat support!
---
Conclusion
VPNs definitely have the potential to improve your gaming experience, though it may take a little bit of trial and error. Personally, I generally use it to reduce my pings by up to 20ms (which makes a great difference) whereas some have reported a reduction in ping by over 50ms. It really depends on the server location and the settings that you use.