Planet VPN was founded in 2017 as RUSVPN based in Romania, a privacy-friendly region. The VPN has a nice international developmental structure which includes staff from various parts of the World. With the headquarters located in a privacy-friendly region, Planet VPN seems reliable and secure – but is it? Let's find out in this in-depth review.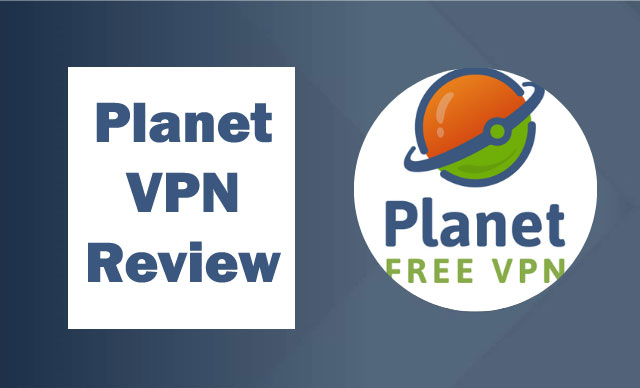 Planet VPN came into existence as a tool of digital freedom and privacy. It was initially named RUSVPN – which might imply an alliance with Russia. While Planet VPN does state that it opened up with the intent to distribute to the Russian market, the name RUS is actually an acronym.
Reliable
Unlimited
Secured
Initially, Planet VPN did not provide enough information to the public, which was quite shady. However, they now provide enough information about their servers, features, and much more. In this review, we'll be learning in-depth about Planet VPN and how it fares in terms of Security & Privacy, Speed, Interface, Server Coverage, and Pricing.
---
Planet VPN: Privacy & Security Review
When it comes to VPNs, privacy, and security are two very vital aspects that every VPN should provide. The VPN should be free from all sorts of leaks, and hacks, and should use the latest encryption system. Planet VPN does seem to have most of it covered. Let's take a look.
Logging & Audits
Unfortunately, it is very likely that Planet VPN has not undergone any independent audits. Every VPN should be independently audited, as it proves that the company is not storing and selling user data – which happens quite often if the VPN service is free.
Planet VPN is indeed a free VPN, though it does have a premium version. Just the mere fact that they do not have any claims of being independently audited as of May 2023 is enough proof that they have not been independently audited.
However, they have released the necessary statements in their privacy policy.
They state the following claims as per the privacy policy:
They collect your browser's user agent, language, screen resolution, and so on in order to know their customer base (through Google Analytics)
They do not store any personal details other than your email ID.
All of the subscriptions/payments go through a secured gateway that stores no data of the purchase, instead, a Unique ID is assigned to each account.
They collect temporary logs which are used for troubleshooting. These logs are cleared every few hours. However, no data can be linked to your real IP address.
As the VPN is registered in Romania, it is outside the jurisdiction of Eyes Alliances. If the Romanian Authorities do require their logs in an investigation, they simply cannot get them as no logs are stored.
So, I guess it's safe to say that they do not store any logs, but it would definitely be better if Planet VPN was independently audited.
Encryption
The Encryption of a VPN is what makes a VPN secure and private. Currently, Planet VPN uses 256-bit encryption which has never been broken before. Put simply, all of your data traffic is encrypted in the VPN tunnel as it travels through the unsecured web.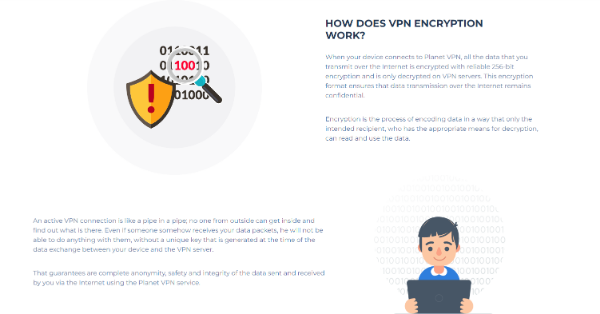 This means that your ISP, government, and foreign entities will not be able to pinpoint or trace your online activities. However, the ISP will know that you are using a VPN service, not that they can trace it anyway. In terms of encryption, Planet VPN has done well – it is up to date.
Kill Switch
Another important aspect of privacy and security is the Kill Switch. Every VPN should provide a reliable Kill Switch that is able to shut off your internet connection entirely as soon as your VPN abruptly disconnects. This ensures that your real IP address and other DNS details are not revealed to the world wide web – as you will be disconnected from the internet forcefully by the VPN.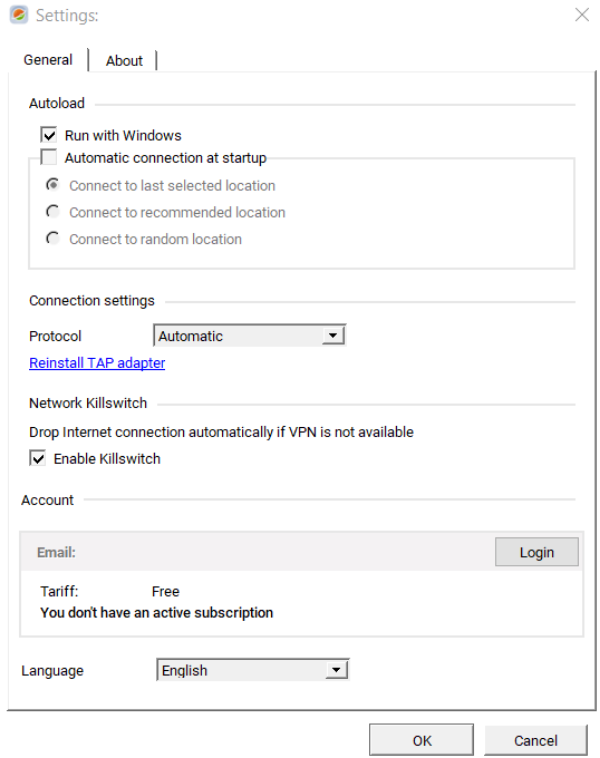 Thankfully, Planet VPN does have a Kill Switch that is reliable enough. While it is not turned on by default, you can find it by clicking on the three vertical lines on the top left of the application. Whenever you're surfing the internet with a VPN, ensure that the Kill switch is turned on – regardless of whichever VPN you use.
Protocols
A VPN protocol is what decides how a VPN works. There are multiple VPN protocols out there, with WireGuard being the latest, fastest, and most secure. It is essential that a VPN offers the latest protocols, as they are the most fastest, and secure.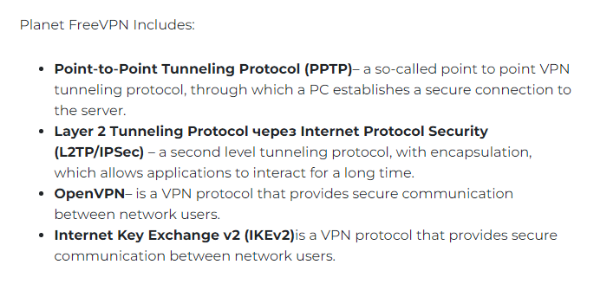 Planet VPN does provide all of the major protocols, including outdated ones. This is mainly because users often change VPN protocols based on their tasks. Below is a helpful starter guide for VPN protocols. OpenVPN is the most secure protocol whereas IKEv2/IPSec is the most fastest and stable protocol.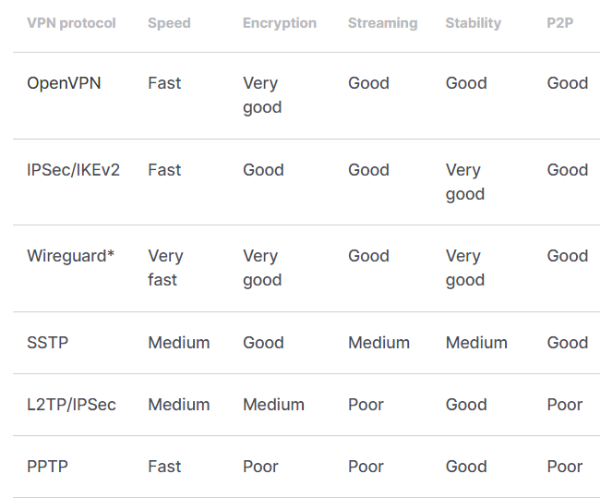 As you can see, Planet VPN does fairly well in terms of privacy and security. However, there is a lot of room for improvement, as it has not been independently audited. Now that we're done with security & privacy, let's take a look at how it does in speeds.
---
Planet VPN: Speed Review
Speed is another important quality of a VPN. Unfortunately, most free and even some premium VPNs reduce your internet speed by over 40%. Extreme High-End VPNs like NordVPN and SurfShark are simply built different, as they reduce your speed by less than 15% and even offer more stability for your internet. Is Planet VPN the same?
Not really. In our tests, we found bittersweet results in terms of streaming, torrenting, downloading, gaming, and overall speed. Here are our findings summed up.
It takes quite a while for Planet VPN to connect you to their VPN service. Expect to wait anywhere between 10 seconds to two minutes.
The overall browsing and streaming speeds were quite consistent and fast, but nowhere on the level of the high-end VPNs. However, it is still a good feat for a freemium VPN.
The downloading speeds were quite slow and inconsistent. Torrenting on Planet VPN is not recommended, as it could take ages. (100mbps internet = 70mbps top speed, 5mbps lowest speed)
While you can game with Planet VPN, you should expect some lag here and there. The speeds may be consistent but the packet loss and ping spike could lose you a game.
Sometimes Planet VPN may fail to connect you to the VPN service.
Planet VPN does not work with Netflix.
Overall, the speeds of Planet VPN are good enough for a freemium VPN, but it could definitely be better. While it performs great in the areas of browsing and streaming, downloading and torrenting isn't as good. We recommend SurfShark for your torrenting needs and NordVPN for your gaming needs.
---
Planet VPN: Interface Review
The interface of a VPN should be minimal, easy to navigate, and contain important details that are vital to your privacy and security. Planet VPN has a very basic interface, which is good enough for a free VPN. However, there are a few areas that can be improved.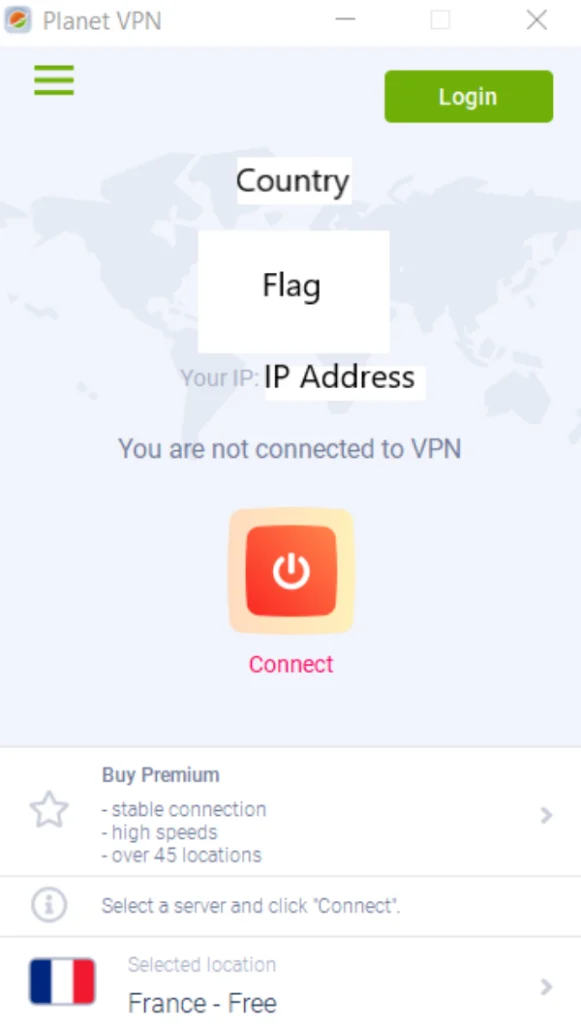 The basic interface of Planet VPN shows the name and flag of the country you are in, along with your IP address. The connect button is placed nicely in the middle, making for easy navigation. Even a beginner is able to use Planet VPN without any issues. On the top left column of the application, you can click on the three dots to open the settings interface.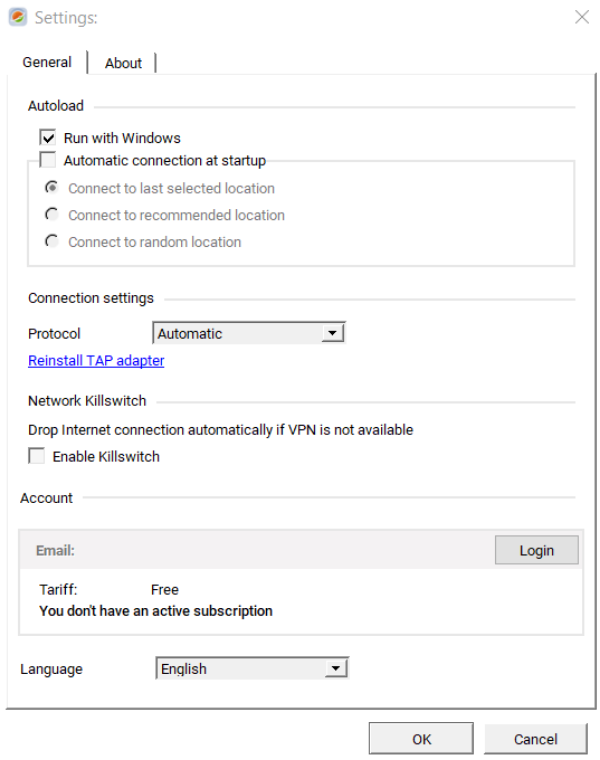 The settings interface of Planet VPN is also quite decent. It has a normal kill switch on and off option and offers a selection of protocols. Additionally, there's a log in option if you have an account or the premium version of Planet VPN.
Overall, Planet VPN has a decent interface, though it isn't super attractive – it gets the work done. It is easy to navigate and offers compatibility with all the major platforms. Now, let's take a quick look at how it performs in terms of server location coverage.
---
Planet VPN: Server Coverage
The server coverage of a reliable VPN should be more than 50 countries at a minimum, with well over 3000 servers. Unfortunately, Planet VPN does not meet these requirements. The free version of Planet VPN offers just five servers.

On the bright side, the premium version of Planet VPN offers over 1260+ servers across over 60 countries. It is a decent amount, but a very good amount for a freemium VPN. Even AtlasVPN (freemium), which is acquired by NordVPN, offers a lesser amount of servers and a smaller coverage count.
---
Planet VPN: Pricing Review
Planet VPN is a freemium version, so you can simply grab it through their official website. The downside is that you are only allowed five locations to connect to. It does have a premium version, though it seems a bit too heavily priced for just a month.
While there are many benefits to gain from the Planet VPN premium version, it does not seem worth it unless it has been independently audited and provides better speed and more features like other premium VPNs offer. For example, most premium VPNs offer multiple features such as protection from all sorts of leaks, attacks, and threats.

On the bright side, features such as Onion Over VPN and Double VPN are offered. Some servers are optimized for gaming as well, and some for streaming. However, we can't be sure whether or not they work fine. We would recommend testing the VPN out before committing to a purchase.
---
Planet VPN: Conclusion
Planet VPN has performed fairly decent and pretty well for a freemium VPN. However, it could use some improvements such as undergoing independent audits, expanding its server coverage, offering better speeds, and adding more security and accessibility features.
All in all, it is a decent VPN that has a lot of potential for being a greater VPN. Hopefully, they'll undergo an independent audit soon enough and better their VPN capabilities for Netflix, Gaming, Torrenting, Streaming, and much more!
In the meantime, If you're looking for a VPN that is cheaper and better with more features, we recommend SurfShark, as it only costs around a dollar per month, has been independently audited, and offers great value for money.