If you're a football fan, there are many ways to watch your favorite sport. But if you're looking for a way to, -watch National Football League without spending any money, you're in luck. Plenty of free sites stream NFL games, so you can catch all the action without breaking the bank. In this article, we'll share 11 free sites where you can live stream NFL games.
Top Sites to Live Stream NFL
These are some of the most popular websites used worldwide to stream live games. Some are dedicated to streaming only football games, whereas some broadcast other sports apart from NFL. Also, as you know, -watching content without rights is considered an illegal activity. It's best to use a VPN to help you stream content without fear of censorship or ISP blackout.
With that in mind, let's move on to our list of best NFL live-streaming websites
1. NFL Hunter
Tired of looking for a free site to stream NFL games? nflhunter is a great option; you can find live streams of every game and replays of past matches on the site. Also, the streaming quality is HD so that you can watch all the live NFL matches without lag and compromise on quality.
NFL hunter also provides details of upcoming matches and tournaments and has an active forum where football fans can discuss the game. However, when watching live streams, users have to watch ads which might decrease the streaming experience.
You can stream the Super Bowl, Playoffs, Regular Season, Pro Bowl, and even the Pre-Season games on NFL Hunter.
2. NflWebcast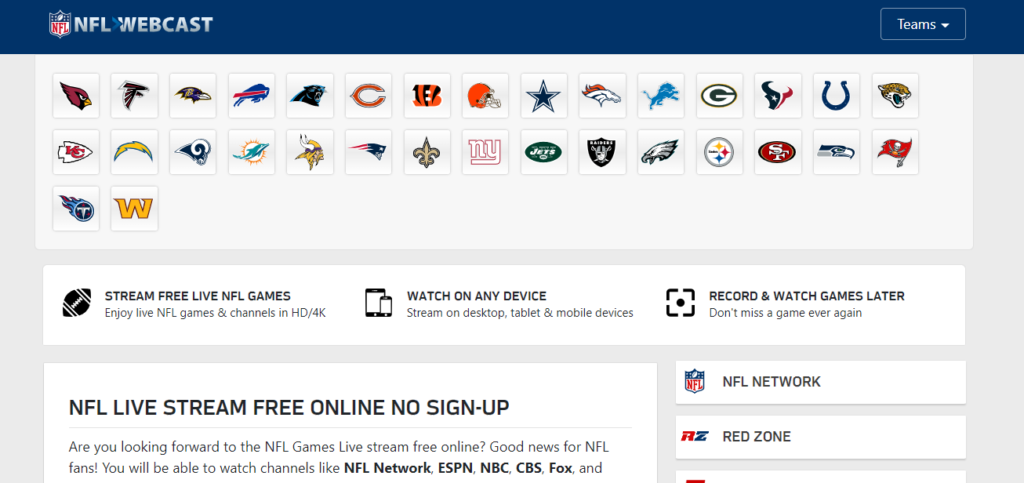 nflwebcast.com is a website that only offers free streaming of NFL games; The site is easy to use and provides various live streams that make it a great choice for fans of the National Football League.
It has a clean interface that makes it easy to find the game you want to watch; you can browse by team, week, or type of game. Once you find the match you want to watch, you can choose from many different viewing options and platforms; You can watch live games in high definition or 4k resolution.
NFL webcast viewers can live stream games from channels such as NFL Network, ESPN, NBC, CBS, Fox, and their local TV stations free of charge; You can enjoy your favorite NFL content anytime, anywhere.
Streaming services are free to watch live on Nflwebcast; However, some ads stream during the game. The NFL's web app also delivers other features that make it a great choice for NFL fans. For example, users can set up alerts to be notified when their favorite team is playing and view standings and video highlights of past games.
3. NflBite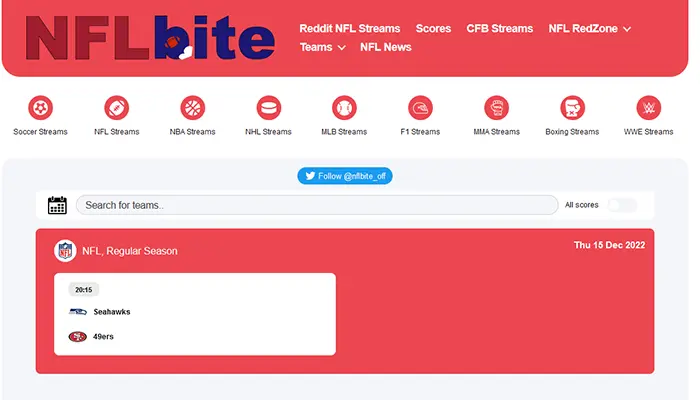 Nflbite is another great option for free live streams of NFL games. NFLbite offers a wide selection of live NFL games; you can even filter matches by game date and time. NFLbite was created by the people who started the /r/NFLStreams subreddit, and it was launched after the subreddit was removed from Reddit.
NFLbite also provides a variety of content, –including the season schedule, score, news, player stats, performance analysis, and videos from recent games. The website is updated regularly and is easy to use, with streaming links for every game just a click away from the homepage. NFLbite is a great resource for NFL fans looking to watch their favorite teams in action.
To use NFLbite, visit the website and navigate to the matches page for the game you want to watch. On the matches page, you will find a selection of streaming links that you can use to watch the game live online; You can choose a connection server and start watching the game by clicking on it.
It is also mentioned in their about section that the streaming links are ranked according to how viewers vote for them, so you may want to consider this when choosing which link to use.
4. 123TvNow
123tvnow.com is a streaming platform that offers users the ability to watch over 80 live TV channels online for free. The content provided by 123tvnow includes -family entertainment, movies, sports, and news channels.
The website is available to users from around the world and does not require registration; the channels offered by 123tvnow include ESPN, Fox Sports, NBC Sports Network, NBA TV, NFL TV, and many more. The website's interface is easy to use, uncluttered, and has a dark mode option.
However, the legality of the website is unclear, as it is not associated with any other websites and distributes live channels that may be subject to copyright issues; It is recommended to use a VPN when streaming on 123tvnow.com.
5. VIP League
If the above-mentioned sites don't work, you could visit VIP League to stream NFL games -this site offers a wide variety of features that make it a great choice for football fans.
The first and most significant feature, the VIP League, offers live streaming of all NFL games for free. You can watch your favorite team play without missing a game. Their website also displays live scores and standings of upcoming and ongoing matches -this way, you can keep track of your favorite team's progress and see how they will perform against the competition.
VIP League offers a chat room for discussions among fans where you can interact with other football lovers; This is a great way to make new friends and share your love of the game.
6. LiveTV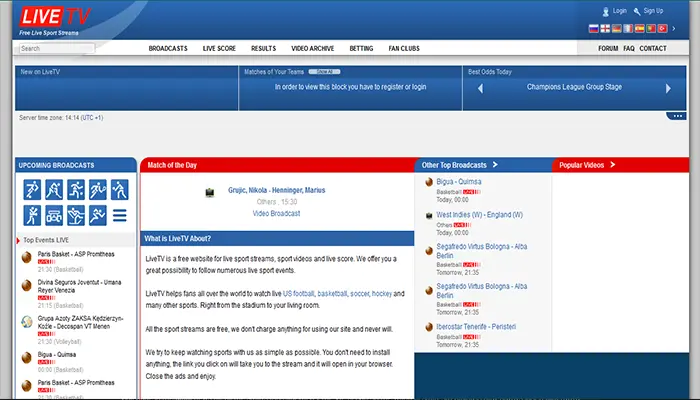 LiveTV is a great free site to stream NFL games, many reasons prove the authenticity as well as the legitimacy of this website. First is the active community forum; this shows that there are people having active discussions with each other on past, ongoing or upcoming NFL matches.
Also, you get a dedicated section for video archives, -allowing viewers to stream on-demand matches. Not only that but LiveTV also provides live scores and results lists of live matches, which helps viewers to be updated without even watching live streams.
The ad frequency is not high either, -you can skip ads or even use a VPN to block them altogether. You also find a wide range of other sports content on LiveTV, making it a great all-around destination for sports fans.
7. SportLemonTv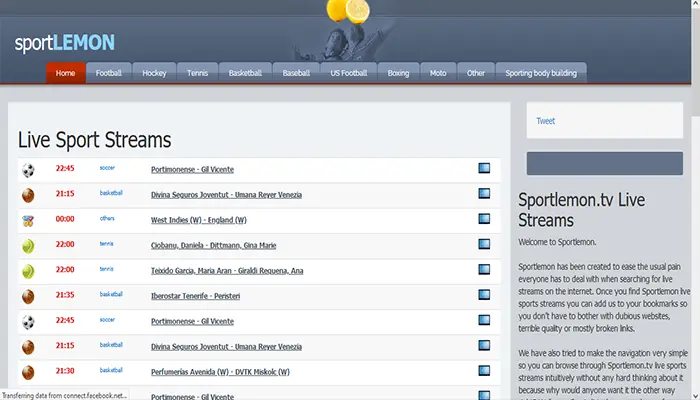 SportLemonTv is a simple link aggregator that offers live streaming links of NFL games -links provided here are of games broadcasted on CBS, NBC, or FOX. One good thing about SportLemon is they don't require you to sign-up or provide any personal information before watching live streams; Just visit the site and start watching.
Though the site may look fishy initially but viewers have been using SportLemon without any issues. SportLemonTv has been around for several years and has become a popular destination for sports fans looking for a free way to watch their favorite games. Active links to NFL games are provided 15 minutes before the actual game -that is quite considerable timing.
One downside of SportLemonTv is that there are occasional pop-ups and ads. However, these are not too pushy and can be easily closed; Overall, this is a good site for anyone looking to catch a live NFL game without having to pay for it.
8. CrickFree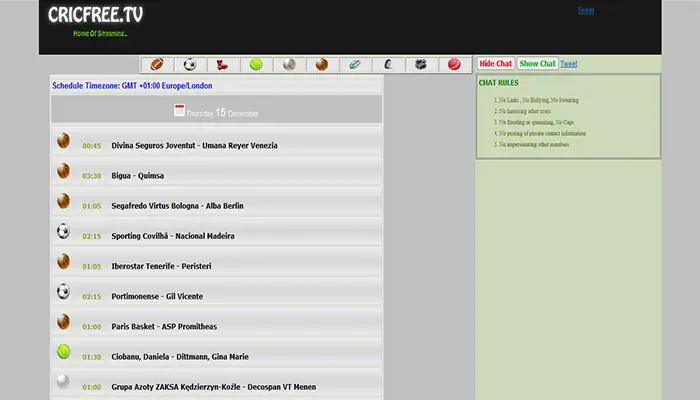 CrickFree is another decent option in free live-streaming sites for NFL games. It offers live streaming of multiple games, but sometimes, links are found to be dead. NFL games from all the major leagues are displayed here; however, ads and popups can make your viewing experience frustrating. Live streams start roughly around 25-30 minutes before the matches.
Though CrickFree has a user-friendly interface that makes it easy to find and watch NFL games, however, UI isn't useful when you get dead links right! Also, because of copyright content streaming, Crickfree goes down regularly -you may have to search for the updated Crickfree domain where matches are being hosted.
9. Stream2Watch
Stream2Watch has an identical user interface to VIP League; a dedicated section for live-streaming football matches, as well as highlights and live streams of other sports.
Stream2Watch is a decent option for those who want to watch NFL games without spending any money; though you don't need to pay -you still have to face lots of ads and unwanted browser popups if you wanna watch live football games. The games selection choices and features are impressive, and the ability to watch on mobile is a nice bonus.
The inbuilt video player starts playing the most popular ongoing live match. But you can scroll down the site, search for other live matches and watch it separately.
10. Rojadirecta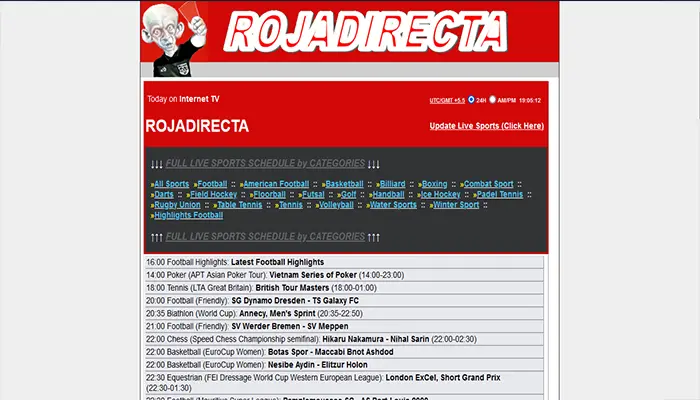 Rojadirecta is a very simple site with no added functionalities; the UI is not that great either; You simply get a list of links where different live matches are streaming. So, you have to visit the link, and your desired live match will be available there.
Links provided on this site are not that reliable in terms of authenticity; there are slight chances you may click/visit a malicious link, so always be cautious of the links provided in rojadirecta. Otherwise, the site is good and does not bombard viewers with tons of ads, though you will face some ads, which is understandable.
One recommendation from my side would be to always use a reliable VPN when visiting rojadirecta. So in case, if you visit a malicious link, -your VPN can protect you from viruses and malware.
11. Fromhots
Fromhots is a platform aggregator that hosts links to other free streaming platforms. So, you will find some sites that are mentioned in this article, -along with many links to other NFL streaming websites.
If you're desperately searching for a free site to stream NFL games and are out of options, then you can consider fromhots, but not without caution; It offers –live streams, live TV from different channels, and match highlights.
Links, ads, and popups on Fromhots have a high probability of malware and virus infections, so try to avoid this site if you don't have a VPN connection. Also, redirected links can sometimes be a danger as well; therefore, it is advised to unnecessarily not click on different links.
All in all, you will get to watch your favorite NFL games live with Fromhots; but as a word of caution, use it as your last option only.
Risks Associated With free Live-Streaming
1. Viruses and malware: Free live-streaming websites are often riddled with viruses and malware. This can lead to your computer becoming infected with malicious software, -which will definitely put your personal information at risk.

2. Advertisements: Many free live-streaming websites rely on advertisements to generate revenue. However, these ads can be intrusive and annoying, disrupting your viewing experience.

3. Slow speeds: Due to the large amount of traffic that live streaming websites receive, their servers often become overloaded, resulting in slow speeds and buffering issues.

4. Limited Content: Free live-streaming websites generally offer a limited selection of content compared to paid subscription services.

5. Poor quality: Free live-streaming websites' video and audio quality are often poor due to compression techniques used to save bandwidth costs.

6. Legal Action: free live-streaming websites can result in you being blocked for streaming copyrighted material without the copyright holder's permission. Moreover, if you are caught providing content without the proper rights, your personal information -including MAC & IP addresses, can be accessed and used to take legal action against you.
Eliminating Live-Streaming Risks with VPN?
We all know how frustrating it is to deal with buffering and lag while streaming our favorite shows and movies; But did you know that using a VPN can help reduce these issues? A VPN, or virtual private network, secures internet traffic and routes it through a server in your chosen location.
This ensures that your online activity is anonymized and untrackable by anyone. Moreover, a VPN protects you from potential viruses and malware when streaming free content -sports, downloading software, or movies. If you're looking to stream the NFL without compromising your privacy, make sure to use a reliable VPN service like NordVPN, ExpressVPN, or SurfShark.
How Does a VPN Work?
A VPN is literally a secure tunnel between your device and the internet. Routing your traffic through a VPN server is, –encrypted and hidden from your ISP or government. This means that you can browse the internet freely and securely without worrying about being monitored or censored.
How VPN Secures Private Information?
When you use a VPN, your traffic is encrypted with military-grade 256-bit encryption keys and goes through a secure tunnel to the VPN server. From there, it goes to the website or service you're using. This means that anyone who tries to intercept your traffic will only see gibberish, –they won't be able to see what you're doing or where you're going.
This is especially important when using free live-streaming websites, as these are often filled with viruses and malware. By using a VPN, you can rest assured that your traffic is secure; you won't accidentally end up on a malicious website.
Benefits of Using VPN While Free Live Streaming
1. Improved privacy and security: By encrypting your traffic and hiding your IP address, a VPN makes it more difficult for third parties to track your online activity. This means you can browse the web and watch free live streams with greater peace of mind knowing that your data is more secure.

2. Bypass geo-restrictions: Many live-streaming websites are only available in certain countries. However, connecting to a VPN server in another country can trick the website into thinking you're accessing from an allowed location; This gives you access to a wider range of content.

3. Improved speeds: Using a reputable VPN service, you should experience improved speeds while streaming live content. This is because a good VPN will route your traffic through its own high-speed servers, rather than relying on the often slower connection provided by your ISP.
Conclusion
In conclusion, several websites offer live streaming of NFL games. However, it's important to remember that some of these sites may not be available in all regions; So a VPN can come in very handy as it will bypass any geographical restrictions and provide added security and privacy while streaming online.
FAQs
1. What is a VPN and what does it do?
A VPN, or Virtual Private Network, is a tool that allows you to create a secure and private connection to another network; your data is encrypted and secure from anyone trying to snoop on your activities.
2. How can a VPN help with accessing blocked live streams?
If you're trying to access a live stream from outside the country, you may find that it's blocked due to copyright restrictions. However, if you connect to a server in another country with a VPN, -you'll be able to dodge these blocks and access the content you want.
3. How does a VPN protects privacy?
Your IP address is hidden when you connect to a website through a VPN, So the browsing activities can't be traced back to you, and your identity remains anonymous.