Are you a student who wants to access Instagram while at school but finds that the platform is blocked on the school's Wi-Fi network? If so, you're not alone.
Many schools restrict access to social media sites like Instagram in an effort to keep students focused on their studies. However, there are ways to unblock Instagram and gain access to the platform while at school.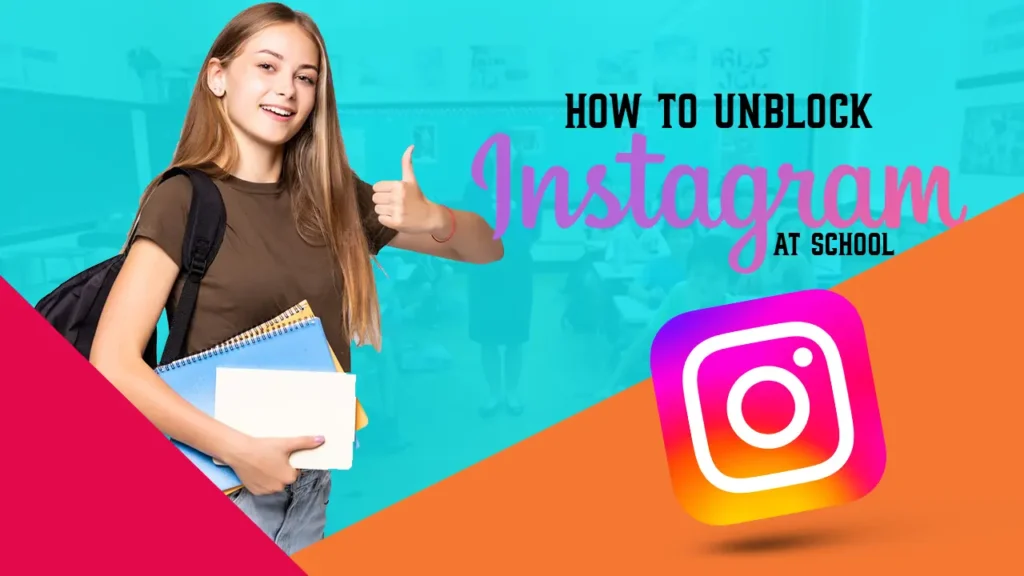 In this guide, we'll take a look at some of the most effective methods for unblocking Instagram in 2023, so you can stay connected with your friends and family during the school day. Whether you're using a school computer or your own personal device, we've got you covered. Let's get started!
⏳ Simplest Way to Unblock Instagram ⏳
Subscribe to a premium VPN service, such as NordVPN.
Install the client after downloading it.
Set up a VPN connection.
Enjoy unrestricted Instagram access.
Four Ways To Unblock Instagram At School
While schools don't necessarily block Instagram to make you suffer, it may get hard to get through the day without using social media, which is completely understandable. Here are four ways to access Instagram at your school.
1. Using a VPN
You can access Instagram at your school by using a VPN. You also do not have to download it via your mobile data, you can simply install a VPN at your home or even the school wi-fi (provided they are unblocked). But what exactly is a VPN?
Head over to NordVPN to download the application.
Start the application.
Start a free trial or sign in with your account if you already have one.
Simply tap on the power button to connect to the VPN.
Accept the connection request.
You can now access Instagram or any website your school has banned – and they won't be aware of it.
A VPN is a tool that can help connect you to an independent DNS. It will also encrypt your connection and make your activity and digital presence anonymous to your school – you'll go undetected. We recommend using NordVPN, as it is very reliable and safe. Unblocking Instagram takes a single tap.
Pros:
The easiest way to unblock Instagram
Digitally untraceable
Unblocks all other banned/blocked websites or platforms
Very fast speeds
Strict No Logs policy
Privacy Friendly
Premium VPNs offer a 30-day money-back guarantee
Cons:
Free VPNs may collect and sell your data
Free VPNs can be very slow
Note: Using a free VPN is not advisable, especially at schools. They are unreliable in terms of safety and accessibility. Most top-notch VPNs offer a money-back guarantee and a free trial which you can avail of instead.
2. Use Mobile Data
Just because your school has banned Instagram does not mean that you can no longer access it at school. The bans only work if you are using the school wi-fi. You should be able to access Instagram without any issues if you use your Mobile Data.
Disconnect from your school wi-fi/ Turn the wi-fi off.
Turn on your mobile data
You should be able to access your Instagram now.
However, always using Instagram over your mobile data is not ideal. An unlimited plan can be expensive, but simply using Instagram to the text should not consume a lot of data. If you are limited on data, you can try the next few methods to access Instagram at school.
Pros:
No downloading/installing required
Very easy to use
Cons:
Can get heavy on your pockets
Internet connection can be slow
Instagram may consume too much mobile data
3. Use a Proxy Server
A proxy server can help you access Instagram by redirecting your connection through their server. Put simply, it may look like a browser within a browser. However, some schools have most proxy servers blocked, though finding one that works is just a search away.
Search for "free proxy servers" on Google.
Find a website that works.
If the website has a "more options" button, click on it and enable encryption for more privacy.
Type "instagram.com" and agree to the terms and conditions.
You should be able to access Instagram now.
While using a proxy is very easy, there are a few downsides you need to be aware of.
Pros:
Easy To Use
Doesn't require downloading or Installing
Changes your IP address, making you untraceable by the school
Cons:
May be blocked by Schools Firewall
May be blocked by Instagram
Can only use Instagram on the browser
4. Using Tor Browser
While the term "Tor" may seem controversial to you, it isn't. Yes, it is used to access the dark web – but it can also access the surface web. It will keep you anonymous by rerouting your connection through multiple nodes throughout the world. With your connection jumping from one country to another, tracing you will be close to impossible.
Download the Tor browser from your play store/app store.
Open it to access the browser.
Head to "Instagram.com".
It'll probably take close to a minute or more to load Instagram, but you should be able to access it now.
Pros:
Provides anonymous access to Instagram
Schools won't have Tor blacklisted
Cons:
Takes a long time to load Instagram
Very slow Instagram experience
Which Method Is The Best?
The most convenient and secure method to access Instagram at school among the four options is by using a VPN, considering the disadvantages of the other methods. There is a diverse range of VPN options available, and here are the three most recommended VPNs for accessing Instagram while at school.
Related Articles
Top Three VPNs To Access Instagram At School
The reason we recommend using one of the top five VPNs for Instagram is simple. A VPN has to be fast enough to load Instagram and all of its content. Random VPNs may lag a little bit behind in terms of internet speed due to their server location and capacity.
On the other hand, these five VPNs are the top leading VPN service providers equipped to deal with a high volume of customers with thousands of servers throughout the world. Not to mention, they are unrivaled in terms of speed, safety, and privacy.
NordVPN is one of the best VPN services that can be used to access Instagram at school. The reason for this is that NordVPN offers advanced features such as encryption, masking IP address, and servers located in different countries.
When using NordVPN, your internet traffic is encrypted and routed through a secure server, making it virtually impossible for anyone to intercept your data or trace your online activities. This means that you can bypass any restrictions put in place by your school's network and access Instagram freely.
| | |
| --- | --- |
| 🌐Based in: | Panama |
| 🖥️Total Servers: | 5500+ servers in 58 countries |
| 💾Logs: | No Logs |
| ℹ️Support: | 24/7 Live Chat |
| 🍿Unblock Netflix: | Yes |
| 💵Refund: | 30 Days |
| 🔥Discount: | NordVPN coupon 64% OFF |
Key Features
Independently Audited
Strict No-Logs Policy
Obfuscated Servers
AES-256-bit Encryption
5500+ Servers
Dedicated P2P Servers
Onion and Double VPN
Cybersec Ad Blocker
Split-Tunneling
Dedicated IP Addresses
Kill Switch
Threat Protection
NordLynx Protocol
SmartPlay Streaming
SmartDNS
Additionally, NordVPN has servers located in over 60 countries, which means you can connect to a server in a country where Instagram is not restricted, giving you unrestricted access.
NordVPN also has a user-friendly interface and is available on different platforms, including Windows, Mac, iOS, and Android. If you want to access Instagram at school securely, NordVPN is an excellent choice.
Pros:
Fastest VPN
Unblocks Instagram
Works With Netflix
Works in China
Great Server Coverage
30 Days Money Back Guarantee
24/7 Live Chat Support
Cons:
Slow Speeds on Distant Servers
No Kill Switch On Android

For more information, check out our detailed NordVPN Review.
---
ExpressVPN is a reliable and efficient VPN service that allows you to access Instagram even when you're at school. Many schools have implemented restrictions on internet access and social media platforms, which can be frustrating for students who want to stay connected with their friends and followers. With ExpressVPN, you can easily bypass these restrictions and connect to Instagram without any trouble.
One of the best features of ExpressVPN is its ability to encrypt your internet traffic, making it difficult for anyone to track your online activity, including your school. This means that you can use Instagram without fear of being monitored or caught by your school's IT department.
| | |
| --- | --- |
| 🌐Based in: | The British Virgin Islands |
| 🖥️Total Servers: | 3000+ servers in 59 countries |
| 💾Logs: | No Logs |
| ℹ️Support: | 24/7 Live Chat |
| 🍿Unblock Netflix: | Yes |
| 💵Refund: | 30 Days |
| 🔥Discount: | ExpressVPN coupon 49% OFF |
Key Features
Independently Audited
Strict No-Logs Policy
Obfuscated Servers
AES-256-bit Encryption
Zero Knowledge DNS
Kill Switch
ExpressVPN Keys
Trusted RAM-Only Servers
Network Lock
P2P File Sharing
Lightway Protocol
3000+ Servers
Stealth Technology
Virtual Servers
Shared IP Addresses
Smart DNS
Split Tunneling
Private DNS
Threat Manager
In addition to its robust security and privacy features, ExpressVPN offers fast and reliable server connections, which means that you can access Instagram without any lag or buffering. Whether you're on your phone, tablet, or computer, ExpressVPN makes it easy to connect to Instagram and stay connected with your friends and followers at school.
Pros:
Unblocks Instagram
Most Secure VPN
Lightway Protocol For Fastest Speeds
Hides Ads
Defend DDoS & DoS attacks
Privacy Friendly VPN
Unblocks any streaming service & website
Top-Class Customer Support
Torrenting support on every server
Cons:
Maximum 5 device connections
Slightly Expensive Than The Rest
For more information, check out our detailed ExpressVPN Review.
---
SurfsharkVPN is an excellent choice for accessing Instagram at school. With its strong encryption and extensive server network, it can help you bypass internet restrictions and access any website or app, including Instagram.
SurfsharkVPN operates a no-logs policy, which means that it does not keep records of your online activity, ensuring your privacy and security. This VPN also offers a CleanWeb feature, which blocks ads, malware, and other unwanted content, improving your browsing experience.
| | |
| --- | --- |
| 🌐Based in: | The Netherlands |
| 🖥️Total Servers: | 3200+ Servers in 65 Countries |
| 💾Logs: | No Logs |
| ℹ️Support: | 24/7 Live Chat |
| 🍿Unblock Netflix: | Yes |
| 💵Refund: | 30 Days |
| 🔥Discount: | SurfsharkVPN coupon 81% OFF |
Key Features
Independently Audited
Strict No-Logs Policy
Obfuscated Servers
AES-256-bit Encryption
3200+ Servers
Kill Switch
CleanWeb
Whitelist
Wifi Protection
MultiHop
No Barriers Mode
Virtual Servers
Static IP Servers
RAM Only Servers
Torrent Support
SurfsharkVPN is user-friendly, with easy-to-use apps for various devices and platforms, making it accessible to everyone. With unlimited simultaneous connections, you can share your account with friends and family, allowing them to use Instagram at school as well. In conclusion, if you want to access Instagram at school securely and privately, SurfsharkVPN is the best VPN to use.
Pros:
Unblock Instagram
Unlimited Device Connections
Camouflage Mode
Seamless Boxing Streaming Experience
CleanWeb Ad Blocker
No Borders Mode
Whitelist
Cons:
Distant servers take some time to connection
Speeds vary widely
For more information, check out our detailed SurfsharkVPN Review.
---
Now that we're up to date with the top VPNs to use, let's take a look at why schools ban social media in the first place.
Why Do Schools Ban Instagram?
Schools generally block access to websites in order to keep their students learning. Social media websites like Instagram can be a distraction. Teachers may have had to stop a student or a few from using Instagram during classes, which could have led to this ban.
Whether you like it or not, schools do ban social media for your own education. You can't learn if you're constantly on your phone. However, there might be another reason for the ban on social media – the law. The Children's Internet Protection Act (CIPA) offers discounts on specific services to schools – only if they use an internet filter and track usage.
Understandably, schools will comply with this law for the benefits offered. The schools may also be banning all websites other than the ones required for education – to protect their system from malware and viruses. Since these schools do not necessarily care about social media, they might have simply blocked them.
How Do Schools Ban Instagram?
Schools may have various tactics to block Instagram, but the most commonly used method is the "Allowlist" and "Blocklist". They can use the blocklist to block all content they do not want to be accessed by the students. On the other hand, the allowlist is used to only allow access to specific websites. Anything that is not on the allowlist cannot be accessed by the students.
Conclusion
Accessing social media in school is very much possible despite the ban. This can be done with the help of a VPN, Proxy, and other methods. However, you have to ensure that you are using Instagram on your own device and not the devices that belong to the school.
This is simply because schools can monitor and read unencrypted data on their own systems. Also, make sure that you are using one of the VPNs listed above – every other VPN is not as trustworthy or reliable as the ones on the list.
Lastly, don't forget that VPNs offer much more than access to Instagram. Feel free to access all of Netflix's directories that are currently blocked to you. You can also keep a VPN running to protect your privacy from the government and ISPs.
FAQs
What are some ways to access blocked games in school?
A recommended solution would be to utilize a VPN service, with a suggestion to opt for a reputable and speedy provider like NordVPN. It's important to note that lesser-known VPNs could potentially cause gameplay lag.
Is it possible to access blocked content at school using Tor?
Yes, it is possible, but be aware that your internet speed may be slower as your connection will be routed through multiple nodes located around the world.
Is it possible to utilize a free VPN at school?
While it may be feasible, it's not recommended. Many free VPNs are likely to be prohibited due to insufficient servers. Additionally, it's challenging to rely on the security of free VPN servers since some of them may disclose your information to advertisers for financial gain.