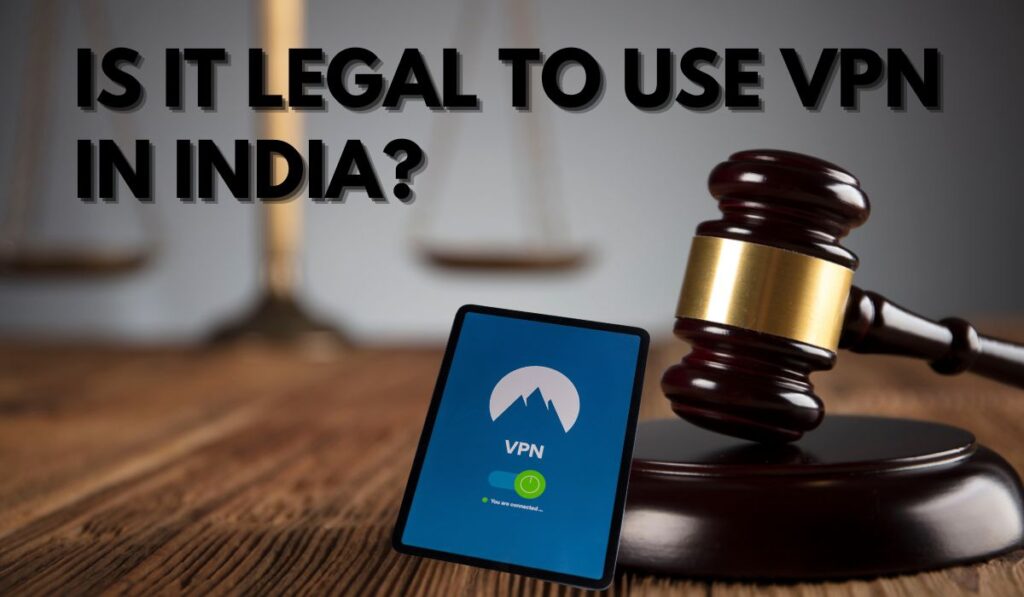 With the recent buzz in India regarding VPNs, you might be wondering if VPNs are now illegal. And if they are, you might be worried about the repercussions of using one. But are VPNs really banned in India or is it something else? Let's take a deeper look.
What Are VPNs?
A virtual private network is a tool that helps you protect your identity by rerouting your internet connection before and after it meets with your ISP. This results in protecting your internet activity from the government, your ISP, and ill-intentioned strangers. Put simply, a VPN is a tool for privacy, which we lack in the digital world.
Why Do People Use VPNs?
While VPNs let you access blocked content and bypass blocked websites, many seem to forget the fact that a VPN is more than that. A VPN is the only way to secure your identity online and maintain privacy. It provides a safer internet experience where your data is encrypted and protected from everyone. So why have some countries including UAE, North Korea, and Russia made the use of VPNs illegal?
Is it because VPNs pose a heavy risk to national security or does the government simply want to invade your privacy? Probably the latter.
Are VPNs risky?
Not for a decent law-abiding citizen. The only reason why any sane government would "regulate" VPNs is cybercrime. Cybercriminals often hide behind VPNs as they make them untraceable. But does that really deserve a complete ban that could affect even the normal population?
Because while that could possibly limit the activity of cybercrime, it will also take away the right to privacy of law-abiding citizens. Secondly, being able to access content and having the right to information is something that most countries need – especially the ones listed below.
As long as you're using the VPN for privacy concerns and maybe even accessing blocked content – you're still good to go. Using a VPN for illegal tasks is most definitely risky and not recommended.
Why Are VPNs Banned In Some Countries?
If you were to look up countries that have banned the use of VPNs, you'd realize all of them have one thing in common – lack of digital freedom. Take North Korea for example, we're not even sure if the common people there are able to access the internet or even the cell phone service.
Uganda banned VPNs because the government for some reason decided to tax social media – and their citizens avoided the taxes with the help of VPNs. Most of the reasons for countries banning VPNs are just an attempt at digital control over citizens.
Let's take a look at all the countries that have banned VPNs along with their reasoning.
| | | |
| --- | --- | --- |
| Country | VPN Status | Reasoning |
| Turkey | Legal with Restrictions | Turkey is one of the countries that heavily limit the internet. Twitter, Facebook, Youtube, and even Wikipedia are banned. The websites are blocked to "prevent terrorism" but it also blocks politically sensitive content. Wikipedia is not a tool of terrorism. |
| North Korea | Illegal | North Korea does not like its citizens accessing information via content. Hence, it is illegal to use a VPN. Not to mention, the internet is a luxury in North Korea. |
| UAE | Legal with Restrictions | Most of UAE's internet restrictions are designed to protect moral values – pornography, video calling, and anything politically sensitive are blocked. Whatsapp is blocked as well. |
| Belarus | Illegal | Due to their elections filled with voter fraud, Belarus has banned VPNs and applications like Telegram that were used to organize protests. During some protests in the past, Belarus had completely shut down the internet. |
| Russia | Legal with Restrictions | Russia banned VPNs to ban "extremist" content but also removes politically sensitive information. |
| Turkmenistan | Illegal | The government was trying to limit foreign social media – which keeps the world informed about the world. To discourage the people of their country, the government increased the prices of the Internet. People that are caught using VPNs also have the attention of their National Security – and they have to pay a fine as well. |
| Oman | Legal with Restrictions | Oman follows the tradition of Arab nations to restrict citizens' access to internet freedom – to protect their morals. However, the Sultanate has allowed those VPNs to function that are willing to "collect data" and will transfer them to the Sultanate. The fine for using VPNs in Oman is $1,300. |
| Iraq | Illegal | While Iraq also tries to limit the access to outside information their citizens have, they generally block specific websites and applications rather than censoring information piece-by-piece like China. |
| Egypt | Legal with Restrictions | Like UAE, Video-calling and VoIP calls are banned to protect moral values. Egypt has also shut down or several restricted its internet access on several occasions. |
| China | Heavily Restricted | China's Great Firewall is responsible for controlling and censoring the information within their border – which will fail to work if it could be easily fooled by a VPN. While it is hard for a common man to use a VPN in China, The government can provide a VPN license to consumers. |
Has India banned VPNs?
Back in 2023, India's Parliamentary Standing Committee on Home Affairs urged the Indian Government to put a ban on VPNs – stating that VPNs are a threat to "national security" and can be used by cybercriminals to maintain their anonymity.
The committee recommended that VPNs should be banned permanently. What they didn't take into account was a simple fact that the general public (270 million users – 2022), as well as big corporations, use VPNs to protect their privacy – which is completely legal, desired, and expected.
Especially in 2023, when many corporations have taken work to their home, VPNs are needed more than ever to keep data encrypted and secure. So what does India think of VPNs now?
Current Status of VPN in India: Legal with Regulations
While VPNs are not banned in India, they have – unfortunately – been regulated. Eight months after the suggestion by the committee, The Indian Government announced a new policy that requires VPN service providers to store extensive user data.
The 2022 VPN Data Logging Law
The 2022 VPN Data Logging policy requires all VPN service providers to start collecting data (logs) on their consumers. The logs will be expected to be stored for the next five years. The logs will contain the given data below.
Primary information used for signing up on the VPN (Username, Email, Contact No.)
The purpose for using VPN
The original IP address of the user + the VPN allotted IP address of the user
Timestamps of turning VPN on/off
Subscription pattern of the user
Usage pattern of the customer.
The data collected above will be made available to the Computer Emergency Response Team (CERT-in) whenever they request it. VPN service providers will also be made to report cyber incidents like spoofing, phishing attacks, and so on.
If the VPN service providers do not comply with reporting cyber incidents, they may be fined, banned, or even imprisoned for it. Crypto exchanges, cloud service providers, and data centers are also expected to abide by these new regulations.
How Does This Affect Me?
This means that VPNs in India are still LEGAL, at the cost of your privacy. Your initial IP address will be logged, and the IP address that you were allotted by the VPN service will also be logged – essentially doing nothing to protect your online activity from the eyes of anyone at all.
Naturally, many Indian VPN providers have taken a wait-and-see approach to this law. Some of them have shut down – as moving forward with the law would mean playing with consumers' privacy, and they'd rather shut down than comply.
The Response of VPN Giants
The top three leading VPNs responded in a great manner to the new regulations.
A blog post by the top VPN titled "Rejecting Data Demands, ExpressVPN removes VPN servers in India" was released. They announced that they would be pulling out their servers from India because they have no intention of complying with the regulation (June 2, 2022). Does this mean that ExpressVPN can no longer be used in India? Not really.
They have set up virtual servers in India through the UK and Singapore. This means that people throughout the world can continue using an Indian IP address and access the internet like they're in India. There are other virtual servers as well – over 43+ virtual servers on ExpressVPN.
Soon after, NordVPN followed with this statement.
SurfShark also announced that they would be shutting down their servers in India…..and opening up new virtual Indian servers located in the Netherlands, Singapore, and London.
CyberGhost also pulled its servers out of India. And also opened up virtual servers for India. It's become the norm to physically pull out and virtually get back in.
As you can see, all the major VPN companies noped out of India to protect their integrity and the privacy of the people. They provided an alternative way by setting up virtual servers located outside of India – where the law does not apply. So what's the current scene on using VPNs in India?
Is Using A VPN in India Safe?
Yes. Using a VPN is quite safe in India. The Data Logging Law is a regulation that needs to be followed by VPN service providers. As of right now, the use of VPNs in India is not illegal. However, allowing VPN service providers to collect your data and letting them share it with the government would not be very wise.
It is recommended that you use a VPN that is legally based outside of India – like ExpressVPN. Indian laws cannot touch foreign countries – hence any VPN located outside of India will not have any reason to collect or report anything to the Indian Government.
Which VPN is the Safest To Use in India?
The safest VPNs to use in India are those that would rather pull out of a country than exploit their privacy.
ExpressVPN is the safest VPN for India. It is fast, reliable, secure, and offers many features that protect your privacy. No data or connection logs are stored – which is one of the most essential commitments you need for using a VPN in India.
It is based in the British Virgin Islands, which has no data retention laws. It offers OpenVPN, IKev2, and L2TP-IPSec protocols out of which the first two are said to be the most reliable security protocols. ExpressVPN has high-performance servers in 94 countries – 160 locations.
A 30-day money-back guarantee is also offered.
NordVPN is on the list of the safest VPNs for India as well. It provides an all-around performance – reliability, security, speed, streaming, features, etc. It's got everything that an ideal VPN would provide. It offers AES-256 encryption (used by NSA to protect top secret information).
It is based in Panama, where all the data retention laws do not apply. There's no need to store any sort of logs at all. It also offers Double-VPN, where you can route your connection through two servers instead of just one – which is very safe. It also has a huge network of 5400+ servers within 59 countries across the world.
A 30-day money-back guarantee is offered here as well.
CyberGhost is on the list as well. It is based in Romania, where EU laws know how to protect their user's privacy. There is a strict no-logs policy, and safety is guaranteed with their OpenVPN, IKEv2, and L2TP protocols. There's also the military-grade 256-bit encryption.
With specialized servers for streaming, CyberGhost is pretty fast – and very affordable, with 45 days money-back guarantee.
FAQs
Can I Still Use VPN in India?
Yes. VPNs in India have not been banned. They are perfectly legal and using them will land you in no trouble. If you are using a VPN in India, just ensure that you use a VPN that is located outside of India.
What happens If I use an India-based VPN?
Any VPN that is physically in India has to obey the 2022 Data Logging Law. This means that your internet activity will not really be anonymous anymore – as your VPN provider will have to keep logs on you.
Can the Cops trace VPN?
Not really. The Indian police cannot track live, encrypted VPN use. However, they can gather the data by reaching out to your ISP or VPN provider. This is why it is recommended to use a VPN outside of India.
Do all VPNs have to keep logs?
No. Only the VPNs situated in India will have to keep logs. Any VPN that is outside the country will not be required to retain logs unless their country has a law that forces them to. If you are outside of India, or are using a VPN outside of India, you are safe.
Are the top VPNs no longer functioning in India?
All of the major VPNs are functioning in India. They merely pulled their physical servers out of India and are using "Virtual Indian Servers". You can still use ExpressVPN, NordVPN, SurfShark and Cyberghost in India.
Conclusion
Using a VPN is still very much legal in India. VPNs have been regulated, not banned or restricted. With the implementation of the 2022 VPN Data Logging Law, the top VPN service providers have noped out of India physically, yet stand behind India virtually – providing them with their services without the risk of privacy invasion.
ExpressVPN, NordVPN, CyberGhost, and SurfShark are still very much accessible in India thanks to their virtual servers. They do not have to comply with this regulation as their servers are situated outside of India. This means that using their VPN services is safe – or even safer than it used to be before this law.