Are you curious about how to view someone's private Instagram profile? Maybe you want to see their posts, stories, or videos without having to follow them first. Well, you're in luck!
In this article, we will walk you through the process of viewing private Instagram profiles using some of the top private account viewer apps available. Whether you have legitimate reasons for wanting to access private profiles or simply want to satisfy your curiosity, we've got you covered.
The Controversy and Importance of Privacy
Before we dive into the methods of viewing private Instagram profiles, let's briefly touch upon the controversy surrounding this practice. Some argue that using private account viewer apps can be a violation of privacy, while others believe that it can be justified in certain circumstances.
For instance, parents may want to monitor their child's online activities to ensure their safety or uncover any potential dangers. However, it's essential to strike a balance between privacy and safety. Respecting personal boundaries while still caring about the well-being of loved ones is crucial.
The Truth About Apps and Websites Claiming to Show Private Instagram Profiles
Many apps and websites claim to have the ability to show you private Instagram profiles without following them. However, it's important to know that these claims are often false. There is no conceivable way for any app or website to bypass Instagram's privacy settings and show you private posts.
Since 2018, the Instagram API (Application Programming Interface) only allows third parties to display content from an Instagram user's own account. This means that if you sign in to an "Instagram viewer" with your account, you'll only see the content that's available to your account.
The Risks of Using "Private Instagram Viewer" Apps and Websites
It's crucial to be aware of the risks associated with using "private Instagram viewer" apps and websites. Some of these platforms are simply advertising scams that make money when you complete "verification" steps, even though these steps don't actually result in making private accounts visible. While not entirely malicious, they are definitely not trustworthy.
On the other hand, some "private Instagram viewer" sites and apps are outright malware. These can pose a significant threat to your personal information and device security. It's essential to never provide your credit card information or Instagram login credentials to any app that claims it will show you private Instagram posts or stories.
Instead of relying on dubious apps and websites, we recommend exploring alternative methods for finding someone's private photos and videos elsewhere on the web.
Alternative Methods to Find Private Photos and Videos
While you may not be able to view private Instagram profiles directly, there are alternative methods you can try to find someone's private photos and videos. Here are three effective approaches you can take:
1. Check Their TikTok Account
If the Instagram user you want to check out is on TikTok, you might find their private Instagram videos publicly available on TikTok. Many TikTok users cross-post their videos to their Instagram Reels and Stories. Keep in mind that this method won't be helpful if their TikTok account is also private.
2. Explore Their Facebook Profile
If the person you're interested in has a Facebook account, it's worth checking their profile. Facebook's privacy settings can be complicated, and many users inadvertently share a lot of their photos, posts, and other information publicly without realizing it.
Additionally, if the person uses the same Instagram username on other platforms, you might be able to find other places on the internet where they've shared some of their photos. A quick Google search with their Instagram username can lead you to relevant results.
3. Utilize Google Images Search
You can also try using Google Images search to find photos related to the person you're interested in. When viewing the Google search results, click or tap on the "IMAGES" tab at the top of the page to refine the results to images only. This method can help you uncover publicly available photos that may not be visible on their private Instagram profile.
Private Instagram Viewer Apps: Fact or Fiction?
Now that we've discussed the limitations and risks of using "private Instagram viewer" apps and websites, let's delve into some of the top private account viewer apps available. These apps may not directly show you private Instagram profiles, but they offer features that can enhance your Instagram experience and provide additional insights.
eyeZy is a user-friendly Instagram private account viewer app that offers multiple features for monitoring online activities. In addition to Instagram, it allows you to view and record messages across various platforms. The app also provides anonymous browsing through its "invisible shield" feature, ensuring your privacy while exploring profiles. eyeZy is an excellent option for those seeking a comprehensive monitoring tool.
Features of eyeZy:
Message viewing and recording across multiple platforms.
"Invisible shield" feature for anonymous browsing.
Glassagram stands out as an outstanding Instagram monitoring application equipped with extensive parental control capabilities. It enables users to monitor mobile activities, prevent access to inappropriate content, and establish screen-time restrictions. Parents can effortlessly navigate their children's accounts, overseeing their digital interactions. Additionally, the app provides GPS tracking and geo-fencing features, enhancing children's safety.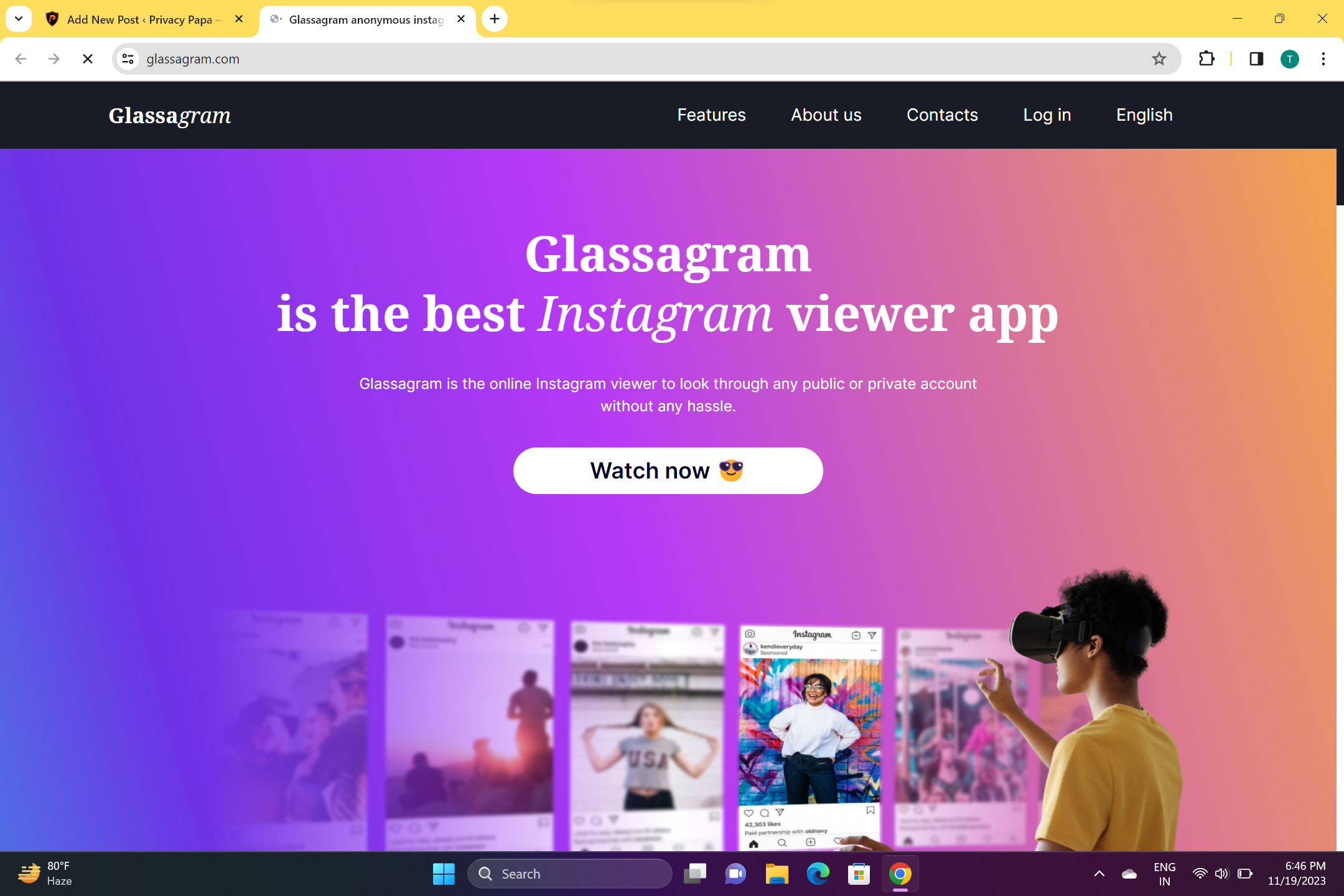 Features of Glassagram:
Parental control features like GPS tracking and content blocking.
Screen-time limits for managing device usage.
mSpy is a commercial monitoring app that allows you to track various activities on a target device, including phone calls, text messages, location data, and social media activity. However, it cannot access private Instagram accounts. This is because private Instagram accounts are only visible to the account holder and their approved followers.
mSpy can only track Instagram activity on public accounts. This includes viewing public posts, stories, and follower lists. It can also track direct messages sent to and from the target device, but only if the messages are not marked as private.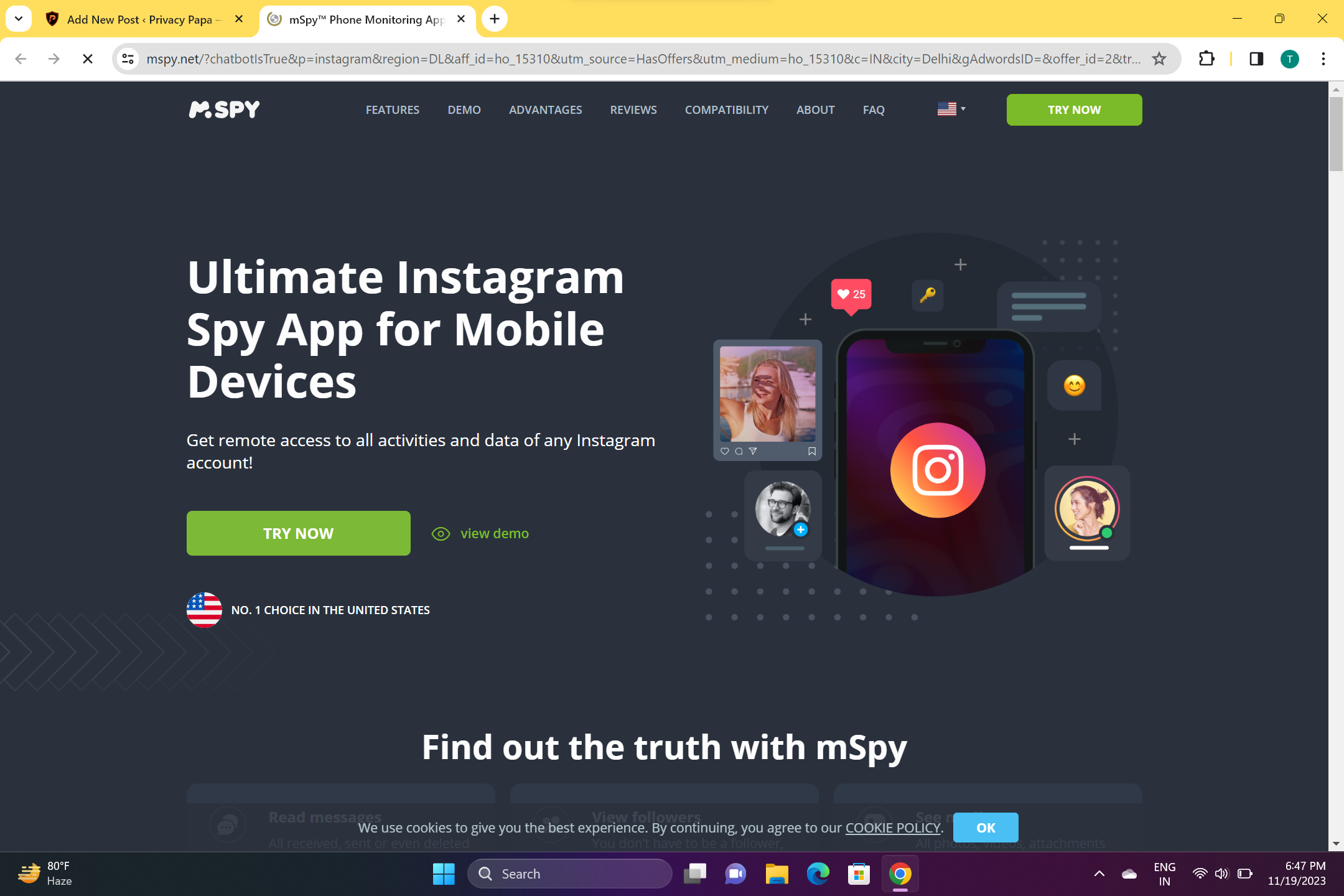 Features of mSpy:
No surveys or human verification required.
Installation on the individual's device is necessary.
InstaLooker, a controversial online platform, asserts it can provide users with the ability to secretly view private Instagram profiles. Despite the ethical concerns surrounding its service, InstaLooker boasts an excellent user-friendly interface, accessible online without requiring any installation files. This convenience minimizes the risk of potential malware issues, making it a tempting yet debated option for those seeking a discreet peek into private Instagram accounts.
Features of InstaLooker:
No need to download installation files.
FAQ section for easy usage.
Free to use.
If you seek a no-cost solution for keeping tabs on Instagram accounts, Gwaa stands out as a superb option. This Instagram story viewer provides an exclusive glimpse into the profiles you wish to explore. Its user-friendly interface allows seamless navigation through profiles, making information extraction a breeze. Gwaa requires a user ID and password for login and offers password retrieval services.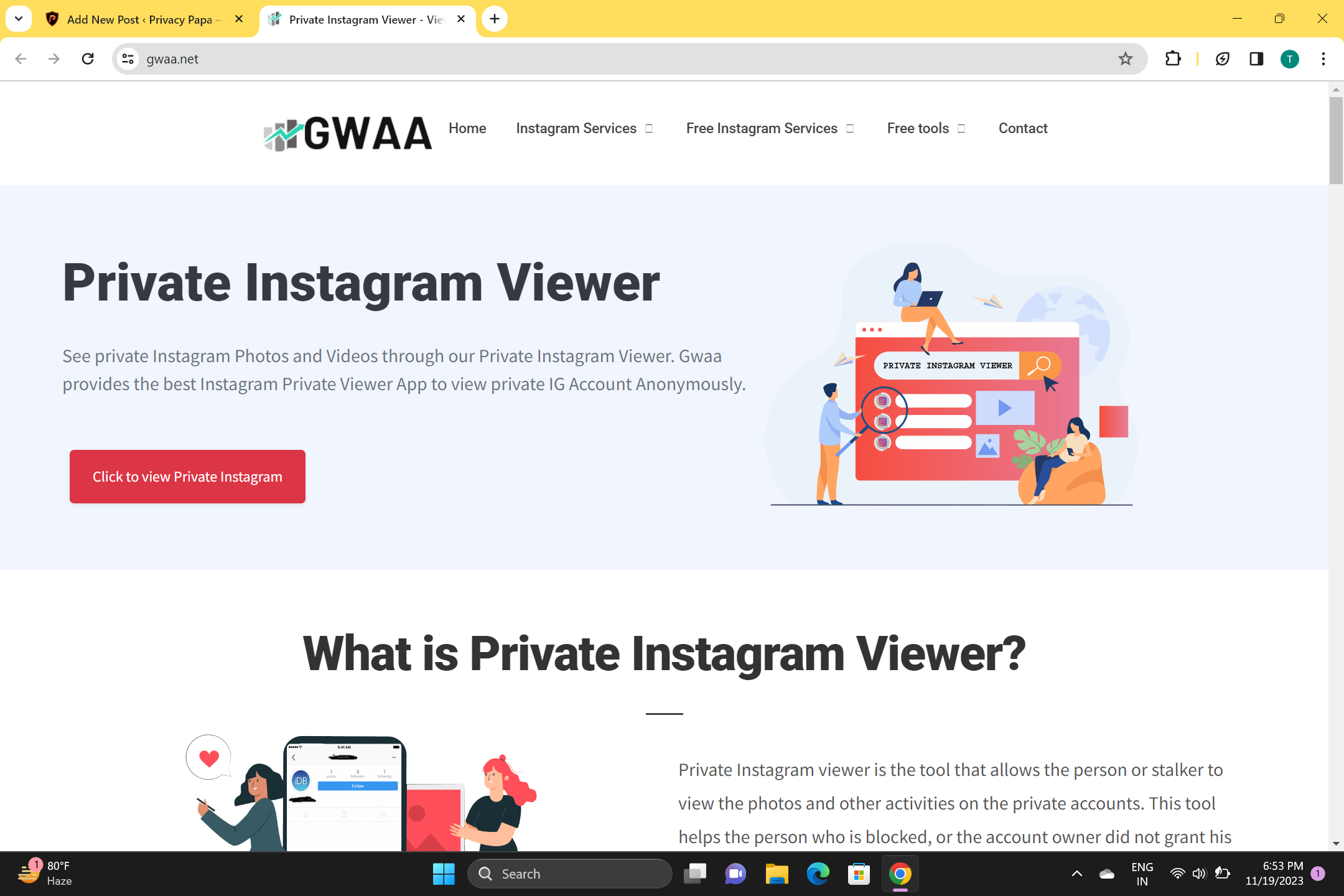 Features of Gwaa:
User ID and password login for accessing private Insta accounts.
Password retrieval and bypassing protection.
Free to use.
Privacy and Ethical Considerations
While the above-mentioned private Instagram viewer apps offer various features and functionalities, it's important to remember the importance of privacy and ethical considerations. Respecting personal boundaries and privacy should always be a priority when using such apps. Their usage should be within legal and responsible boundaries.
It's crucial to understand that Instagram's privacy settings exist for a reason. They provide individuals with control over who can view their content. By attempting to bypass these settings, you may be violating someone's privacy and trust. It's important to use these apps responsibly and prioritize the well-being and consent of others.
Frequently Asked Questions
What are private Instagram viewer apps?
Private Instagram viewer apps are third-party tools that claim to bypass Instagram's privacy settings and allow you to view private Instagram profiles. These apps typically work by extracting data from the target account's public profile or by using other methods to gain unauthorized access to the private account.
Is it legal to use private Instagram viewer apps?
The legality of using private Instagram viewer apps is a gray area. While there is no specific law against using these apps, they violate Instagram's terms of service and could potentially lead to your account being banned. Additionally, some of these apps may be scams or contain malware.
Final Thoughts
In conclusion, while viewing private Instagram profiles directly may not be possible, there are alternative methods and apps available that can provide insights into someone's online activities. However, it's important to approach this practice ethically, respecting privacy boundaries and legal considerations. By using these apps responsibly, you can strike a balance between satisfying your curiosity and respecting the privacy of others.
Remember, curiosity is natural, but respect and consent should always be the guiding principles when navigating the digital world.