Want to install NordVPN on your Linux? NordVPN is one of the premium VPN service providers in the market. The Linux version of this VPN doesn't have GUI (graphical user interface). Don't know how to install it?, then this guide is for you covering NordVPN installation on any of your Linux versions.
NordVPN is available in .deb & .rpm packages (as of now) for Linux operating systems. You need some commands to install NordVPN on your device or if your OS supports you can download the .debian file and install it directly. Without wasting further time let's dive in.
Create NordVPN Account
Visit NordVPN's official website and click on grab the deal.
Choose the subscription plan sufficient for your needs.
Register your details (Email and password) on the required fields.
Select your payment method (preferred).
Check your email inbox for Subscription confirmation.
NordVPN Setup for Linux
NordVPN for Debian-based Linux
NordVPN for RPM-based Linux
NordVPN for other Linux distributions
Debian-based NordVPN Linux setup
This setup is a very simple procedure
Download the .debian NordVPN file from the official website.
Open your Linux terminal and navigate to the downloaded folder where your .debian file is located.
Now type the following command "sudo apt-get install nordvpn-release_1.0.0_all.deb".
Now update your packages using the command "sudo apt-get update".
Now install NordVPN on your device using the command "sudo apt-get install nordvpn".
After the command in the 5th line, you will see a notification prompting "NordVPN for Linux successfully installed!".
🥳Congratulations you are done, now you can enjoy the NordVPN Services in your Linux OS.
You can also try to install NordVPN directly after downloading the .debian file from the website.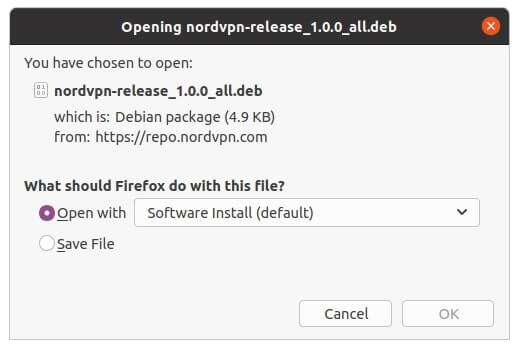 RPM-based NordVPN Linux Setup
Before you proceed, you need to check your OS distribution using YUM or DNF:
DNF is used in Fedora, Red Hat Enterprise, CentOS, Oracle Linux, and Mageia
YUM is used in older RHEL/CentOS/OLversion
Once you download the NordVPN client package from the official page, use the following commands
Command: wget -qnc ttps://repo.nordvpn.com/yum/nordvpn/centos/noarch/Packages/n/nordvpn-release-1.0.0-1.noarch.rpm
If it's throwing a prompt that wget is not installed, then use the below-mentioned commands to install wget in your Linux system.
sudo dnf install wget
sudo yum install wget
NordVPN Features
5500+ servers in 62+ Countries
Double VPN extra layer of privacy
DNS, WebRTC, and IPV6 Leak Protection
AES-256 encryption with forward secrecy
Unblocks International services Netflix, Hulu, Prime, HBO, iPlayer, Disney+, and Amazon Prime.
Dedicated P2P servers for torrenting (unlimited bandwidth).
Supports Onion over VPN
Reliable kill switch
Strict No-logs policy
30 Days full refund policy
Check out NordVPN installation for iOS, Windows, and Android.
Conclusion
You can 🥳enjoy the NordVPN services right after the installation bypassing all geo-blocks and unblocking streaming services keeping your identity anonymous all the time. Check out all the best privacy features offered by NordVPN in detail. Taking a NordVPN subscription is risk-free due to their 30 days money-back guarantee program.
So you can cancel your subscription all the time (when you feel you don't want to). If you want to stay safe and private (internet freedom). Get rid of all kinds of malware, and trojans injected into your systems with the best antivirus in 2023.
FAQs Related to Linux Setup
My NordVPN isn't connecting?
Sometimes, servers might be busy if everyone tries to connect to the same server. To address this issue NordVPN maintains multiple servers in one region. So try connecting to a different server from the same region or if that didn't work check your internet connection.
Didn't receive a confirmation email?
Don't be in a rush wait a few minutes or check in promotion, etc once. If you still didn't receive the email contact the NordVPN support team regarding subscription confirmation. Don't worry you will get it within 5 mins.
What is the default VPN Protocol for NordVPN?
NordVPN uses IKEv2 as the default VPN protocol for Android devices, you can change to any other protocol from the list through settings options. For better understanding check the best VPN protocols.
What if I forget my login credentials?
It happens with everyone in this digital world. Well, you will have the option "forget password". But to avoid all the headaches of resetting passwords & losing them in phishing attacks, I better recommend you use the best password manager to ensure your privacy all the go.
Can I unblock all streaming services with NordVPN?
Yes, you can. For NordVPN unblocking streaming services is a piece of cake as it uses the SmartPlay feature you can check that in NordVPN's full review (what it unblocked).